Upholstered Fabric Bunk Beds – 4 of the Best You Can Find Online
If you have two kids living in a small bedroom, getting a bunk bed is a great idea. It saves space, giving your kids more room to play and makes room for other important furniture pieces like a desk, wardrobe, etc. When shopping for a bunk bed, you'll notice that they are either wooden or metal.
However, it is possible to find an upholstered bunk beds, which will add a touch of sophistication and style to any bedroom. They are padded and upholstered in fabric, so they are more comfortable for your kids compared to a wooden or metal bunk bed. There are very few upholstered bunk beds sold, however we've found the best ones that are sold online and featured them in this article.
How to choose a fabric bunk bed?
All upholstered bunk beds have low height and fit two single size mattresses. Since they are lower to the ground, this makes them safer for toddlers and young kids to sleep on the lower bunk.
The top bunk should not be used by kids who are 6 years or younger, due to safety reasons. Only once your child reaches 6 years old, you can move him/her to the top bunk.
Check if the item comes with a warranty and how long it is (1 or 5 years). Also, since this is large furniture item, some retailers have a shipping charge. Double check beforehand if there is any delivery fee and how much it is.
And finally, upholstered bunk beds can't be separated into two single beds. With wooden bunk beds, a lot of them can be detached into two single beds, giving you more flexibility on using it in the future.
1. Saturn Grey Fabric Bunk Bed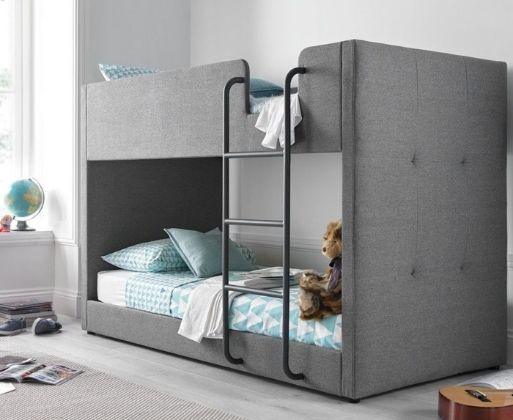 The Saturn fabric bunk bed is available in grey fabric and comes with a matching grey metal ladder. There are button effects on the side and curved edges, which make the bed safer. The ladder has only three steps, so your child can easily climb up and down. Keep in mind that the ladder can only be assembled on the left side (there is no option to reverse it to the right). This bunk bed comes with sprung slats already included, which make sleeping there more comfortable. All you have to do is place the mattresses on top, or buy new ones from HappyBeds wide range of kids' mattresses. This product comes with 5 year guarantee. Dimensions: 135cm high, 205cm long, 106cm wide.
Price: £474.99 (comes with free delivery)
Buy from Happy Beds OR Buy from Amazon
---
2. Saturn Oatmeal Fabric Bunk Bed
The Saturn Fabric Bunk Bed is also available in oatmeal cream colouring, and has the same features as the grey option. The oatmeal colour will look lovely in a wide range of bedroom interiors. The soft-touch upholstery fabric, makes the bed more cosy and inviting. It's suitable for both boys and girls, and has a low design making climbing in and out of bed easier. The ladder has only three steps, and can be assembled on the left side only. This bunk bed comes with sprung slatted base, for added comfort. The product comes with 5 year guarantee.
Price: £474.99 (comes with free delivery)
Buy from Happy Beds OR Buy from Amazon
---
3. Willow Fabric Bunk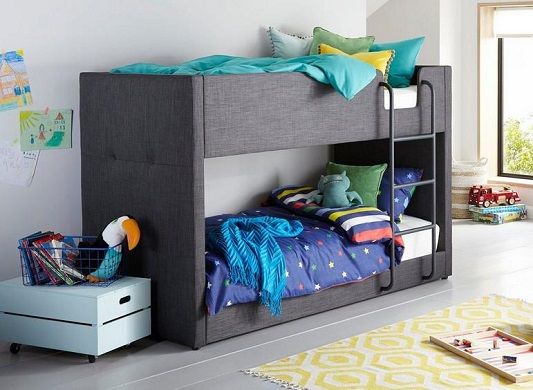 The Willow bunk bed is low to the ground for easy access by both kids. It's upholstered in grey fabric, with buttoned detailing on the headboard and foodboard. It's very easy to assemble, and many customers have complimented that it's sturdy and "rock solid". It has a very high rating 4.8/5 stars from 32 customers. Its dimensions are: 135cm high, 205cm long, 97cm wide once it is assembled. It fits two 3'0 single mattresses with a maximum depth of 15cm. Free delivery and 1 year guarantee are included with this product.
Price: £499 (comes with free delivery)
---
4. HUIJK Fabric Upholstered Bunk Bed
This is a very unique and sophisticated upholstered bunk bed, which is sure to stand out in your kid's bedroom. It has deep button details on the headboard and footend of the bed, with nail head trims on the sides. The guardrails, ladder and feet are made of sturdy wood. They match perfectly with the grey upholstery fabric. Once assembled it measures: 155cm high x 970cm wide x 215cm long.
Price: click on button to check price on Amazon
---
Disclosure: This post features affiliate links, which means that we may get compensated for items purchased through our site, at no additional cost to the reader.
The prices mentioned in this post were last updated on October 13, 2021. For up to date prices, please click on the link of each product.