Last Updated on June 27, 2021 by Sarah Wright
Bunk beds allow you to double up the bed space in your kid's room, without taking too much space. The advantage of buying a metal bunk bed over a wooden or MDF one is that they are more affordable. You can find a wide range of options and designs. Just make sure you're measured the space you have in your kid's room so you know that it will fit as planned. You may also want to check our list of the best metal high sleeper beds, however only one child can sleep there.
All metal bunk beds have metal slats, so all you have to do is place the mattress on top. When shopping for a mattress you have to be careful that it doesn't exceed a certain height limit. Usually a mattress should not be more than 15 cm high (or deep), otherwise the guard rails won't protect you enough on the top bunk.
Now let's take a look at the best metal bunk beds, which your kids will absolutely love and won't break the bank!
Disclosure: This post features affiliate links, which means that we may get compensated for items purchased through our site, at no additional cost to the reader.
1. Argos Home Mason Metal Bunk Bed Frame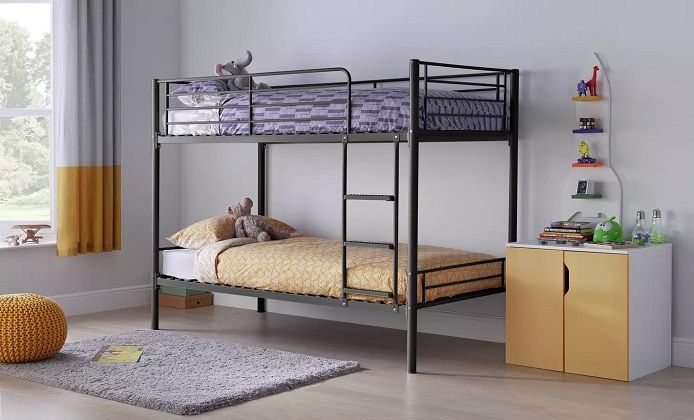 We love this metal bunk bed for 2 reasons, it's very affordable and it comes in three colour choices: black, white or silver. It has a smart and practical design, and you'll notice that the ladder is integraded (not slanted), so there are no bits sticking out on the floor, and it takes less space. There is lots of underbed storage space, so you can hide away boxes or other items. The maximum user weight limit per bunk is 100 kg, which means that your kids or teens can safely use it. You can also buy it with 2 mattresses included for £270. Or if you already have the mattresses at home, you'll just need to get the bed frame.
Price: £110 from Argos (image source and retailer)
---
2. Domino Metal Bunk Bed Frame with Mattress Options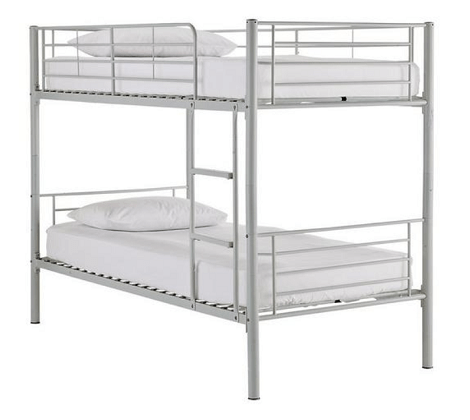 Another good option, with a very similar design to the beds on this page. You can also get it in black, silver or white. One handy reason to shop at Very.co. uk is that you can get this bed with two mattresses. You have a choice between a standard mattress or premium mattress.
Price: £129 from Very.co. uk (image source and retailer)
---
3. Mia Single Metal Bunk Bed, by Harriet Bee
A lovely bed which you can get in black, grey or white. The best part about this bed is that it can be separated into two single beds (see picture below). This gives you lots of freedom to use the bed again later on, in case your kids want to sleep in separate rooms.
The ladder is slanted, and a wall bracket is provided so you can secure the top bunk to the wall to prevent it from toppling over.
Price: £133.99 from Wayfair (image source and retailer)
---
4. Alonzo Twin over Twin Metal Bunk Bed, by Brayden Studio
It's crafted from sturdy steel with clean and modern design. This is one of Wayfair's bestsellers with 4.8/5 rating from 135 customers. It has a Quick Lock easy assembly so you can assemble it in under an hour.
It can accommodate a trundle, giving you the option to host sleepover guests.
Price: £223.99 from Wayfair (image source and retailer)
---
5. Jade Metal Bunk Bed
A contemporary and sturdy bed, with a painted silver finish. Your kids or grand kids will love the look and design of this bed. The ladder can be installed on either side of the bed, and another cool feature is that the beds detach and can separate into two single metal beds.
Price: £149 from Dreams (image source and retailer)
---
6. Kline Single (3′) Bunk Bed, by Symple Stuff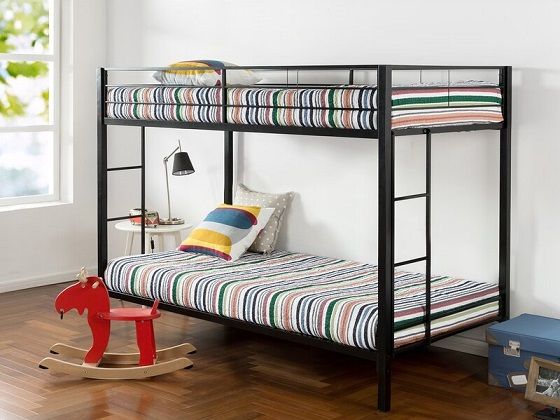 This bed has an original design with two ladders being placed on the headboard and footboard. This will make the bed feel more spacious and roomy. It's crafted from metal with steel frame design. The slats have a Quick Lock System, which is engineered to secure tightly.
Price: £207.99 (reg. £236.99) from Wayfair (image source and retailer)
---
7. Oslo Triple Metal Bunk Bed, by Just Kids
If you're looking for a triple bunk bed, that can sleep three kids comfortably, here is a good option to consider. Here the top bed surface fits a single mattress, while the bottom bed surface fits a double mattress.
Price: £235.99 from Wayfair (image source and retailer)
---
Oscar Metal Bunk Bed, by Cuckooland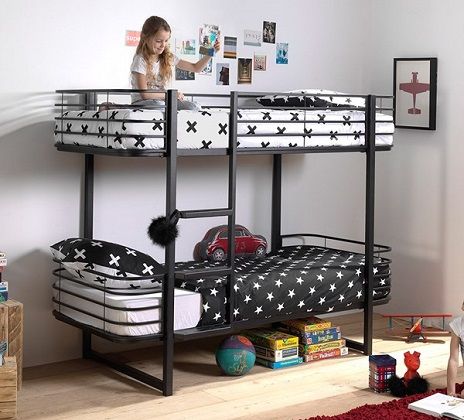 Our last bed on this list, has a very unique design with a curved head and foot end, which gives it a contemporary look. It's made of durable metal and has high quality powder coated finish. You can get in in white or black colour, to fit your room interior.
Price: £445 from Noa and Nani (image source and retailer)
Please note: the prices mentioned in this post were last updated on June 7, 2020. For up to date prices, please click on the link of each product.