5 Best Bunk Beds Sold by Happy Beds Reviewed
Buying the right bed for your kids shouldn't be a hard or stressful decision. Many parents choose to buy a bunk bed for their kids because simply there isn't enough room to fit two beds. Plus, you have to consider that there should be enough free floor space for play time, as well as for other furniture items such as a desk, dressing table, wardrobe and more. Bunk beds are a great solution to a cramped kid's room because they fit two single size beds on top of each other. (Tip: if you're looking for a bunk bed that is shorter in width, then you may also want to consider getting a shorty bunk bed).
Tips for Choosing a Bunk Bed from Happy Beds:
Ordering a bunk bed from the online retailer Happy Beds is easy and straightforward. You can sort their products by material (wooden, metal, or fabric), by size, storage type, colour and more. Let's discuss them in more detail:
Choose size: you can find a bunk bed with the following sizes: small single 2'6″ x 6'3″, single 3'x6'3″, small double 4'x6'3″, double 4'6×6'3″, European single 3'x6'6″. The wide majority of bunk beds feature a single on bottom and single on top size bed. But you can also find a double size bunk bed or a quadruple bunk bed, which can sleep 3 or 4 people together.
Safety rules: make sure that the child who will be sleeping on the top bunk is 6 years or older due to safety concerns and recommendations.
All beds sold by HappyBeds come with 5 year guarantee, giving you a piece of mind for long time.
You get free shipping to Mainland UK. Depending on the product the shipping can take a few business days only, while if the item is not in stock it may take longer time.
Now let's check some of the most popular and high selling bunk beds from Happy Beds:
1. American White Finish Solid Pine Wooden Bunk Bed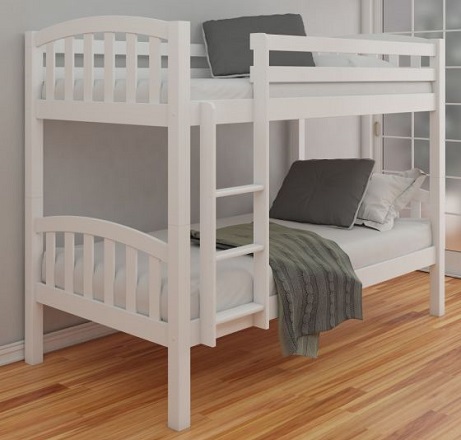 This is a bunk bed in classic white finish, that's one of the top selling products on HappyBeds. It's sturdy and safe to use, as it's made from solid pine wood. There are solid slatted bases on both the top and bottom bunks, so all you have to do is place the mattresses on top. Another great feature is that you can separate this bunk bed into two single beds. This will give you lots of flexibility on how to use the bed in the future.
Rating: 4.5+ stars from over 206 customers
Price: £199.99 (RRP£369.99)
---
2. American Solid Pine Wooden Bunk Bed Frame
Here you have the "American bunk bed" frame in a natural pine wood finish, that gives it a more traditional and warm look. It's also made from solid pine wood. The headboard and foot-end have a slightly curved end, and there are high guard rails. Here you also have the option to separate the bunk bed into to separate beds, so depending on your kid's needs you can use this product as a bunk bed or two single beds.
Rating: 4.5+ stars from over 206 customers
Price: £199.99 (RRP£369.99)
---
3. Colonial Honey Pine Wooden Bunk Bed Frame (Small Single 2'6)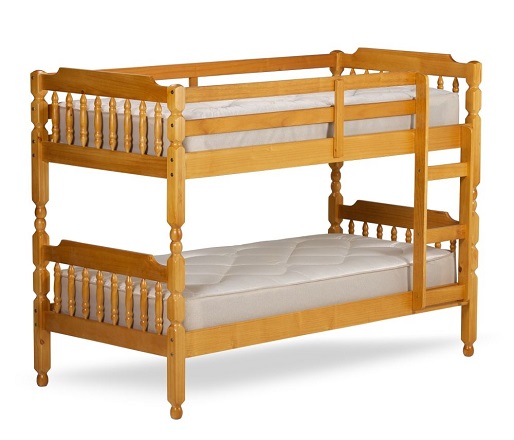 The Colonial bunk bed comes in small single size which is 2'6″ wide and not 3'0″. This means that it's narrower and will take up less space in your children's bedroom. It has a traditional design with spindled detailing on the head ends and food ends that many kids will like. In addition, it's made of solid pine wood and has a coating which protests the wooden frame. You also have the option to separate it into two beds.
Rating: 4.5+ stars from over 7 customers
Price: £214.99 (RRP£389.99)
---
4. Atlantis Bunk Bed, by Happy Beds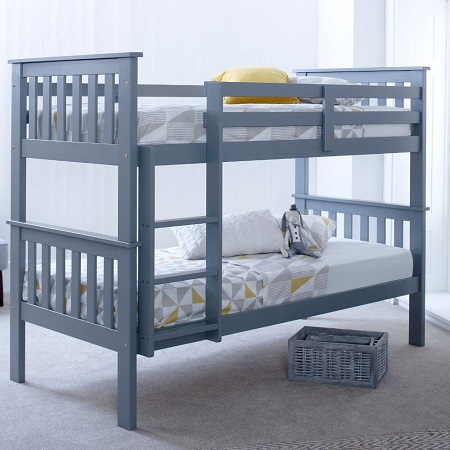 This is a very contemporary and modern bunk bed, which you can buy in pine or grey colour. You can assemble the ladder on the right or left side, depending on your room layout. It's crafted from solid pine wood and it's been built to stand any damage and wear-and-tear over the years. It features two 3ft single size mattresses, that can sleep two kids together. However, you can also buy it as triple sleeper, where the bottom bed is a small double size.
Rating: 4.5+ stars from over 112 customers
Price: ££264.99 (RRP£479.99)
---
5. Orion Grey and White Wooden Storage Bunk Bed Frame Only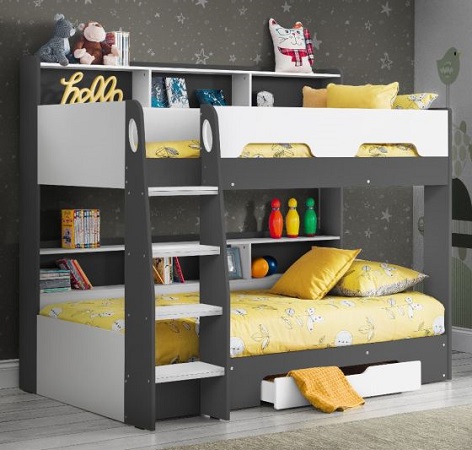 If your kid's bedroom is short on storage space, they'll be happy to have a bunk bed that features lots of storage areas incorporated. First, there is a drawer on the bottom with cut out handle. Secondly, there are lots of storage shelves on the bottom and top bunks. This way your kids can decorate and put their favourite belongings close at hand. The ladder can be assembled on the on the left side. There are two cut out holes on the top of the ladder plus "glow in the dark" strips that you can stick on each step, making climbing and getting down the ladder in the dark much easier.
Rating: 4.5+ stars from over 90 customers
Price: £419.99 (RRP£909.99)
Disclosure: This post features affiliate links, which means that we may get compensated for items purchased through our site, at no additional cost to the reader.
The prices and ratings mentioned in this post were last updated on January 21, 2021. For up to date prices, please click on the link of each product.