Best Detachable Bunk Beds That Separate into Two Beds
If you don't have enough space in your kid's bedroom, then one solution to this problem is to get your kids a bunk bed. This means that two kids will have their own sleeping space, while the bed only takes up room of one bed. Kids also love to sleep on a bunk bed, especially when they are young, as well as to climb up and play there during the day.
However, when your kids grow older the might want to sleep in their own separate room or might just prefer to sleep in a normal bed. In this case, it's best to get your children a detachable bunk bed, which can be separated into two single beds. Giving you flexibility on how you can use the bed during the years.
How to choose a detachable bunk bed?
The first thing you should double check is that the bunk bed can be separated into two, this should be specified in the product description.
Next, make sure you check dimensions of the bed, in order to be sure that it will fit well into the space you have at home.
Also, check on which side the ladder can be placed.
Another point to consider is what colour you want to buy, most of the beds are available in white or grey, but you can also find some in espresso, cherry, or other colour options.
Keep in mind that only kids older than 6 years, should sleep on the top bunk, due to safety reasons.
Now lets have a look at some the best detachable bunk beds, you can find online!
1. American White Finish Solid Pine Wooden Bunk Bed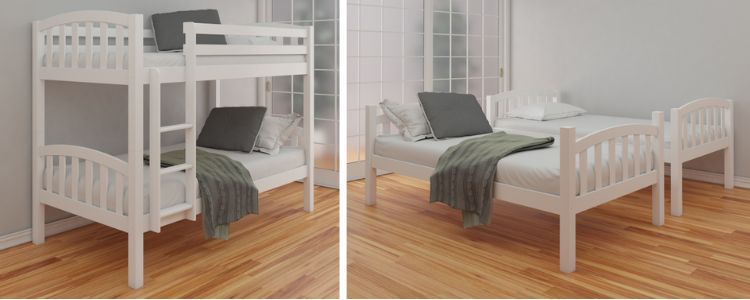 This is a sturdy, versatile and affordable bunk bed that has the option to be detached into two single beds. It's made of solid pine, which makes it a sturdy and durable bed. The ladder is reversible and can be assembled on the left or right side. You have the option to separate the bunk bed into two single beds, giving you lots of flexibility on how to use it throughout the years.
The clearance from the underside of bed to the floor is 30cm, so you have plenty of room to store some items underneath. While the distance between the bunks is 79cm, providing enough head space. Size of bed frame: 203cm long, 100cm wide, 160cm high. It comes with free delivery and 5 year guarantee.
Price: £249 on Sale (reg. £469.99) from HappyBeds (image source and retailer)
---
2. Brighton White Bunk Bed with 2 Single Beds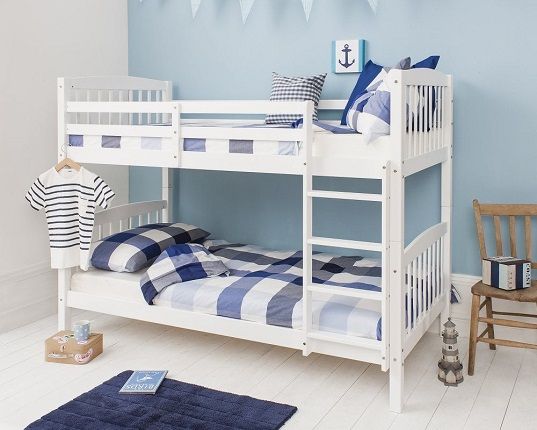 This bunk bed has a contemporary look and is finished in classic white colour. Just like the other beds on this list, this one is also made from solid pine wood. This is a solid and safe bunk that can be easily converted into two single beds when needed. When shopping at Noa and Nani you can easily add a Hypoallergenic high density foam mattress, along with your bed purchase for only £116 each. Plus you get free delivery to UK mainland on all orders.
Price: £341 (was £379) from Noa and Nani (image source and retailer)
---
3. Amarantha Single (3′) Detachable Bunk Bed by Mack + Milo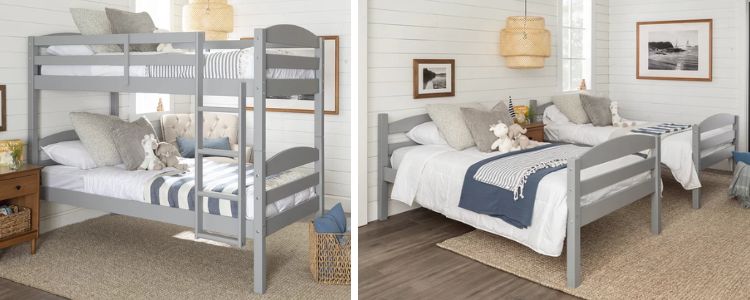 This bed is one of Wayfair's bestsellers, it has 4.6 stars from over 6,900 customers. It has subtle curved head and footboards, and slatted panels. The best part is that you can get it in 3 colour options: grey, black, espresso. The underbed clearance is 32cm, which allows for some storage boxes to bed placed underneath or place a trundle bed and host guests at home. It can be separated into two single size beds.
Price: £325.99 from Wayfair (image source and retailer)
---
4. Stompa Meadow Compact Bunk Bed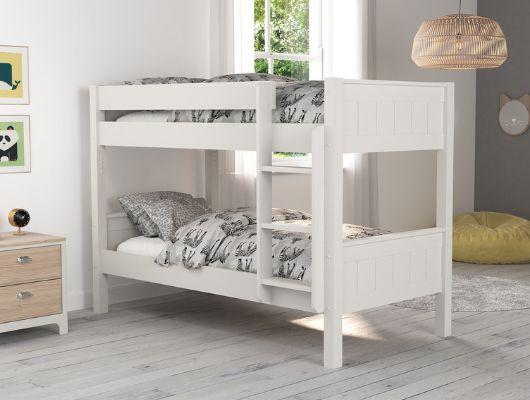 Stompa is a well known furniture brand, which specializes in childrens bedroom furniture since 1960. It's great for smaller bedrooms, and comes in sleek white or grey finish which is perfect for a girl's or boy's room. It can be re-assembled into two single beds, allowing you to customise it according to your family needs. Additionally, it comes with 5 year guarantee.
Price: £449 from Bensons for Beds (image source and retailer)
---
5. Jupiter Wooden Bunk Bed (separates into two beds)
The Juniper Wooden Bunk bed is one of Dream's bestselling products, since it's high quality and is made from solid pine. It has a weight limit of 100kg per bunk (which includes the weight of the mattress). The bed comes with durable wooden slats to support your kid's mattress. Can be split into two identical single beds. It comes with 1 year guarantee and free delivery.
Price: £499 (reg. £599) from Dreams (image source and retailer)
---
6. Classic Beech Bunk Bed that separates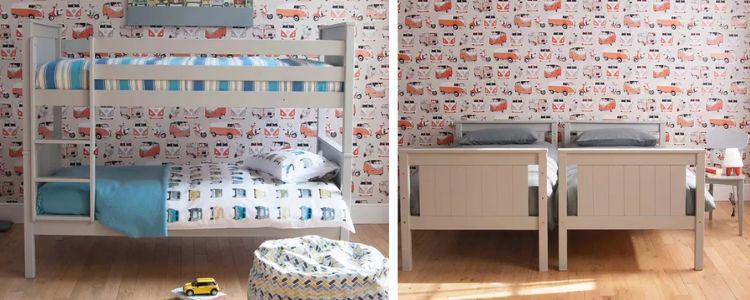 One of the biggest advantages of this bunk bed is that you can customise it. You can add two mattresses, either an open coil mattress or deluxe open coil mattress both handmade in Wiltshire. Also you can add a trundle drawer, and sleep one more child there when you have guests over. The frame of the bed is made from solid beech wood, while the panels are made from composite wood. You can split the bunk bed into two single beds, plus the ladder is reversible.
Price: £545 from Cuckooland (image source and retailer)
---
7. American White Wooden Triple Detachable Sleeper Bunk Bed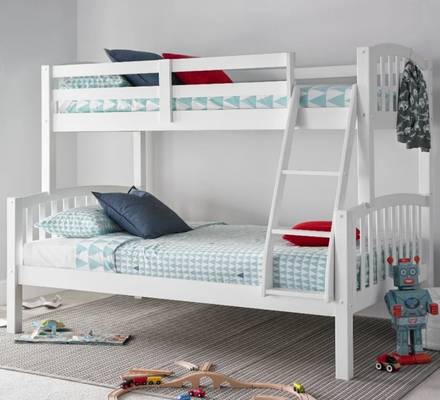 If you need a bed that can sleep three people comfortably, then you should definitely check out this triple bunk bed. It features a single bed on top and a small double bed on bottom, which can be split into 2 separate beds. You can get this bed in white or pine finish. It's made with quality materials, and is both elegant and sturdy.
Price: £289.99 (reg. £524.99) from HappyBeds (image source and retailer)
Disclosure: This post features affiliate links, which means that we may get compensated for items purchased through our site, at no additional cost to the reader.
The prices mentioned in this post were last updated on August 2, 2022. For up to date prices, please click on the link of each product.