Best L-Shaped Bunk Beds You Can Find Online
Most traditional bunk beds have the top and bottom bunk positioned on top of each other. However, there are also L-Shaped or Corner bunk beds, that resemble the letter "L" and would fit perfectly in the corner of a bedroom. Most parents and kids prefer them, because they leave more space open on the bottom.
In this article, we'll explain in more detail how to choose the best bed, and what are some of the top products on the market right now.
How to Choose an L-Shaped Bunk Bed (or Corner Bunk Bed)?
There are several things parents should know before they decide and pick the right l-shaped bunk bed for their kids' bedroom.
First, it's important to note that due to safety rules and recommendations, the top bunk should not be used by kids younger than 6 years of age.
Make sure you check the dimensions of the bunk bed (height, length, and width). Then measure the space you have in your kid's room, so that you're sure it will fit properly.
Some L-Shaped bunk beds can be detached and separated into two single beds, so you won't be stuck with a bunk bed forever.
Some L-Shaped bunk beds may already have a desk or storage unit already built in. Or you can buy your own small desk and place it on the side where there is open space.
Now, let's have a look at the five of the best options you can buy online, starting from just £350.
1. The Max Combination Bed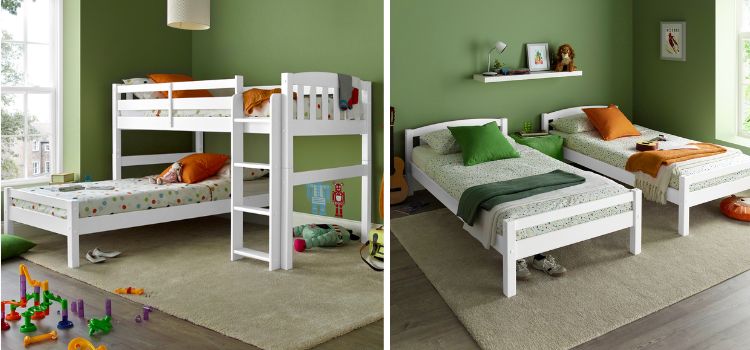 There are many reasons why the Max Combination Bed is on the top of our list. This is a very versatile bed, which can be configured into different types of beds to meet your kids' needs, as they change throughout the years. It can be used as: regular bunk bed, l-shaped bunk bed, two single size beds, a toddler bed with guard rails on the sides, and a mid-sleeper.
The best part is that it can be detached and used as two single size beds (as shown in the picture above). Keep in mind, that the ladder can only be assembled on the right side. The height of the bed is relatively low, at 127.5cm. It takes two single size mattresses that should not exceed 16cm in depth.
Price: £349.99 (reg. £874.99) from HappyBeds (image source and retailer)
---
2. Mandoline L-Shaped Bunk Bed, by Strictly Beds and Bunks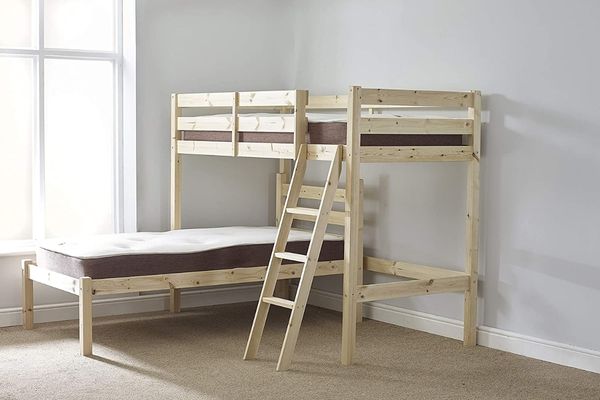 This is a heavy duty l-shaped bunk bed, made from Scandinavian natural pine wood. It's British made, and is manufactured by Strictly Beds & Bunks Ltd. in England. This is a very sturdy bed, that has been tested to support 108 kilograms for the top and bottom bunk. It fits two single size mattresses. The ladder can be fixed on the left or right side. You also have the option to buy it with two sprung mattresses, or buy just the bed frame.
Price: click on button to check price on Amazon
---
3. Wizard L Shaped Triple Sleeper Bunk Bed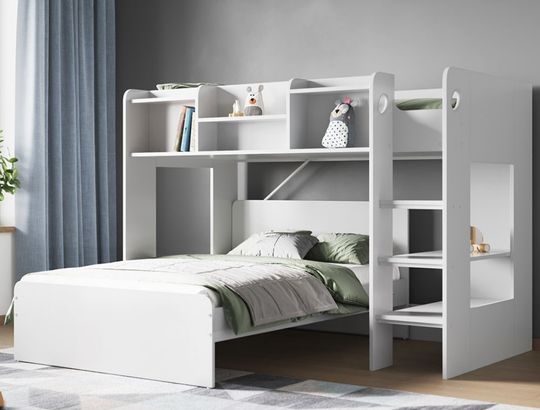 Your kids will absolutely love this bunk bed by Flair Furnishings. There are lots of shelves built-in, that your kids can use to store their favourite toys, books, and any other items they want to have close by when they sleep. The ladder has deep steps and two holes, which make climbing the ladder easy and safe. This is a triple bunk bed, which can sleep three kids. The top bunk fits a single size mattress (90x190cm), while the bottom bunk fits a small double mattress (120x190cm).
Price: £599.95 from Cuckooland (image source and retailer)
---
4. Nimbus Bunk Bed, L-Shaped Style with Storage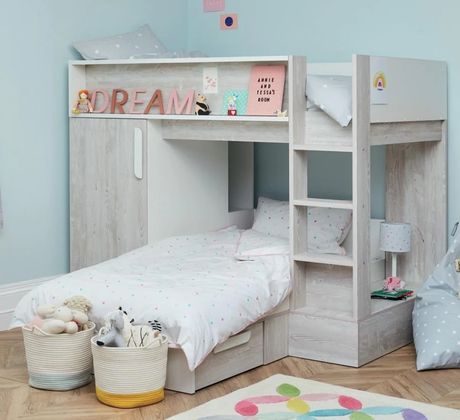 This is another interesting L-Shaped bunk bed that has plenty of storage space. It has a wardrobe for your kids to put away their clothes, there is shelving space for books, toys, reading lamps, etc. Plus, there is an under bed drawer that can store a lot of your kid's belongings. Made from tough, melamine-laminated particle board and can hold up to 100kg per bunk. It comes with 5 year warranty. Keep in mind that it fits two Euro single size mattresses 200cm long x 90cm wide. You can purchase two quality mattresses at the same time, together with the bed.
Price: £780.00 (reg. £975.00) from Great Little Trading Co. (image source and retailer)
---
5. Oscar Triple Bunk Bed by Flair Furnishings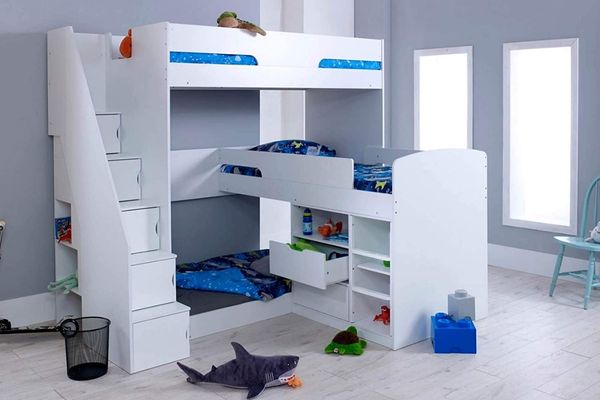 If you have 3 kids at home, this is the perfect l-shaped bunk bed that can accommodate all of them! It features lots of built in shelves and drawers, which your kids can use to store their clothes, toys and other items. This is a very functional and practical bed, which is ideal for a smaller kid's room. An alternative would be a 3-tier bunk bed. The staircase which leads to the top bunk has integrated cupboards.
Price: £899.95 (reg. £999.95) from Cuckooland (image source and retailer)
OR
Does IKEA sell l-shaped bunk beds?
IKEA sells a limited selection of bunk beds, and currently they do not offer an l-shaped one. They have wooden and metal bunk beds, however they have the standard design (not with an l-shape). Also, keep in mind that their beds fit an European single size mattress, which is 200cm long x 90cm wide, while most other beds fit UK single size mattress 190cm long x 90cm wide.
The prices mentioned in this post were last updated on August 18, 2022. For up to date prices, please click on the link of each product.
Disclosure: This post features affiliate links, which means that we may get compensated for items purchased through our site, at no additional cost to the reader.