What is a Mid Sleeper Bed? Ultimate Guide
Mid Sleeper beds are very practical for two reasons: they're placed higher up to give you some space to sleep comfortably, while providing you with enough storage capacity to organize all your varied needs. The best of both worlds, Mid Sleepers are the ideal solution to a smaller room that doesn't offer much room for organization and storage.
Typically, a Mid Sleeper has a raised bed that comes with a ladder or steps for easy access. From here, you are able to climb up to your bed comfortably, with space underneath: whether for a workspace, extra storage, or simply a place to relax, mid sleepers have you covered.
They're versatile in style and design, allowing you to pick and choose your ideal mid sleeper to ensure your design needs are met just as well as your storage needs. They're the perfect bed for maximising your bedroom space to ensure you get usage out of every square foot!
What Does Mid Sleeper Mean?
Mid-Sleeper beds are perfectly set in the middle: they're raised more than your typical bed, but not as high as a high sleeper or top bunk bunk. They provide underside storage capabilities and floor space to allow you to use your room for multiple purposes, while ensuring your bed isn't near hitting the ceiling.
Unlike high sleepers or bunk beds, there is typically not enough room to host another bed underneath. Because of this, the underside of Mid Sleepers usually gives way to a desk, chest of drawers, or anything else that maximises the space for optimal use.
Different Types of Mid Sleepers:
When you begin shopping for a Mid Sleeper, you'll find different types. Some may come with storage included, others may have a desk built-in, others may even have a slide, which makes playing there during the day lots of fun.
Lets discuss each type in more detail, so you can decide which is right for you.
1. Mid Sleeper Bed (Frame Only)
(Image Credit: Argos)
Above you can see the Kaycie Mid Sleeper, by Argos Home (see this and other Mid Sleeper beds here). This is your classic Mid Sleeper Bed, that just includes the frame without any storage built-in.
However, you can use the space under the bed to place some storage boxes, or large bulky items and toys. Your child can use the area to play and use as a hiding place. This is the most basic type and is also the least expensive.
2. Mid Sleeper with Desk
(Image Credit: Argos)
Every child needs a designated desk, where they can concentrate and study for school. But if your child has a small bedroom, that can't accommodate a desk, then this is a problem. That's why getting them a Mid Sleeper with desk is a great solution.
Above you can see the Argos Home Brooklyn Mid Sleeper Bed Frame with Desk. Here the desk can be rolled out on castors when it's homework time. After your child is done they can hide away the desk, and have more room for play.
3. Mid Sleeper with Storage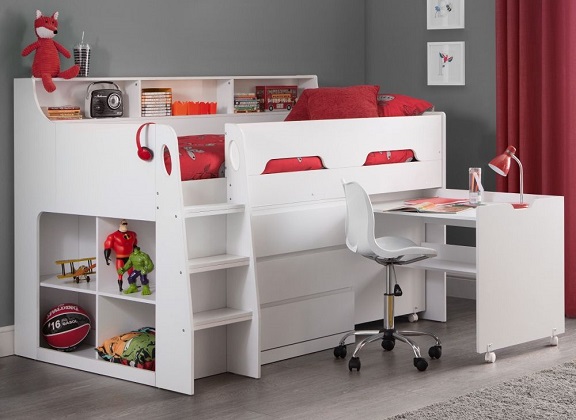 (Image Credit: Happy Beds)
Here every centimieter under the Mid Sleeper is used as storage space, including a desk. Here you have three drawers, four shelves and a desk. This means that your child will have storage space for their clothes, books or toys, plus a spacious desk where they can study!
In the picture above you can see the Jupiter White Wooden Mid Sleeper Bed Frame (to see this and other Mid Sleepers with desk and storage click here). This single size bed packs lots of different furniture items into one!
Other Types:
If you shop around, you'll actually be able to find some cool Mid Sleepers with Slide! On one side you'll have the ladder, while on the other there is an attached slide. This means that your child can use their bed to play there during the day. They will use up energy and will be tired when bedtime comes!
Depending on the type of Mid Sleeper you choose, you can also buy a tent as an accessory, which will cover the area under the bed frame. A tent will cost you around £40, however it will create a super fun hiding and play area.
Benefits of Mid Sleeper Beds:
Because of the elite storage and space capabilities Mid Sleepers provide, nearly anyone benefits from this type of bed. However, it is most often found in children's and teenager's rooms, due to the multi-purpose capabilities.
Great option for smaller bedrooms, that don't have enough space for a bed, storage furniture, desk or play area.
Children and teens who prefer to get schoolwork done in their room, or simply have a lot of possessions to organise, are best set with a Mid Sleeper bed. In some cases there is a desk built in, plus drawers where your child can store their books and school supplies.
Most Mid Sleeper beds are designed with younger people in mind – there are some that are designed to have slides, tents, and other fun elements that work perfectly in a child's bedroom. However, there are mid sleepers available that have a more basic design, and are ideal for teenagers and even young adults.
Where there are numerous benefits, probably the biggest disadvantage is safety and the age restriction. As we will explain below, your child should be at least 4 or 6 years old in order to sleep there.
FAQs:
What Age Are Mid Sleeper Beds For?
Generally kids who are at least 6 years old can sleep on a Mid Sleeper bed. However you'll be able to find some beds that are lower to the ground, and are suitable for kids over 4 years of age. Each furniture retailer will specify the age requirement, so make sure you double check it.
Mid Sleepers just like bunk beds are raised higher off the ground, and have a ladder that needs to be climbed up and down safely. Safety is number one priority, so if you feel that your child is not yet ready you can delay getting him or her a mid sleeper bed.
A toddler should be sleeping in their toddler bed, until 4-5 years old. Toddlers are too young for a Mid-Sleeper, due to the ladder, which can be a safety hazard for very young kids. Keep in mind that your child should be able to climb up and down safely, every morning and evening. As well as in the middle of the night, in case they need to go to the bathroom or want to go to their parent's room.
Teenagers on the other hand, are sure to enjoy having a Mid Sleeper or a High Sleeper in their room. This will free up lots of floor space for storage or a desk for example. It will also help keep the room more organised and tidy.
Does a Mid Sleeper Use a Single Mattress?
Yes, Mid Sleeper beds use a UK single size mattress measuring: 90cm wide x 190cm long. In some rare cases, they will fit a European single size mattress, which is: 90cm wide x 200cm long. The EU single size is 10cm longer, which makes it a good option for kids and teens who need more leg room.
If your child has a very small bedroom, you might want to shop around and buy them a shorty Mid Sleeper. It can fit a mattress that is 15cm narrower and 15cm shorter. This will free up even more room in your kid's bedroom!
How Thick Should a Mid Sleeper Mattress Be?
It is very important that the thickness of the mattress is not greater than 15cm. Don't pick a mattress that is 20cm thick for example, otherwise it will cover part of the guardrails. This will make sleeping there unsafe, since the guardrails need to be at least 10cm high (measuring from top of mattress to top of guardrails).
The high guardrails will protect your child from accidentally falling off when sleeping or playing on their bed.
So if you already have your own mattress at home, make sure you measure how thick it is before you place it on a Mid Sleeper. If it's thicker than 15cm, then you'll need to buy a new kids mattress that is less than 15cm high.
How High is a Mid Sleeper?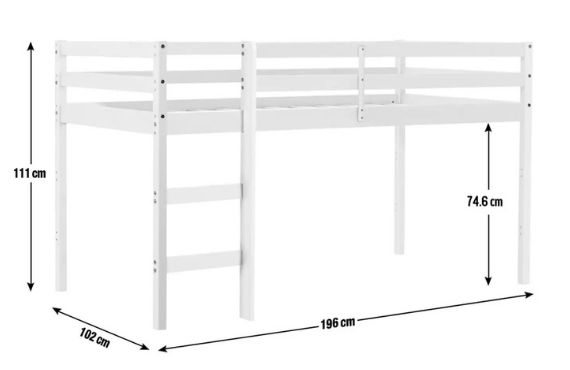 (Image Credit: Argos)
Generally a Mid Sleeper is around 110-120cm high (from the floor to top of guardrails). The underbed clearance is around 75cm high, measuring from the floor to the bed slats. This is enough to have some storage boxes, chest of drawers or desk stored underneath the bed frame. The ladder is usually a two or three step ladder.
In the above picture you can see dimensions of the Argos Home Kaycie Mid Sleeper Single Bed Frame, which has a frame size of: 196cm long, 102cm wide, 111cm high. It is suitable for kids ages 6 years and older.