Best Kids Tee Pee (Tipi) Beds in Toddler and Single Size
When it comes to children's beds, it is understandable to want a product that stands out from the crowd. After all, you want to show your child that bedtime can be a great experience. Why not look into teepee beds for your little one's bedroom? With the tent-like design, children are sure to enjoy bedtime, naptime and playtime in their bed.
While a teepee bed is not uncommon, it is still a unique piece for your child's bedroom. In addition to the fun design, teepee beds are also durable and sturdy, which is perfect for a piece that is going to see a lot of use. Teepee beds are also lower to the floor to create a safe piece for younger children who may roll around.
Are you ready to surprise your child with a new bed? You can start by checking out the best teepee beds on the market.
1. Titus Tepee Style for Kids, Toddler, Junior, by Children's Beds Home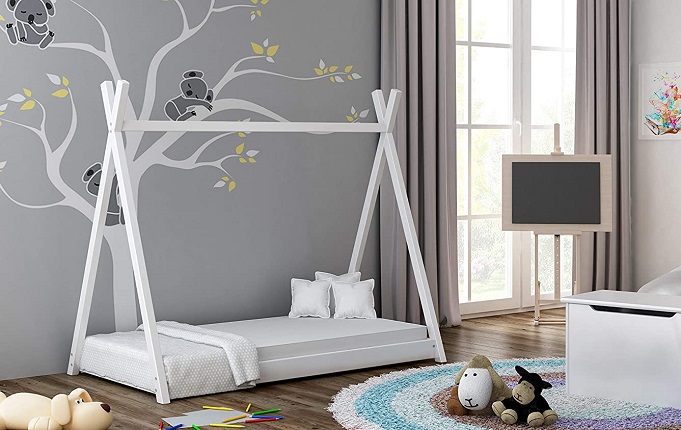 This bed frame is designed to resemble a teepee to create a stylish, functional piece. It is made of solid wood with a slatted base for a simple design and stable structure. Children can pretend they are playing and sleeping in an actual teepee, especially if they decide to drape a sheet over the top of the frame. In addition, the bottom of the bed frame is only a few centimeters off the floor, and can also serve as a great Montessori bed since it's so low to the ground. The best part is that you can order it in white, blue, pink, natural, grey or alder colour. This wide range of colour options means that you're sure to find the best one for your girl's or boy's room! Another advantage of this bed is that you can order it in five sizes, so weather you have a toddler or an older child, you're sure to find the right size.
Sizes: 140×70, 160×80, 180×80, 180×90, 190×90
Price: click on button to check price on Amazon
---
2. Kids Tipi Bed, by Cuckooland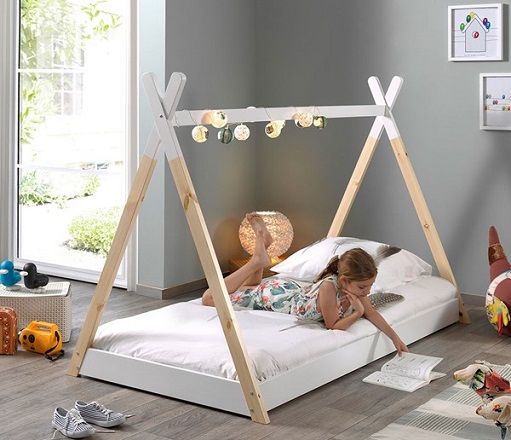 Cuckooland is known for selling and making beautiful, practical and fun furniture pieces for kids of all ages, and this Tipi bed is no exception. It's made from solid pine wood, and has white lacquer finish at the top and base to give it a more natural and authentic look. The wooden bed slats are 8cm off the ground, which allows for proper mattress ventilation. You can buy it in two sizes: 70x140cm or 90x200cm. If you need a comfortable kid's mattress, Cuckooland has a wide range to meet your needs and budget.
Sizes: 70x140cm, 90x200cm
Price: £135 or £199 from Cuckooland
---
3. Kids Teepee Cabin Bed by Woood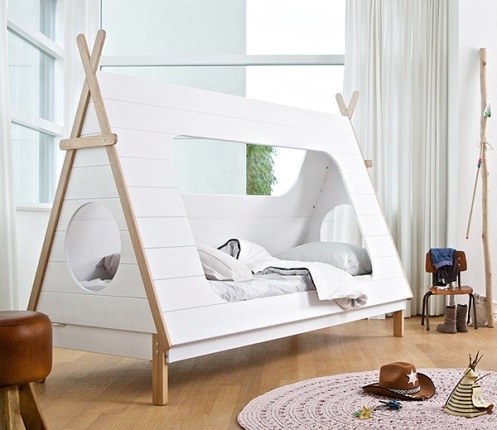 Children are sure to have a blast in their own teepee bed. This white cabin-style bed frame is made of solid pine wood and MDF with slats for a sturdy construction, and it features wood-tone exposed pine to create a fun, authentic design. The exposed pine at the top is also great for hanging hats and light jackets. In addition, it also features several windows and an opening for getting in and out of bed. You can buy the bed frame in white or concrete grey colour. Another great feature, is that you can buy an optional trundle unit and mattress, and create a second sleeping space for your kid's sleepover guests.
Sizes: 15cm long x 106cm wide x 163cm high
Price: £395 from Cuckooland
---
4. Vox Spot Kids Tipi Bed & Frame with Trundle Drawer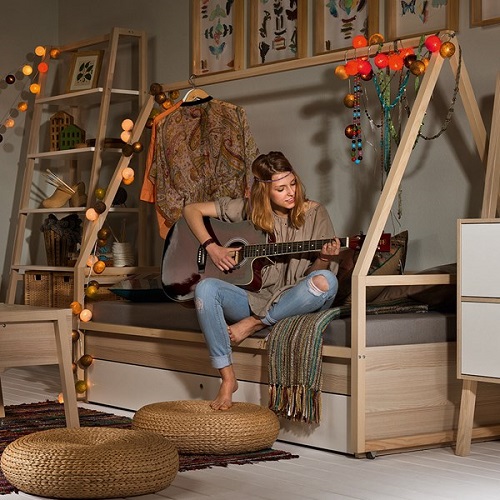 If you want to get a more grown up Teepee Bed for your child, which will fuel their imaginations and keep them playing during the day and safely sleeping at night this a great option. The bed frame itself has lockable wheels, which allows you to easily move it to different parts of the room. The best part is that it comes with a trundle drawer underneath already included, so your child can either use it for storage or you can buy a trundle mattress and have a second bed ready to host sleepover guests. Keep in mind that this bed fits an European single size mattress 200cmx90cm, while the trundle mattress size is 90x190cm and should not exceed 16cm in height.
Sizes: 213cm long x 100cm wide x 167cm high
Price: £395 from Cuckooland
---
5. Mathy by Bols Tent Cabin Bed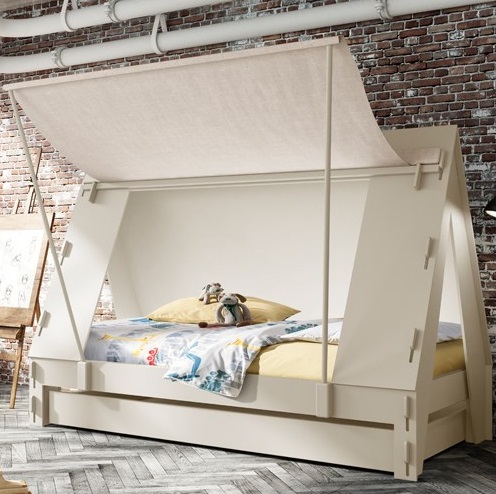 This is a unique bed handmade to order in Belgium. Your boy or girl will enjoy playing camping adventures there every day, while at night he or she can sleep cosy and safely. The bed includes a trundle drawer, which is large enough to hold lots of items. Or you can add a trundle mattress at the time of purchase and create a second sleeping area. There is a cloth canopy and poles included, which can be easily rolled up and fastened with strips. Overall a great kids canopy bed as well.
Sizes: 208cm long x 110cm wide x 146cm high
Price: £1095 from Cuckooland
Disclosure: This post features affiliate links, which means that we may get compensated for items purchased through our site, at no additional cost to the reader.
The prices mentioned in this post were last updated on January 20, 2021. For up to date prices, please click on the link of each product.