Last Updated on June 27, 2021 by Sarah Wright
There is nothing like a low bunk bed to create a safe, comfortable, and functional bedroom. It can be used for siblings, roommates, sleepovers and out-of-town guests, but the bottom bunk can also be used as a reading or play area for those who do not need two beds. In some cases, the bottom bunk can be used as a storage area for extra linen or stuffed animals.
Why Choose a Low Bunk Bed?
The main reason why parents choose a low bunk bed is safety. The bottom bunk touches the ground which is perfect for toddlers and young children. While getting to the top bunk only is easy, since it's usually just two or three steps climb up. Their height can be around 115cm, while a normal bunk bed is around 155cm high. This is a significant difference, and some young children might not like climbing up and down the tall ladder, every time they want to get in and out of bed.
Luckily, you can find a range of low bunk beds for your child or teenager. The beds come in various styles, colours and sizes to fit your space. Some beds even include extra features such as a built-in tray. Regardless, it is important to choose a product that is high-quality and durable to ensure you are getting the best bunk beds for your money.
To help you get started on your shopping, here are two low bunk beds to consider adding to your home.
1. Hilda Cabin Bed with Bunk Underbed and Play Area
This bunk bed is made of solid pine wood and finished in classic white to fit any bedroom interior. It comes complete with wooden slats to create a secure, durable bunk bed. The angled ladder can be placed on the left or right side of the bed, and the underneath area can be used as a play area or bottom bunk. On the picture you can see a built-in tray (sold separately) on the top bunk for toys, snacks or beverages. Dimensions: 114cm high, 101cm wide, 202cm long.
Price: £249 from Noa and Nani (image source and retailer)
---
2. Strictly Beds and Bunks – Low Sleeper Bunk Bed, 3ft Single

This low sleeper bunk bed is made of pine in a natural tone to create a beautiful, durable product. It features extra-wide solid pine base slats to support even teenagers or adults. The ladder features thick, flat rungs and can be positioned on the left or right side, which makes it easier to get in and out of bed. The bottom bunk is lower to the floor to create a safe sleep arrangement for younger children. You'll be happy to know that this product is made in the UK. Here the dimensions are: 123cm high, 98cm wide, 202cm long, and the clearance between the bunks is 75cm.
Price: click on button to check price from Amazon (image source and retailer)
---
3. Strictly Beds and Bunks – Low Classic Bunk Bed, 3ft Single
Here you have a very similar product as the one before this on the list. It's also made from natural pine and it's manufactured in the UK. You can be rest assured that this a durable product, that's been tested to take a weight of 108kg (or 17 stone). You'll notice that here the bunk bed is 155cm high (not 123cm), and there is a big clearance between the bunks 108cm. This means that person sleeping below, will have more head space to sit up and read a book for example, without bumping his/her head. Also, the lower bunk is not touching the ground and has a 3cm clearance from the floor.
Price: click on button to check price from Amazon (image source and retailer)
---
4. Saturn Grey Fabric Bunk Bed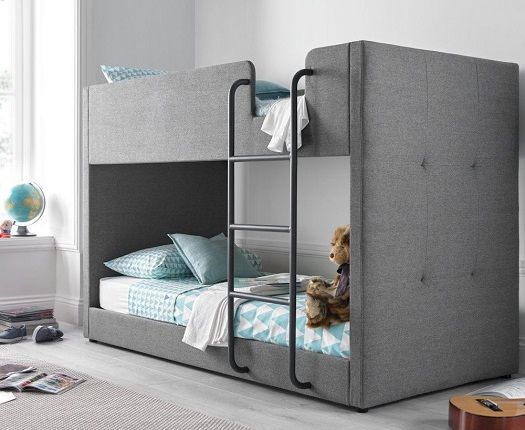 You're sure to love this fabric bunk bed, which has an upholstered bed frame. This makes it even more child friendly, since it has soft edges and comfort. You can buy it in grey or oatmeal colour to complement any room interior. In addition, there are button piping details on the sides. The ladder is a simple three-rung ladder. This product comes with 5 year guarantee.
Price: £379.99 from Happy Beds (image source and retailer)
---
6. The Naples Bed Company Low Bunk Bed
What sets apart this piece from all the rest on the list, is that this is a detachable bunk bed. This means that it can be separated into two single beds. This is a good option in case your kids want to sleep in separate rooms. It's made of MDF and has white veneer finish. It comes with 1 year manufacturer warranty.
Price: £389 from BedStar (image source and retailer)
---
7. Explorer Treehouse Bunk Bed, by Cuckooland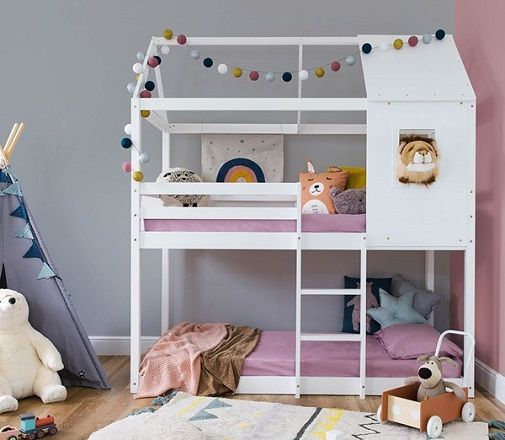 Are you looking for something cooler and more unusual? Here you have a kid's treehouse bunk bed, which will transform their whole bedroom. It has a cut out window and roof panel making it look like a real house. Your kids can play there during the day, and sleep comfortably and safely at night. It's manufactured from pine wood and has white lacquer finish. Its height is 223.5cm, so make sure you double check that there is enough room for it to fit horizontally.
Price: £499 from Cuckooland (image source and retailer)
---
8. Luca Contemporary Low Bunk Bed
Here you have an option with that's the lowest to the ground, measuring at 120.5cm in height. It has a modern and contemporary black and white design. While all edges are curved for added safety. You can add some curtains and create a fun play area. When shopping from Cuckooland you have an option to also add a mattress and you can choose from either the 1000 Pocket sprung mattress or Pocket sprung foam mattress.
Price: £595 from Cuckooland (image source and retailer)
Disclosure: This post features affiliate links, which means that we may get compensated for items purchased through our site, at no additional cost to the reader.
The prices mentioned in this post were last updated on November 16, 2020. For up to date prices, please click on the link of each product.