Children get distracted easily if they sit in their parent's desk or an older brothers' or sisters' desk to do an assignment. If a child gets their own individual desk, the efficiency of the child is increased drastically, and the chances of getting distracted decrease. One thing children enjoy is the control and ownership of things that they can call their own. When a kid gets their own desk, they are most likely to work more, complete their tasks more, and keep themselves occupied more. A desk will improve a child's posture and more importantly, keep them comfortable. This means they'll enjoy doing their work and will want to do more of it.
Disclosure: This post features affiliate links, which means that we may get compensated for items purchased through our site, at no additional cost to the reader.
1. Argos Home Camden 3 Drawer Desk – Pink, Blue or Grey
Add some colour to your kid's bedroom with this beautiful desk. You can buy it in 3 colours: pink, blue or grey, while the top and sides have acacia wood effect.
Price: £65.00 from Argos (image source and retailer)
---
2. Argos Home Pagnell 3 Drawer Desk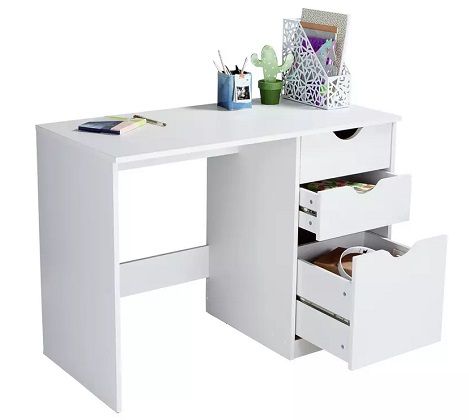 Here you have an affordable option, with 3 handy drawers, where your child can place their books and stationary.
Price: £65.00 from Argos (image source and retailer)
---
3. Getty 87cm W Writing Desk, by Zoomie Kids
Your girl will absolutely fall in love with this pink writing desk, perfect for doing homework or for reading. It has one drawer, open space, and a cupboard.
Price: £74.99 from Wayfair (image source and retailer)
---
4. Argos Home Stars 2 Drawer Desk – White
This desk has everything a boy or girl would need, and comes at a great price. It has two drawers with cute cut-out starts and bevelled edges. You can also get it with cut out hearts, if you have a girl, she'll absolutely love it.
Price: £80.00 from Argos (image source and retailer)
---
5. Vox Spot Height Adjustable Desk
Here you have a desk that can be adjustated to three different heights. The 3 heights are: 66.5cm, 72.8cm, 79.1cm. This is perfect because the desk can grow as your child grows throughout the years. This is a quality desk, made from laminated chipboard and has wooden legs. It's resistant to moisture and is easy to clean so it will definitely last you for a long time. You can also get a matching chair, that will look great together.
Price: £106.25 from Cuckooland (image source and retailer)
---
6. Child's Desk, by Harriet Bee
Another absolutely lovely girl's desk, it has screen print stars and silver glitter stars. It's a great size, very sturdy and easy to assemble.
Price: £131.99 from Wayfair (image source and retailer)
---
7. Ludvig Office Desk Computer Table
Noa and Nani is known for making stylish furniture at good prices. This is a modern computer desk, that has 1 drawer and open storage space. It's made of MDF, while the legs are solid pine wood.
Price: £139 from Noa and Nani (image source and retailer)
---
8. Apollo Desk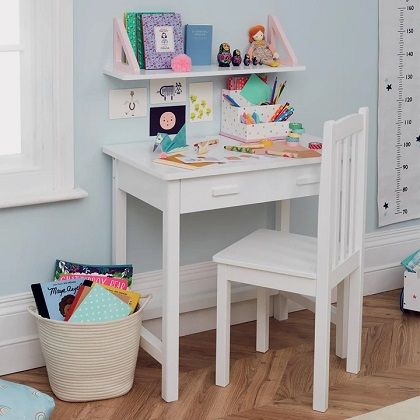 Great Little Trading Co. has a lovely children's desk, that's suitable for boys or girls 5 years and older. It will provide a sturdy space where your kid can use it for arts & crafts. It's has one roomy drawer which is fitted on smooth runners.
Price: £155.00 from Great Little Trading Co. (image source and retailer)
---
9. Gorman Writing Desk, by Isabelle & Max
This is a contemporary writing desk, that you can get in 3 colours: concrete grey, white or steel grey. Perfect for an older child or a teen.
Price: £249.99 from Wayfair (image source and retailer)
---
10. Clinton Computer Desk, by Beachcrest Home
This is the perfect computer desk for an older child or a teen. It's crafted from solid hardwoods, and has a simple silhouette that will fit with any room interior. If you have two kids sharing a room, and it's short on space and is small in size, then consider buying a bunk bed with storage.
Price: £289.99 from Wayfair (image source and retailer)
---
11. Hiba Child's Metal Desk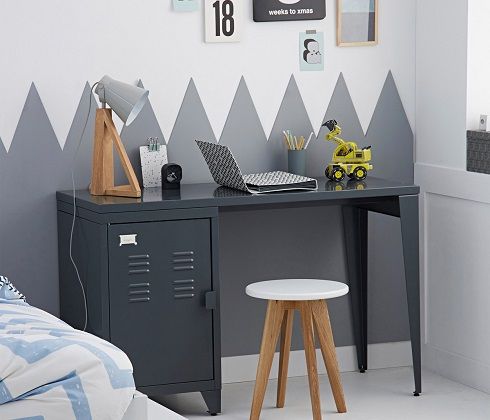 Not many parents would have thought of getting a metal desk for their kids, however this is a great option to consider. It's made of metal and comes in charcoal grey colour. There is a cupboard compartment, with 1 adjustable shelf inside.
Price: £325 from La Redoute (image source and retailer)
---
12. Asper Child's Desk with Double Cabinets
Here you have the ultimate storage desk. It has an industrial design that you can get in 3 colours: red, white or storm blue. It's made of MDF with a lacquered finish.
Price: £350 from La Redoute (image source and retailer)
---
Tips When Choosing a Child's Desk:
A child's desk is the head start a child needs for their personal development that will benefit their educational and professional development for the rest of their lives. There are many types of desks and chairs available in the market.
But first things first, size matters! You wouldn't want to get a child a desk that is meant for adults, mostly because it will be uncomfortable for children. A child needs a smaller and compact desk to satisfy their comfortability. If you fear that your child will grow up in no time and want to plan for the future, a desk with an extendable height is perfect. If you're short on space, you might want to consider getting a corner desk.
Storage! As kids grow, so does the amount of homework they receive, and the number of books and school supplies they require. All of these must be stored somewhere so it'd be useful to choose a desk that has more than one drawer, and if everything is in one place, children won't lose their belongings. A desk can't be positioned anywhere in a child's bedroom. Parents can choose to position the desk in front of a window for natural light to come through, taking advantage of it. The desk can also be placed beside the bedhead, depending on the arrangement of a child's room.
Design! Kids may find a normally designed desk to be boring and this might make the educational and personal development slow down. There are tons of designs to choose from ranging from cartoon characters desks and chairs to minimalistic designs. It all depends on the children and what they need.
Some desks may come with lamps attached to them, which is better if you plan on putting the desk near the bedhead where sunlight will not reach the desk. Some come in different shapes such as L-shaped desks and rectangular ones.
If you're decorating for a girl's bedroom, don't forget to check out the best kid's dressing tables.
Wooden, MDF, Plastic or Metal Kids Desk
Different materials may affect a child or a parent's choice. Most desks are made from plastic or wood, where wood would last longer than plastic desks, but are more expensive compared to plastic desks. Speaking of the budget, children desks may range from £60 – £350, depending on the material and the functionality of the desk. A desk is where a child learns to be disciplined, so make the right choice today!
---
The prices mentioned in this post were last updated on April 1, 2020. For up to date prices, please click on the link of each product.