All parents love the functionality and space saving features of bunk beds! They are the perfect furniture item that lets two kids have their own bed, but take up the space of only one. But let's face it, when you're shopping for a new bunk bed, most of the time you'll also need to purchase new mattresses as well.
3 Reasons to Buy a Bunk Bed with Mattresses Already Included:
Hassle free shopping – this means that everything you need will arrive together and at the same time.
Save money – most of the time, you're saving money buying everything together as a bundle, instead of picking the products separately.
Save time – you'll be saving time searching for and comparing different mattresses. When you buy them together, you'll be getting the right mattress size and depth that's compatible with your bunk bed model. You won't have to deal with returning wrong products either.
Disclosure: This post features affiliate links, which means that we may get compensated for items purchased through our site, at no additional cost to the reader.
Now lets look at 8 great options you can buy for your girls' or boys' bedroom, no matter what your style or budget is!
1. Argos Home Mason Black Metal Bunk Bed & 2 Kids Mattresses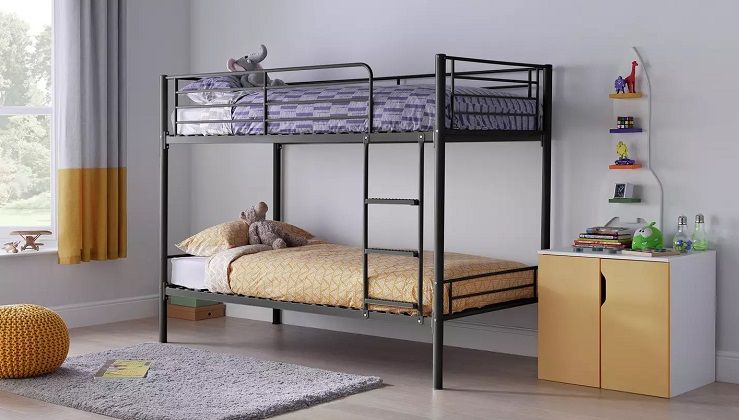 This is a very practical, smart and affordable bunk bed with 2 mattresses. It's made of metal and has metal slats. You can get it in three colours: black, silver or white. It comes with two medium firm Argos Home kids mattresses, which are foam free and open coil with 192 springs. They are easy to care, without you having to turn them. They are soft and supportive and have anti-allergy knit covers.
Price: £270.00 from Argos (image source and retailer)
---
2. Novara Detachable Bunk Bed with Mattress Options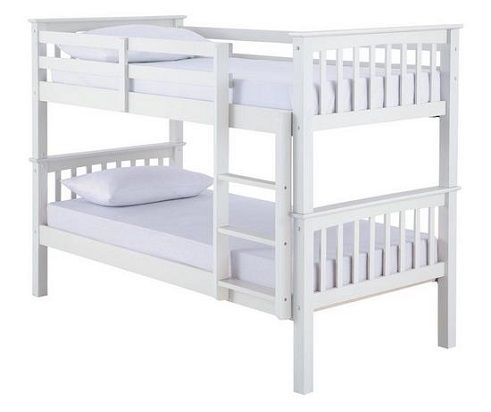 Another functional bunk bed, that is constructed from solid pine wood. It also has the option to be detached and separated into two beds, when your children get older and want their own separate bed. It comes with two mattresses. Here you can choose between two mattress options: standard, which is medium firm, has open coil spring and insulator pad. Or you can get two premium mattresses, which have firm support, open coil spring insulator pad and Belgium damask.
Price: £369-£429 from Very.co. uk (image source and retailer)
---
3. Kendra Bunk Bed With Premier Mattresses, by Harriet Bee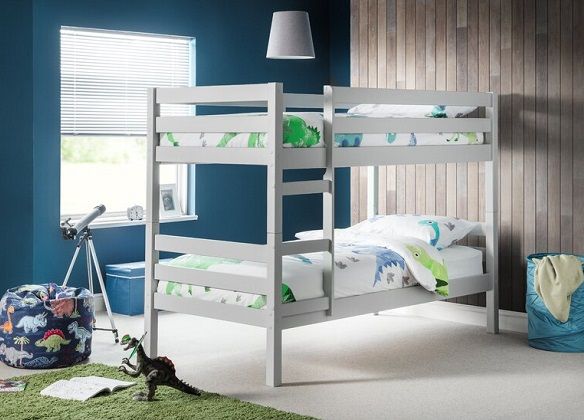 If you're looking for a contemporary bed, that will look great in any kids bedroom interior look no more! This bed is made of pine wood and has a sturdy construction. You can get it in two colours: dove grey or stone white. It comes with two premier mattresses 18 cm thick, that offer good support and comfort.
Price: £359.99 from Wayfair (image source and retailer)
---
4. Sela Single Bunk Bed, by Harriet Bee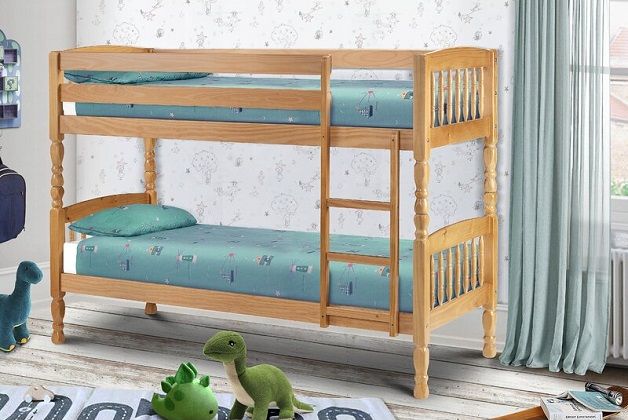 This bed is made from solid pine wood and has a traditional look and design. It comes with two premier mattresses, which have springs, insulated pad and polyester filling. Each has a Belgium damask quilted cover.
Price: £409.99 from Wayfair (image source and retailer)
---
5. Abby Single Bunk Bed with Bookcase and Mattresses, by Just Kids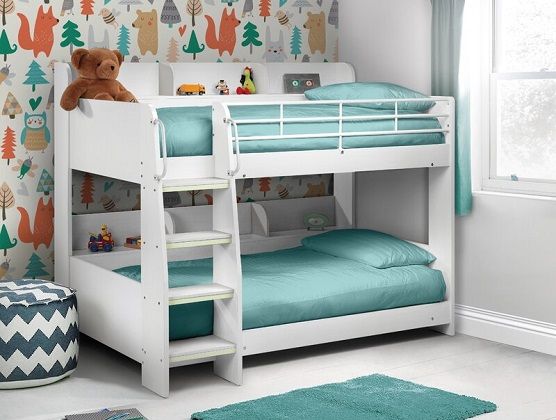 This is a lovely bed, with lots of shelving space on both the top and bottom bunks. So your kids can keep their favourite items close by. The steps are also easy to climb up and down, and there are "glow in the dark" strips on each step, which illuminates in the dark. It comes with two mattresses single size.
Price: £479.99 from Wayfair (image source and retailer)
---
6. Kieran Bunk Bed With Drawers, Shelves, and Mattresses, by Harriet Bee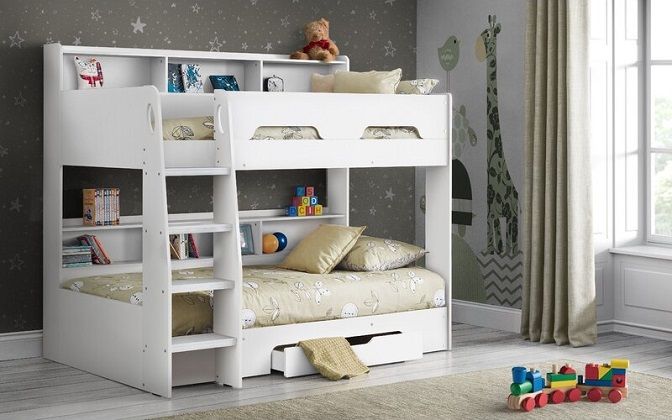 Your kids will love the extra shelves they have on each bunk. There they can keep their favourite teddies, books, and other items. The stairs have wide steps for easy climbing up and down, plus there are cut out handles on top, and "glow in the dark" strips which you can place on each step for extra safety. This is the perfect bunk bed with storage, since it comes with one handy drawer, which you can use to store toys, games, clothes or any other belongings that need to be hidden. It comes with two mattresses included.
Price: £569.99 from Wayfair (image source and retailer)
---
7. Sheppard Bunk Bed with Drawers, by Isabelle & Max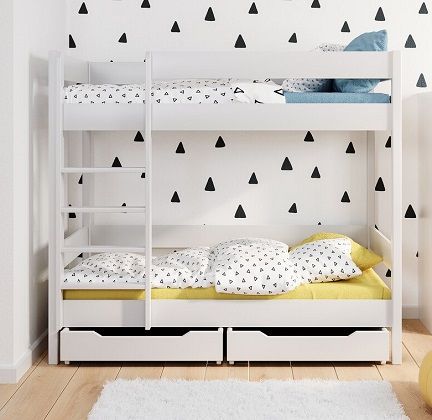 This is another space efficient bunk bed, that has a timeless form and design. It's frame is made of solid pine wood and comes with 2 drawers, perfect for storage! It's roomy enough and the upper level is high enough, allowing a child to sit on the bottom bunk. It comes with two memory foam mattresses 10cm in height. What's unique about this bed is that you can buy it in 4 sizes: cot bed / toddler (70×140 cm), European toddler (80×160 cm), European toddler (80×180 cm), or European Single (90 x 200cm). So if you have limited space at home, you can get a smaller size, however keep in mind that your kid might soon outgrow the toddler size beds.
Price: £552.87 from Wayfair (image source and retailer)
---
8. Pino Kids Bunk Bed in 3 Heights with Mattresses with Drawers or Trundle Bed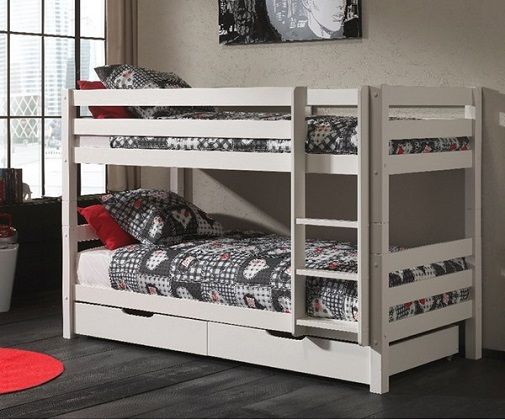 Kids and parents will be thrilled about this bed, because you can customise it in different ways, and create the best bed for your kids' room.
First, you can choose between white or taupe colour.
Second, you can pick the height of the bunk bed: low 140cm, mid 160cm, or high 180cm.
Third, you can add two storage drawers, or trundle bed as an extra, which will allow you to accommodate extra guests. If you add the trundle bed, this will create a triple bunk bed.
You can get it with two mattresses: either two superior Sprung Mattresses or two Luxury European 1000 Pocket Sprung Mattresses.
It's made from MDF and solid pine and can be split into two single beds.
Price: £653-£893 from Cuckooland (image source and retailer)
The prices mentioned in this post were last updated on April 11, 2020. For up to date prices, please click on the link of each product.