Bunk beds are a great way to save space in your kid's bedroom, another reason why parents and kids love them is because you can also find bunk beds with storage drawers built-in. This is a definite bonus, because your kids can use the added storage drawers or shelves to put away their clothes, bedding, toys, books and any other items you want neatly tucked and hidden away. Creating a functional and tidy girls' or boys' bedroom!
1. Tinsley Bunk Bed Frame with Drawer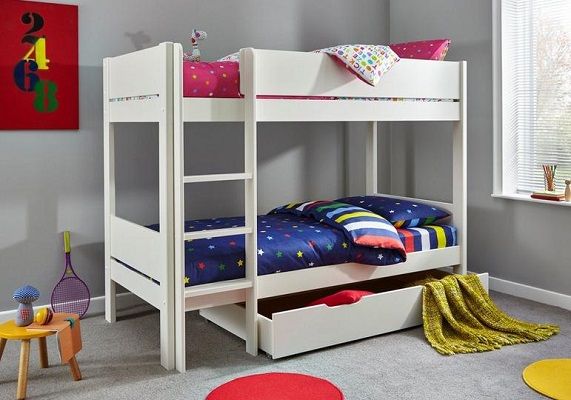 This is a beautiful bunk bed with a clean and modern design. It's perfect for a small or narrow bedroom, because it has a spacious under bed drawer, providing an ideal sleeping and storage solution. The ladder can be placed on the right or left side. It's available in white colour and is made of wood.
Price: £399 (from Dreams, image source and retailer)
BUY NOW
---
2. Eleanor Single Bunk Bed, by Harriet Bee
This is a beautiful and practical bunk bed, that has lots of storage shelves incorporated. There are lots of storage shelves on the top and bottom bunks, so both of your kids will have enough space to store their books, toys and other favourite items. The latter has wide steps, cut-out handles, and optional "glow in the dark" strips, all of which provide additional safety for your child when he or she climbs up and down. There is also one storage drawer, which can be easily pulled out under the bottom bunk, perfect for hiding away kid's belongings.
Price: £409.99 (from Wayfair, image source and retailer)
BUY NOW
---
3. Maya Bunk Bed in Grey or White, by Noa and Nani
This is a classic bunk bed with stairs. What makes it unique is that there are 3 storage drawers underneath the steps which your kids can easily pull out and store things inside. The wide stairs also make climbing up and down, much easier compared to a latter. It's available in two colours: grey or white, which makes it easy to fit in with any bedroom decor.
Price: £499 (from Noa and Nani, image source and retailer)
BUY NOW
---
4. Pino Kids Bunk Bed in 3 Heights in White, by Cuckooland
There are lots of things to love about this bunk bed. First you can choose from 3 height sizes: low bunk 140cm, mid bunk 160cm or high bunk 180cm. This way, if you're looking for a low to the grown bunk bed, you can choose the low bunk 140cm. Or if you have a higher ceiling or want to give your kid's more space, you can opt for the mid bunk or high bunk option.
Another cool feature, is that you can add an under bed storage drawers (for £125) or a trundle drawer (for £135), which are very large and can provide you with plenty of storage space. The bed is made of solid pine and MDF and comes in two colours: white or taupe. It can also be separated into two beds, in case your kids don't want to sleep on a bunk bed anymore.
Price: £395 without drawer OR £520 with drawer (from Cuckooland, image source and retailer)
BUY NOW
---
5. Barbican Bunk Bed, by Just Kids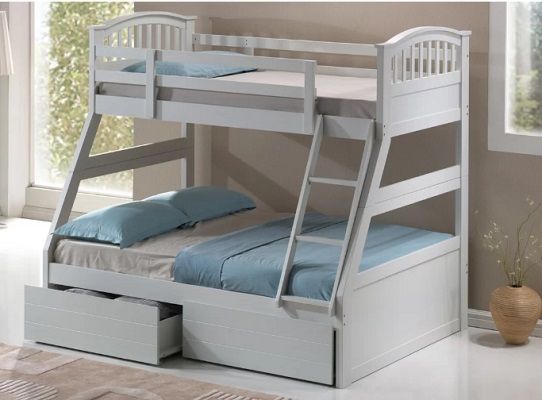 This is a single on top of double bunk bed, with two under bed drawers. If you have lots of family and guests sleeping over, this is a good option to consider.  Since on the bottom bunk can sleep two kids or an adult comfortably. It's available in white or natural oak colour.
The dimensions of the drawers are: 80cm H x 39cm W x 27cm D, while the top bunk mattress size should be: 90cm x 190cm, and bottom bunk mattress is: 135cm x 190cm
Price: £479.99 (from Wayfair, image source and retailer)
BUY NOW
---
6. Ciara Bunk Bed, by Harriet Bee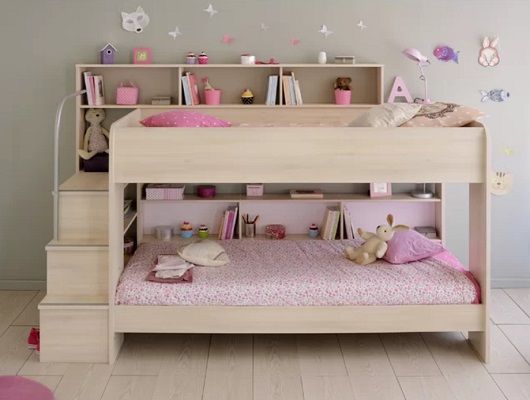 This bed is different from all the rest because there are lots of shelves located on the top and bottom bunk, plus there are shelves on the side under the steps. In addition the steps are very wide and have a safety hand rail, making it easy to go up and down the stairway. Here is the recommended mattress size is: 200cm x 90cm. It comes in two colour options: white or acacia.
Price: £689.99 (from Wayfair image source and retailer)
BUY NOW
---
7. Wooden Bunk Bed with Drawers and 2 Mattresses, by Harriet Bee
Another great bed, with two spacious under bed drawers. In addition it comes with two Bonnell Mattresses (sizes: 90cm x 190cm x 15cm) which means that you'll have everything ready and in place to start using this bunk bed. You'll notice that the bottom bunk also has guardrails included, which is a great feature if you have a younger child who will sleep there. The beds are made of solid wood and can be detached and separated. The bed comes in grey colour and has been painted with water-based paint, which is much saver than solvent-based paint.
Price: £689.99 (from Wayfair, image source and retailer)
BUY NOW
---
8. Betsy Single Triple Sleeper Bunk Bed with 3 Mattresses, by Harriet Bee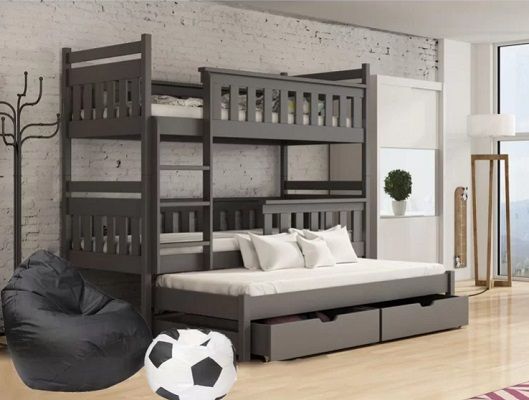 This is a perfect all in one purchase, that includes a bunk bed, trundle bed, 2 drawers and 3 mattresses! Perfect for guests and kid's sleepovers because it can sleep 3 children comfortably. There are two drawers that can be easily pulled out and used for storage. The beds have the option to be separated into three single beds if needed. You can choose if you want a left hand side or right hand side ladder. It's available in white and graphite grey colours.
Price: £719.99 (from Wayfair, image source and retailer)
BUY NOW
---
The prices mentioned in this post were last updated on August, 2019. For up to date prices, please click on the link of each product.
Disclosure: This post features affiliate links, which means that we may get compensated for items purchased through our site, at no additional cost to the reader.