Last Updated on June 27, 2021 by Sarah Wright
Ever child needs a wardrobe in their bedroom, where they can store away all their clothes. Every morning, they'll open up their wardrobe and pick their favourite clothes to wear. This is an essential furniture piece that kids, teens, and adults need to have. You'll notice that wardrobes come in different sizes, styles and colours. Most of them have a hanging rail inside for shirts, dresses and jackets, while some may also have shelves and drawers.
Getting a pink wardrobe for your girl's bedroom is sure to bring colour and fun into her room. Every girl loves pink colour, and so you can't go wrong with it. You might also consider getting your daughter a pink chest of drawers. To help you with your shopping, we've picked 6 lovely pink wardrobes, that will look great in any bedroom.
Disclosure: This post features affiliate links, which means that we may get compensated for items purchased through our site, at no additional cost to the reader.
1. BRIAN & DANY Portable Cartoon Clothes Closet Wardrobe in Pink
This is an affordable and fun modular storage organizer, designed to be sturdy and safe for children. It comes with 12 cubes, but you can also order it with 8 cubes if you don't have too much space in your kid's room. There are with two hanging rails inside so your child can hang their clothes there. The cubes are perfect place to put away toys, books, boxes, bedding and other belongings. The panels are light and soft, and harmless for kids, while each cube can still support up to 10kg. All cubes have fun designs, which can be arranged as you want. The assembly is very easy and fast.
Price: click on button to check price from Amazon (image source and retailer)
---
2. BUSUNGE Kids Pink Wardrobe
This is a very small wardrobe, more suitable for a young child or toddler. The hanging rail and two shelves can be adjusted in height, to meet your kid's needs as they grow up. The doors have built-in damper, so they close softly. It's size measures: 139cm high, 80cm wide, 52cm deep.
Price: £99 from Ikea (image source and retailer)
---
Here are 3 great options by Argos Home, which are affordable and come in different designs and styles. They are combination of light pink and acacia, which provide warmth and can fit in different bedroom interiors. All three products come with 1 year guarantee and have been tested for latest safety regulations.
3. Argos Home Camden 1 Door 3 Drawer Wardrobe – Pink & Acacia
This is a small and slim wardrobe that won't take up a lot of space, however it has everything needed to store a wide range of clothing items. When you open the door, there is a hanging rail, while on the bottom there are 3 drawers, so you can put away all folded items. It's only 51 cm wide, so you're sure to find space for it.
Price: £95.99 from Argos (image source and retailer)
---
4. Argos Home Camden 1 Door Shelf Wardrobe – Pink & Acacia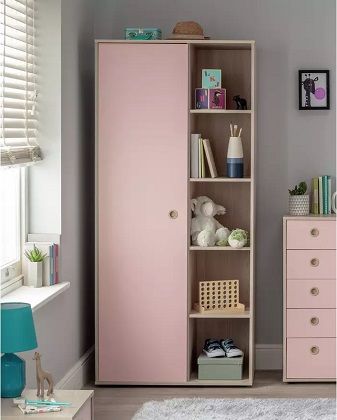 Here you have a one door wardrobe, with 2 hanging rails on two levels. While on the other side there 5 shelves, where you can store books, toys, and anything else you want displayed. It's wide 84.1 cm, but you can store lots of items there.
Price: £130.00 from Argos (image source and retailer)
---
5. Argos Home Camden 2 Door Wardrobe – Pink & Acacia
Behind the two doors, there are two hanging rails for clothes, while underneath there are 2 open cubby holes: so you can store shoes, toys, more clothes or whatever else you like. It's wide 83.1 cm, with dimensions similar to the one shown above.
Price: £140.00 from Argos (image source and retailer)
---
6. Conway 3 Piece Childrens Bedroom Set in Pink
If your girls' bedroom needs more furniture items, than just a wardrobe, this 3 piece bedroom set in pink is a very affordable and lovely option to consider. It comes with 2 door and 2 drawer wardrobe, chest of 4 drawers and 2 drawers bedside table. All pieces have white frames and pink door and drawer fronts, and ceramic knob handles. Your girl will love her new furniture, while you'll be happy with this smart purchase.
Price: £299 from Very.co .uk (image source and retailer)
---
7. Elona Single Wardrobe, Dusk Pink & Copper
This is a chic wardrobe, that is finished in dusky pink and has metallic accents. In addition there it has trendy copper hairpin legs. Behind the door there is handing rail, while on the bottom there is drawer. Despite it's small size (only 60 cm wide), it can still pack up a lot of things inside. Because of it's design, it's more suitable for an older child, teenager or a master bedroom.
Price: £349 from Made (image source and retailer)
Please note: the prices mentioned in this post were last updated on October 21, 2020. For up to date prices, please click on the link of each product.