Every girl would love to have a dressing table in her bedroom, where she can sit down and practice her make up skills, while also checking out her reflection in the mirror. Having a dressing table will make your girl feel just like a princess getting ready for a big ballroom party.
Most kid's dressing tables are sold with a mirror, one or more drawers and a matching stool. When picking a dressing table for your child, consider what colour you want it to be, what size, how many drawers it should have, what is your budget, etc. Make sure you check the measurements of the vanity table, so you're sure it will fit and is appropriate for your child's age. You might also want to check our article on the best pink wardrobes, which will look great in any girl's bedroom as well. To help you with your choice, we're rounded the best kids dressing tables, whether it's for a toddler or older child.
Disclosure: This post features affiliate links, which means that we may get compensated for items purchased through our site, at no additional cost to the reader.
1. Kadence Children's Wooden Vanity Dressing Table & Mirror Stool Set, by Harriet Bee
This is one of Wayfair's bestsellers, with over 720 five star reviews! The set comes with a mirror, table with storage drawer and stool. There are 5 different colour combinations you can choose from: pink/black, white/light pink (shown above), white/pink, white/turquoise, white/dark pink. So you're sure to find one that matches your kid's room decor and taste! It's made of solid and manufactured wood.
Price: £95.99 from Wayfair (image source and retailer)
---
2. Rapunzel Dressing Table Set with Mirror, by Teamson Kids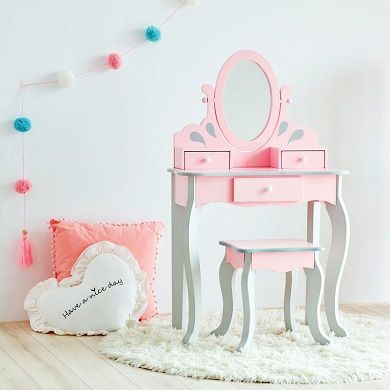 This is a gorgeous dressing table set, which every little girl will love to have in her bedroom. The table has 3 drawers, which are perfect for storing away all of your girl's essentials: brush, hair ties, comb, etc. The oval mirror is made of unbreakable Plexiglas, for added safety. Plus this is a swivel mirror and the angle can be adjusted. It's recommended for kids ages 3 years and up.
Price: £119.99 from Wayfair (image source and retailer)
---
3. Aiken Classic Dressing Table Set with Mirror, by Harriet Bee
This is a lovely hand carved dressing table, with durable wooden construction. It has an oval mirror and flower details painted on the dressing table and stool. It's suitable for kids 3 years and older. The table and chair legs are made by real wood and have been tested for stability with a maximum weight limit being 100lbs. This means your child can use it for many years, without having to worry about its condition.
Price: £136.99 from Wayfair (image source and retailer)
---
4. Sweetheart Dressing Table & Stool Set, Pink Hearts
This is a functional and beautiful kids dressing table, that has a lift up mirror. Here the lift up lid features a safety hinge, and the mirror is made from acrylic safety glass for added safety. If you close the lid, your child can use the table for reading and writing. There is a pattern of printed pink hearts on top, and it's also available in Aqua Polka Dot. The set is made from thick MDF and wood, for a safe and durable construction, built to last a lifetime.
Price: £112 (reg. £140) from Great Little Trading Co. (image source and retailer)
---
5. Charlotte Dressing Table & Stool Set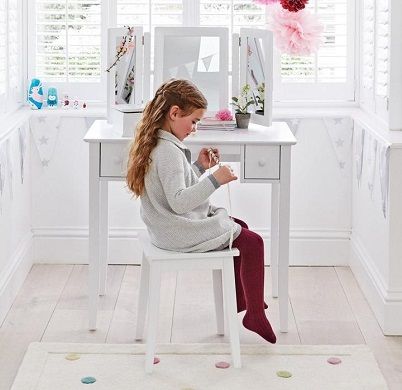 This is a beautiful Dressing Table and Stool, suitable for kids 5 – 12 years old. It includes two smooth drawers and triple mirror made of top quality safety mirror (the middle one can be tilted). The set is made of strong MDF and finished with a tough coating of bright white finish, so it lasts and stays that way throughout the years.
Price: £225 from Great Little Trading Co. (image source and retailer)
---
6. Amori Kids Dressing Table, by Cuckooland
This is an adorable kids dressing table, that will make your little girl feel like a grown up! The table has a large drawer and two smaller drawers, so your child can sort and organise all her hair accessories, jewelry and kid's makeup. There are cut out heart details on every drawer, plus the mirror is tiltable, making it easy to adjust in the perfect position.
Price: £275 from Cuckooland (image source and retailer)
---
Related Articles: if you're shopping for furniture for your girl's bedroom, you can also check out our picks of the best kid's armchairs and kid's four poster beds, which will look great in any girl's bedroom.
The prices mentioned in this post were last updated on July 27, 2020. For up to date prices, please click on the link of each product.