Let's face it we all have the occasional sleepover guests, that we need to accommodate. Most of us just don't have enough guest rooms where we can host them. But that shouldn't be a problem we can't solve. Fortunately, there is a wide range of single beds that come with a trundle bed stored underneath. All you have to do is roll out the trundle and you have a second sleeping space ready!
Single Bed With Trundle Shopping Tips:
Check the size: most of the beds have a UK single size which fit a mattress size 190cm x 90cm. In some cases you'll find them in EU single size which are slightly longer 200cm x 90cm.
Check the trundle mattress size: if you're buying a bed without the mattress included, make sure you check what size the trundle mattress should be and how deep it should be in order to fit properly.
Check the type of trundle unit: there are two types, ones that roll out and then rise up to the height of the bed, thus forming a double bed, a good option for couples, or older adults who want to sleep on a normal bed. The second type of trundle is one that rolls out, however doesn't rise up and stays lower to the grown. This type is better for kids who don't mind sleeping close to the ground.
Disclosure: This post features affiliate links, which means that we may get compensated for items purchased through our site, at no additional cost to the reader.
Now let's take a look at 10 great options that you can order online, no matter your style or budget.
1. Barrett Single Bed with Trundle, by Symple Stuff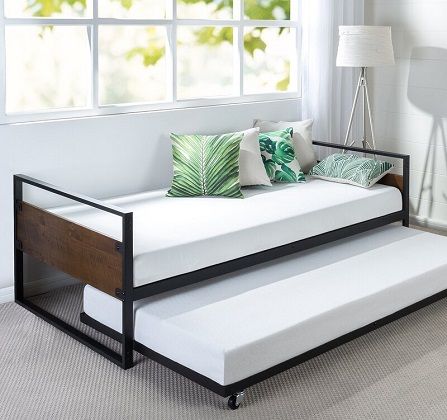 Here you have a contemporary single bed, with a rolling trundle bed underneath. It's crafted from steel and has brown-stained wood accents on the headboard and footboard. It also comes with five year warranty.
Price: £152.99 from Wayfair (image source and retailer)
---
2. Bingham Single Bed with Trundle, by Harriet Bee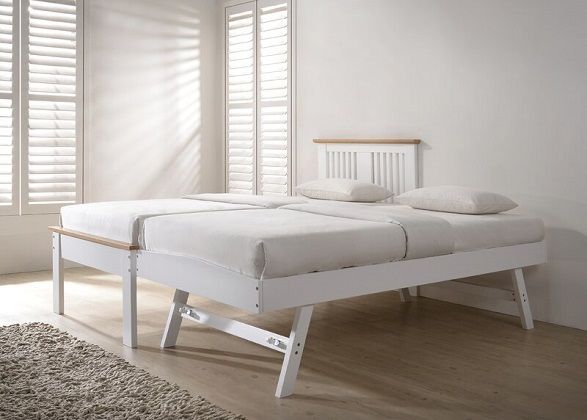 This is another traditional bed, with slatted headboard design and low foot end. You can get it in 3 colours: white, oak, white/oak. It has solid slats and it's made of manufactured wood. The trundle has wheels, which so you can pull it forward and then you can expand the legs and you'll have a double bed, perfect for couples. The weight capacity of the bed and trundle is 150 kilograms each. This makes it a great option if you have frequent guests over.
Price: £219.99 from Wayfair (image source and retailer)
---
3. Guest Bed with Trundle, by Brayden Studio
Here you have a single bed with a trundle bed included, ideal for guests. Both are made of solid wood, which means they are strong and durable. They are available in oak or white finish. The bed has slatted headboard and foodboard, which will look great in any bedroom interior.
Price: £284.99 from Wayfair (image source and retailer)
---
4. Trident Single (3′) Bed Frame with Trundle and Shelf, by Breakwater Bay
Perfect bed for storing books and other items close by, so your kid can read every evening. This single bed features high headboard with a shelf. It has a New England style paneling, creating for a timeless look and appeal. It comes with a trundle bed, which rolls out.
Price: £329.99 from Wayfair (image source and retailer)
---
Single Beds with Trundle and Mattresses Included
Here are a few options where you also have two mattresses included. This means that you don't have to shop separately for the mattresses, as they already come together and are included in the price. Shopping for a mattress can be tricky sometimes, because you have to check the mattress thickness, since depending on the model it shouldn't exceed certain limits, usually it shouldn't be more than 15-18 cm deep.
5. Argos Home Atlas Metal Guest Bed with Trundle & 2 Mattresses
Great if you have occasional guests over or if your child has friends sleeping over. This is an affordable option, that's made of metal with black painted tubular frame. It has a pull out guest bed, with castors mounted on it. It comes with 2 single mattresses (190cm long, 90cm wide, 16cm deep).
Price: £269.00 from Argos (image source and retailer)
---
6. Argos Home Andover Day Bed with Trundle & 2 Mattresses
The Andover daybed has slatted backrest and sides in pine. The trundle bed pulls out smoothly from beneath, allowing you to accommodate two people. The weight capacity is 100 kilograms per user. It comes with two rolled single mattresses (size: 190cm long, 90cm wide, 15cm deep).
Price: £349.00 from Argos (image source and retailer)
---
7. Naomie Daybed with Trundle and 2 Mattresses
This is incredibly functional and versatile product. It features a cabin bed, with a pull out under bed plus 3 drawers for additional storage. Plus it comes with two pocket sprung mattresses, which have a medium-firm support and comfort level. Your guestroom or kid's room will be equipped with everything needed to hosts guests. You can check out more kids beds with storage here.
Price: £519.99 from Wayfair (image source and retailer)
---
Trundle Unit
If you already own a single bed at home that has enough underbed space to hold a trundle unit, then all you need now is to find a trundle bed with a mattress.
8. Ariela Trundle Unit with Mattress, by August Grove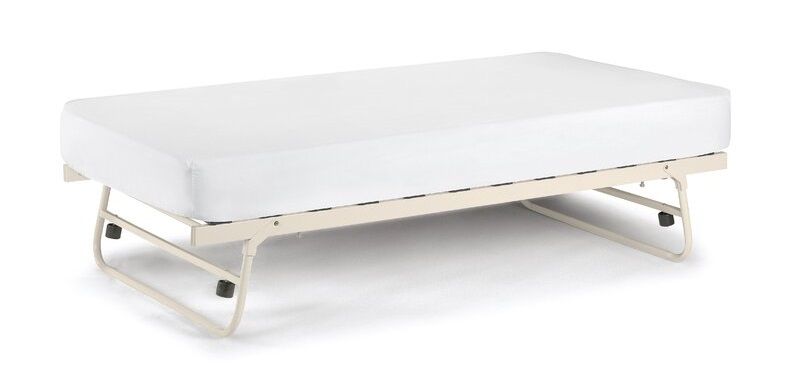 Here you have a metal trundle unit, which slides out on wheels when needed and raises up to make a king size bed. It comes with premier mattress included in the price! The size of the product is: 40cm H x 100cm W x 202cm L
Price: £139.99 from Wayfair (image source and retailer)
---
9. Underbed Trundle Unit with Mattress, by Natur Pur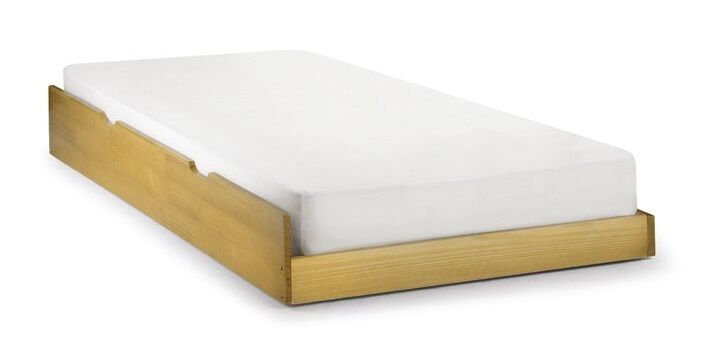 Here you have a solid and durable trundle unit, crafted from solid pine wood. This is a smart and functional furniture piece, which rolls out under the bed when needed. It comes with a Premier Mattress included in the price, which is 18cm thick and has medium-firm mattress feel.
Price: £157.99 from Wayfair (image source and retailer)
---
Fun Pick! – Ethridge Single House Bed with Trundle, by Zoomie Kids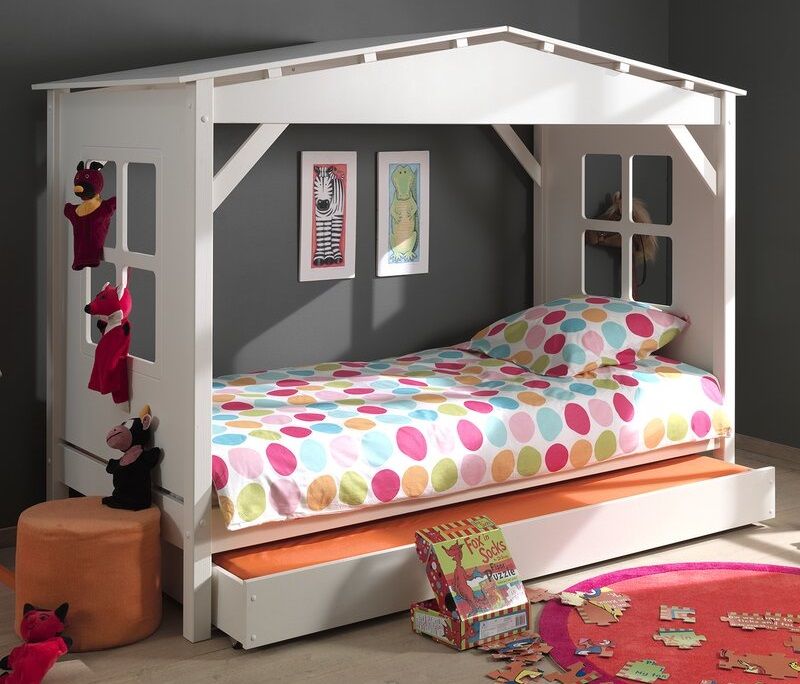 Here you have a fun option which any girl or boy will absolutely love. This is a house bed made of partly solid pine wood, with a trundle bed included. All of your kids's friends will want to have a sleepover in your house. There are roller glides, which make it easy to pull out and push in the base plate. It's suitable for children 5-6 years old. If you're looking for a bunk bed, don't forget to check out our article on the best bunk beds with storage.
Price: £669.99 from Wayfair (image source and retailer)
The prices mentioned in this post were last updated on April 5, 2020. For up to date prices, please click on the link of each product.