A lot of times we're faced with the problem of not having enough space at home for different furniture items. Finding the right spot for a desk at home can sometimes be a difficult challenge. If you're limited in space a smart solution would be to place the desk in the corner.
How to choose a corner desk?
Before rush in to get a desk that you've really liked, you'll need to make sure it will fit properly in your room. Here are a few things to consider:
First, measure the space you have in your room. You should know what's the maximum amount of floor space you have to fit a desk there. Then look for a desk that will fit into your floor plan. You'll be able to find lots of small corner desks, so don't worry if you think your room is too small to fit one.
Check how large the desk surface is. If you want to have more room for your computer, a notebook, books and other items, you should get one with a larger surface desk area.
Do you need storage? If you have lots of books, stationary, paperwork, and other things that you want to keep close at hand while you're working, then consider getting a desk with shelves or drawers.
If you're shopping for a desk for your kid's room, check out our article on the best kids desks. If your kid's room is small and cramped you can also check the list below of some corner desk ideas that will look great in your girl's or boy's bedroom.
9 Best Corner Desks
1. Argos Home Conrad Corner Office Desk in White
This is a lovely desk, that's small in size and can neatly tuck into any corner of a room. It also comes at a very affordable price. There are three fixed shelves so you can put store and organize all your books, notebooks, and writing supplies. It's easy to put together, and has easy cable access. You can get it in white or oak effect. Comes with 1 year manufacturer's guarantee.
Price: £100 from Argos (image source and retailer)
---
2. Corner Desk by Mercury Row
This corner desk has received lots of compliments and praise from customers who bought it. They like the fact that it's small and can fit very well in small bedrooms. Many have mentioned that it's sturdy and easy to assemble. It has a contemporary and natural design, and will look great in a kids' or grown up room. It has a shelf for your PC tower, two open compartments so you can put books or other items, and a handy drawer.
Price: £125.99 from Wayfair (image source and retailer)
---
3. Marielle L-Shape Desk, by Zipcode Design (in White or Black)
This desk has a cute and clever design. It looks very stylish and you can get it in black or white colour. There is a large working surface on top, two open shelves and three drawers. The drawers a great place to keep all clutter hidden. Keep in mind, that when assembled the drawers will be on the left side. Has cable management system.
Price: £136.99 from Wayfair (image source and retailer)
---
4. Corner Computer Desk, by Mercury Row
This is a small corner desk, that won't take up a lot of your floor space. There is a lower shelf so you can store a PC tower or a printer, as well as a keyboard rack. It measures only: 76cm height x 120cm wide x 60cm deep.
Price: £142.99 from Wayfair (image source and retailer)
---
5. Salina Executive Corner Desk, by Mercury Row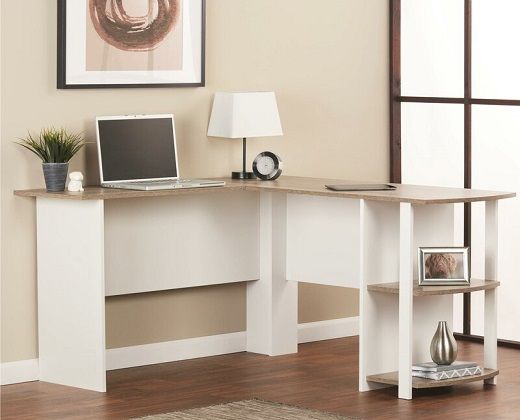 Here you have a simple L-shaped design desk, that can seamlessly blend into any room interior. It provides plenty of surface space and there are two open frame shelves on one side. You also have two built-in grammots so you can manage all your computer cables and cords. It's easy to clean and maintain, simply wide with dry clot or duster. It's made in the USA from practical manufactured wood.
Price: £146.99 from Wayfair (image source and retailer)
---
6. Vasto Wooden Corner Home Office Desk In Oak And White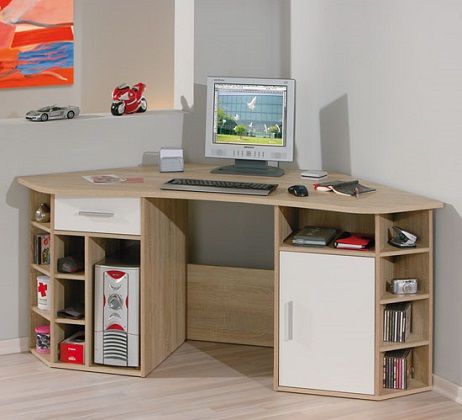 This stylish corner desk has massive storage capacity with 12 open compartments. You can organise and store all your items neatly in each of them. There is also one drawer and one cupboard and a section for PC tower. It's made from thick Melamine laminate, by a German manufacturer.
Price: £149.95 from Furniture in Fashion (image source and retailer)
---
7. Vox Nest Cabin Bed Study Desk in Larch Effect & Graphite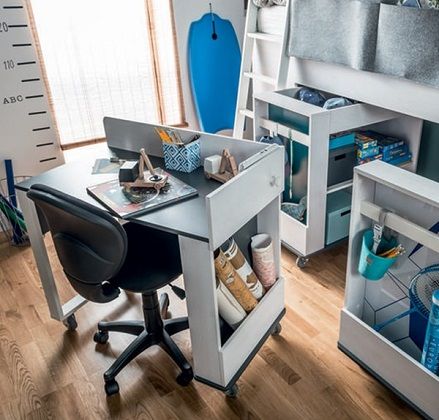 This is our favourite kids corner desk, because it's small and the best part is that it has wheels. This allows your kids to move it in different part of their bedroom. If they have a mid sleeper or high sleeper in their room, the desk can easily be tucked underneath when they've finished their homework. Or it can be used as a stand alone study desk.
Price: £165.00 from Cuckooland (image source and retailer)
---
8. Argos Home Corner Office Desk – Two Tone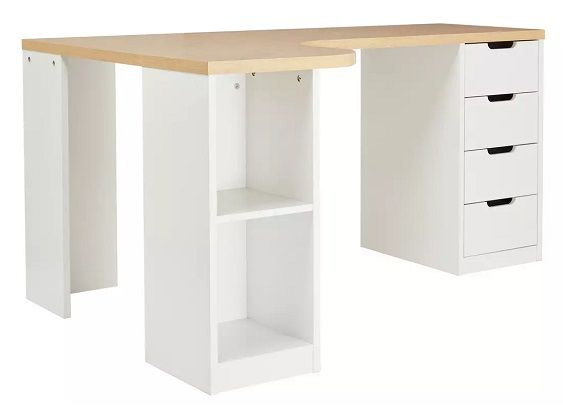 This is a large desk, that would be perfect for a large bedroom, living room or home office. It has a curved design, and two warm tones (white and wood effect), giving it a contemporary and modern design. There are four drawers and two shelves, giving you lots of storage space. The desk is on the larger side and weights 53 kg, and it's recommended to be assembled by 3 people. Comes with 1 year manufacturer's guarantee.
Price: £165.00 from Argos (image source and retailer)
---
9. Oslo Corner Desk by Fjorde & Co
If you are a fan of Scandinavian furniture design, then you'll love this desk. There is a large desk area, as well as four open shelves and three drawers. The feet and handles of the desk are made of high quality solid wood. Here you can assemble the desk on the left or right side, so you can set up your work space just the way you want.
Price: £539.99 from Wayfair (image source and retailer)
Disclosure: This post features affiliate links, which means that we may get compensated for items purchased through our site, at no additional cost to the reader.
Please note: the prices mentioned in this post were last updated on April 23, 2020. For up to date prices, please click on the link of each product.