If you are preparing for your little one's arrival, check out our pick of the 5 Best Moses Baskets that will have your baby sleep comfortably and soundly during its first months. All of the Moses Baskets we've featured here already come with a mattress.
Shopping Tip: When shopping for a Moses Basket please keep in mind that they can generally be used until the baby reaches four to six months of age, at maximum. Or until your baby starts to roll over, and push up onto its own hands and knees and sit unaided. Also, the maximum weight of a child, cannot exceed 9kg. If you're planning on purchasing a wicker basket, keep in mind that you should not lift up the basket when your baby is inside. The handles should be used to transform the basket alone, without your baby inside.
Disclosure: This post features affiliate links, which means that we may get compensated for items purchased through our site, at no additional cost to the reader.
1. Angel Baby Box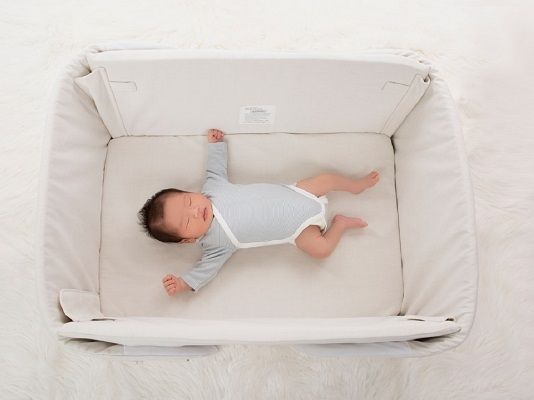 There are many reasons why the Angel Baby Box is one of our favourite sleeping pods available on the market. First, it has undergone rigorous safety testing and has been certified safe by the British Standards (BSEN 1130) for domestic cribs and cots. Second, it's multi-functional, it can be used by your baby for sleeping, or you can fold it out and use it as a play mat or dressing mat. This is perfect because you can extend the life of the sleeping pod, and use it even after your baby has outgrown it. Third, it's made of non-toxic EVA foam and soft and luxurious 100% Japanese cotton. The Angle Baby Box is lightweight and very compact, it can be easily folded and carried out – making it perfect for traveling.
Price: 240 EUR from AngelBabyBox
Buy Now
---
2. Hannah Moses Basket with Bedding, by Harriet Bee
This is a lovely handmade wicker basket, which comes with bedding and a mattress. This way you'll have a cosy sleeping space prepared for your little one. The mattress is water resistant and breathable, and can be machine washed. The stand is not included in the price, and if you plan on using one check out the Bush Moses Basket Stand, by Harriet Bee for only £25.99.
Price: £69.99 from Wayfair (image source and retailer)
BUY NOW
---
3. Mamas and Papas Millie Moses basket and Mattress
This beautiful wicker basket is strong and sturdy, but at the same time light, so you can easily pick it up and carry it with you. Included within this basket is the soft cotton liner, foam mattress and 2.5 tog mini coverlet, that features beautiful embroidery. The cotton liner and coverlet is available in either pink or blue colour. All fabrics are machine washable.
Price: £99 from Mamas and Papas (image source and retailer)
BUY NOW
---
4. Shnuggle Moses Basket and Mattress  
The Shnuggle Moses Basket is made from very strong, hypoallergenic and easy to clean material.  It has a ventilated base and stay up hood, so your baby can sleep soundly.  Unlike wicker, the Shnuggle Moses Basket can't creak and is silent when your baby moves inside, helping your baby stay asleep. It comes with a luxury cosy quilt mattress and has 100% cotton covers.
Price: £90.99 from John Jewis (image source and retailer)
Buy Now
---
5. Snuzpod 3 Bedside Crib, by Snuz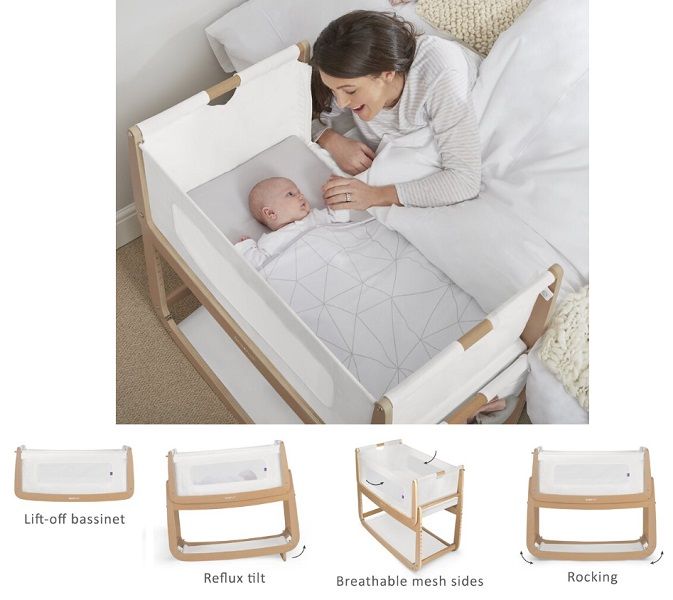 The SnuzPod 3 Bedside Crib has many useful features, which many parents will definitely appreciate. First, you can use it as a bedside crib and have your baby sleep through the night close to your bed. This makes night feedings much easier, since there is a zip-down wall on one side of the crib (see picture above) allowing you to take the baby in your bed, without getting up. There are 9 height settings, so that the SnuzPod can easily attach to a divan or framed beds using adjustable straps that are included in the set. If you wish you can lift-off the bassinet, and move it to different rooms in your home, or you can take it with you when you're visiting friends and family. The frame material is made of solid wood and is available in 5 beautiful colours: dove grey, dusk grey, espresso, natural or white. It comes with a quilted mattress (44 x 80cm), with OEKO-Tex 100 certified materials, guaranteed free of harmful chemicals.
Price: £199.95 from Wayfair (image source and retailer)
BUY NOW
---
Please note: the prices mentioned in this post were last updated on November, 2019. For up to date prices, please click on the link of each product.