Many kids would love to have a bed and a sofa in their bedroom, however there is simply no room fit both items inside. There is a smart and clever solution to this problem, and it's called "futon bunk bed". It consists of a bed that's raised high above the ground and underneath there is a futon. The best part is that the futon can be pulled out to create a double bed – perfect for sleepovers!
Futon Bunk Bed vs. Pull Out Chair Bed
Most futon bunk beds are made of a metal high sleeper with a futon on the bottom. An alternative to having a futon on the bottom, is having a chair that pulls out to become a single size bed. This means that you'll have an additional sleeping bed for guests and friends. Since the chair takes up half of the space under the loft bed, the other half can be used for a desk for example. See number 4, 5 and 6 on this list for some great alternatives.
Below are some of the best futon bunk beds you can get for your home, no matter your style or budget.
1. Parra Single Futon Bunk Bed, by Isabelle & Max
This is a cool and smart futon bunk bed by Isabelle & Max. When the futon is up you have a comfortable sofa that your child can use to sit and relax on. When the futon is down you have a double sized bed, so it can be used to host guests. Keep in mind that the futon mattress is not included in the price, so you will have to purchase one separately.
Price: £197.99 from Wayfair (image source and retailer)
---
2. Argos Home Maddox Grey Futon Bunk Bed Frame
Here you have a metal bunk bed with single bed on top, surrounded by high metal mesh sides. There is a sloping ladder on the side, so go up and down. The sofa underneath is comfortable for sitting and relaxing, and when you have guests over, the futon opens out and becomes a double bed. Argos is known for doing variety of safety testing to meet safety standards and regulations for their products. The bed already comes with futon mattress included, but if you can also buy it with a top bunk mattress for £350.
Price: £300 from Argos (image source and retailer)
---
3. Argos Home Metal Futon Bunk Bed, Fuchsia Futon & Kids Mattress
This is a metal bunk bed with a sofa underneath. Your kids or grand kids can sit on the sofa and watch TV or read a book. The double size futon is great for sleepovers. It comes with one Silentnight mattress (medium firm feel) and a futon mattress (which you can get in pink, blue or black color).
Price: £400.00 from Argos (image source and retailer)
---
4. Jodi European Single L-Shaped Bunk Bed with Chair Bed and Desk, by Zoomie Kids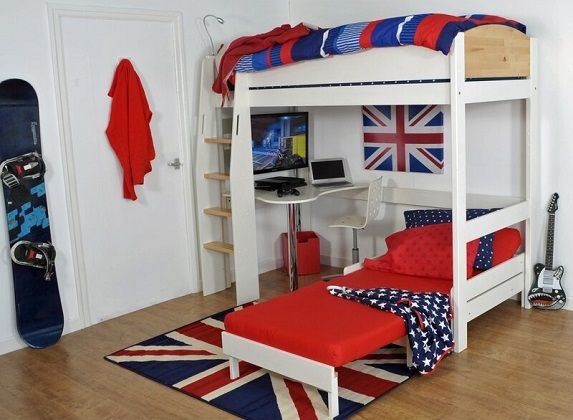 This is a sturdy high sleeper bed made with solid wood with a comfortable extending futon. The ladder has wider steps making climbing and getting down easier. The futon can be easily pulled out to create a sofa bed, perfect for sleepovers or to lay and relax there during the day. It's good to know that you can move the futon and ladder on either side of the bed (left or right), so it can accommodate the space you have in the room. The desk is perfect for a computer and to do homework there. You can get the chair in red, black or pink.
Price: £719.99 from Wayfair (image source and retailer)
---
5. Cutler European Single High Sleeper Loft Bed with Shelf, Desk, and Futon, by Isabelle & Max
This is a very smart and great alternative to having a futon bunk bed, because there the chair pulls out and provides overnight guest bed, so your kid can invite friends over for sleepovers! The desk is quite large (86cm) and can be used for homework and studying, plus two shelves. The comfy sofa in the corner is a great place to relax or read a book. A nice surprise is that there is a handy hidden storage box below the corner cushions, so you can store there bedding, and other items. It comes with the futon foam mattress and corner seat cushions included already. You will need to purchase a mattress European single size (90cm W x 200cm L).
Price: £689.99 from Wayfair (image source and retailer)
---
6. Trevino Single High Sleeper Loft Bed with Shelf, Desk, and Futon, by Isabelle & Max
Beautifully designed and extremely practical. This bed is manufactured in Europe only from the finest materials. It's made from solid Scandinavian pine and has MDF detailing. It includes: bookcase shelves, desk which can be extended, and futon chair that can become a sofa bed. You can choose from different color combinations for the bed frame details and chair fabric. You can check out our article on the best high sleepers with desks and sofas, for more ideas.
Price: £919.99 from Wayfair (image source and retailer)
Disclosure: This post features affiliate links, which means that we may get compensated for items purchased through our site, at no additional cost to the reader.
Please note: the prices mentioned in this post were last updated on April 23, 2020. For up to date prices, please click on the link of each product.