If your kid's room is small in size and cramped, one way to solve this issue is to get them a high sleeper bed. A high sleeper (or loft bed), fits a single size mattress, however it is elevated above the ground providing extra space underneath. This way you can place a desk, storage shelves, chest of drawers underneath, or even a small wardrobe and utilize the space more effectively.
How to Choose a Metal High Sleeper Bed?
When shopping for a metal loft bed, make sure you check the dimensions and size of the bed, so you're sure it will fit properly.
Most importantly check the height of your ceiling, so you are sure that there is enough space for your child to move and sleep freely on the top bunk.
Another tip is to check what the is the underbed clearance (between the floor and the loft). This will give you an idea if your child can stand up freely, and will have enough room to study and play.
When shopping for a high sleeper, you'll notice that most of them are made of wood or MDF. However, we found 5 beautiful metal high sleepers, which come at an affordable price, are sturdy and have a nice design.
Disclosure: This post features affiliate links, which means that we may get compensated for items purchased through our site, at no additional cost to the reader.
1. Domino Metal High Sleeper Bed Frame with Optional Mattress
Great for smaller bedrooms, this bed is 170cm in height, providing plenty of free space underneath to place a desk for example. It is available in three versatile colour choices: black, white or silver. It comes with guard rails and angled ladder, which makes climbing easier. If you buy it the bed with a mattress you can save money on your purchase: you can buy it together with a standard mattress for £179 or together with a premium mattress for £209.
Price: £119 from Very.co. uk (image source and retailer)
---
2. Argos Home Riley White High Sleeper Bed Frame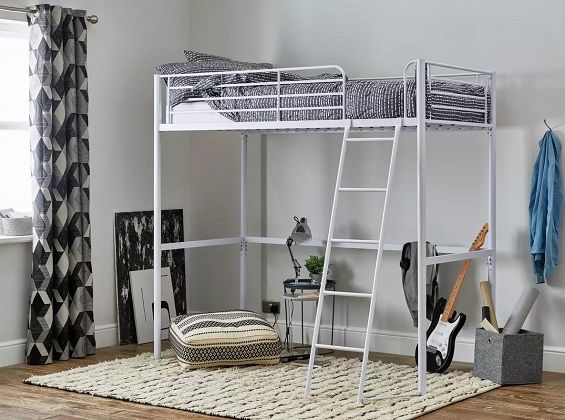 Argos is known for offering affordable and practical furniture, and this product is no exception. There is 148cm clearance, so you can place any furniture item underneath. This is a sturdy metal bed that you can get in white or black colour. The maximum weight limit for the bunk is 91kg, so it's suitable for kids (over 6 years old), teens or adults, as long as the weight limit is not exceeded. Comes with 1 year manufacturer's guarantee.
Price: £125 from Argos (image source and retailer)
---
3. Argos Home Black High Sleeper Bed Frame with Desk
This high sleeper is almost identical to the one above, however here you have a built in desk! Perfect for doing homework, reading and writing. You can get it in sleek black or white colour, both of which have a modern style that will look great in any bedroom. The under bed clearance is also 148cm and the maximum weight limit is 91kg. Also comes with 1 year manufacturer's guarantee.
Price: £160 from Argos (image source and retailer)
---
4. Metal High Bed Frame, by COSTWAY
We love this loft bed for several reasons. First it has heavy duty steel frame construction, which supports 150kg weight, perfect for kids or even adults. It has two convenient ladders which are located on both sides, which save space and give you more flexibility on where and how to place the high sleeper bed in the room. There are full length guardrails, which make it safe for the person who will be sleeping there. There is plenty of room under the loft bed to place a desk, futon, sofa bed, or other furniture item you wish. Comes in white, silver or black colour.
Price: click on button to check price (from Amazon image source and retailer)
---
5. Metal High Sleeper Bed with XL Gaming Desk, by X Rocker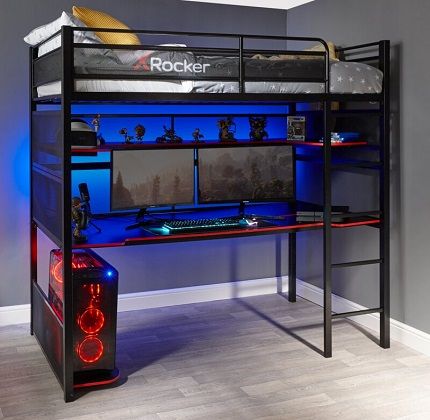 This is the ultimate bed frame for gamers! Or if you have a teen or child who wants a large desk for their computer and books, this is a great option to consider. It has a large gaming desk, and plenty of upper shelving and file storage. It's made of strong and durable metal material. It's recommended for children 8 years and over. It fits a single size mattress (3′) and it should not exceed 16 cm in thickness. This is one of the best high sleeper beds with desks.
The size of this bed is: 183cm H x 95.7cm W x 197cm L.
Price: £380 from Argos (image source and retailer)
Please note: the prices mentioned in this post were last updated on January 19, 2021. For up to date prices, please click on the link of each product.