Double Loft Beds & High Sleepers – 4 Great Options for Kids or Adults
Many older kids love sleeping on a high sleeper (or loft bed), because it's high off the ground. This creates a spacious area under the bed, where they can place a futon chair, desk, or other furniture piece and create a cosy den, game zone or a place to study. A loft bed is a fun and versatile bed, which is perfect for smaller bedrooms.
What is a double high sleeper or loft bed?
A double loft bed or (high sleeper) fits a double mattress size which measures 135 cm wide and 190 cm long (or 4'6 wide and 6'3 long). While a single size bed measures 90 cm wide and 190 cm long. This means that the double loft bed is 45 cm wider, providing a more spacious sleeping area for the person who will be sleeping there. Many older kids and teenagers prefer to have a double loft bed, because it's more spacious. In addition adults also find it more comfortable to sleep in a double vs. single sized loft bed.
Other things you should consider when choosing a double loft bed:
Since loft beds are higher off the ground, due to safety reasons they should not be used by kids who are younger than 6 years old.
Check what is the weight capacity of the loft bed, so that you're sure that the child or an adult who will sleep there will not exceed the weight capacity and can use it safely.
Measure the ceiling height in your room before you order the bed. You should be sure that the ceiling is high enough to accommodate the loft bed, also check all dimensions of the bed (length, width and height) and make sure it will fit inside the room as planned.
There are dozens of lovely high sleeper beds you can choose from (for example: metal high sleepers, high sleepers with desk, and others), but the wide majority of them come in single size. If you're searching for a double high sleeper (double loft bed), then you've come to the right place.
We've found 4 awesome double loft beds that are functional and affordable, and your kid is sure to love them.
1. Small Double or Double Celeste High Sleeper Bed, by Strictly Beds and Bunks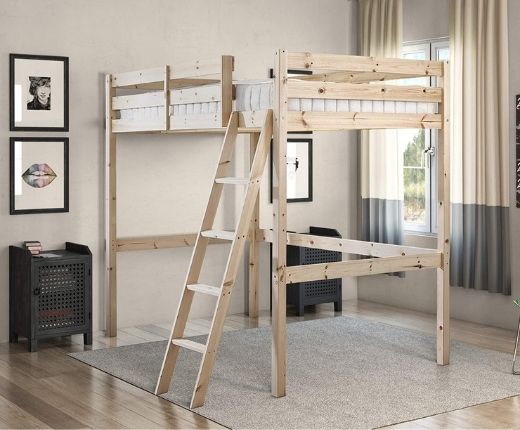 This is sturdy loft bed, that's manufactured in England from solid Scandinavian pine wood. It has a natural pine wood finish, which will look great in any boys' or girl's bedroom. If you like getting yourself busy with different DIY projects, you might also consider painting the bed in a color that your child likes. Here the ladder is slanted and is positioned on the front and extends a further 50cm. Many customers have complimented this bed that's sturdy, easy to assemble and is a great value for the money. This bed has been tested to take up to two people with weight 108 kg each. So it can be used by two adults or kids, as long as the weight limit is not exceeded (including the mattress weight). You can get it in small double (4′) or double size (4'6).
Price: click on button to check price from Amazon (image source and retailer)
Buy In Small Double Size (4ft)
2. Double Memphis High Sleeper Bed 4ft6, by Strictly Beds and Bunks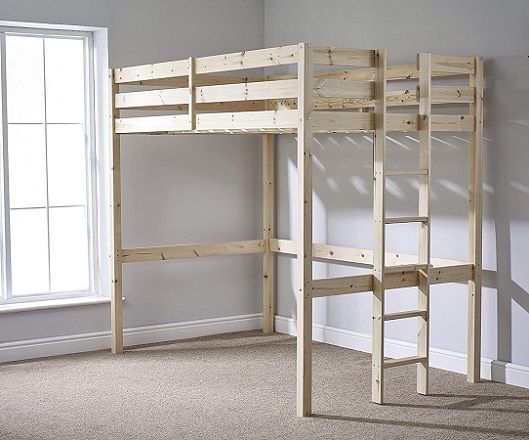 Stricktly Beds and Bunks has made a second sturdy and functional high sleeper that comes in double size. It's also made in England by using solid Scandinavian pine wood. Here the ladder is located on the headboard or footboard of the bed (you can move it to the left or right side). This bed has been tested to take up to 254kg, which makes it a heavy duty bed that can also be used by adults as well. The recommended mattress thickness for the top bed is 20 cm.
Price: click on button to check price from Amazon (image source and retailer)
3. Magnus Double High Sleeper Bed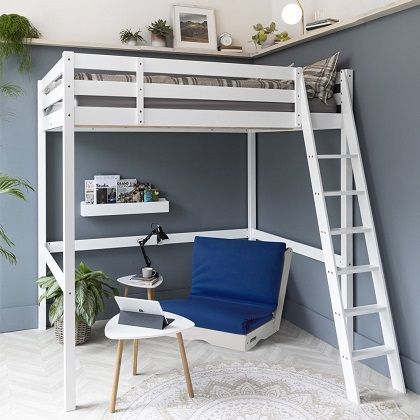 Another lovely bed which your older child or teen will absolutely love. It's also constructed from solid pine wood, but it's been finished in classic white colour. It comes in double size and can be used by adults or teenagers. There is 169 cm clearance from the floor to the height of the loft bed. This creates a spacious area below, where you can place a desk, comfy chair and table, or any other furniture item you wish. The bed already comes with super strong wooden slats, all you need is to get a double size mattress and you're all set!
Price: £349 from Noa and Nani (image source and retailer)
4. Pino Double High Sleeper, by Cuckooland
Here you have a practical high sleeper (available in white or grey), perfect for cramped rooms. It's made from solid Scandinavian pine, with a slanted ladder for easy access to the top. The large free space underneath allows you to maximise the space you have by adding a desk or some storage furniture. Plus you can buy a matching sofa bed, bookcase, chest of drawers, hanging shelf or a cabinet, all from the same Pino furniture collection. Just keep in mind that this loft bed fits a EU double size mattress: 140cm x 200cm.
Price: £525 from Cuckooland (image source and retailer)
If you have two kids that want to sleep on a bunk bed, but prefer some extra space, you can also get them a double sized bunk bed. This type of bunk bed includes a small double over a small double bed, or a double over double bed. Most of them are made of wood, and can even be separated into two double sized beds.
The prices mentioned in this post were last updated on July 15, 2021. For up to date prices, please click on the link of each product.
Disclosure: This post features affiliate links, which means that we may get compensated for items purchased through our site, at no additional cost to the reader.