If you want your toddler or little kid to feel like a grown up, then getting him or her a kid's armchair would be a great idea. This way your kid can read a book or watch TV just like his or her parents. There is a wide variety of kids armchairs with cute designs and prints that he or she will absolutely love. You can also check out some cute kids sofas that can seat one or two kids comfortably.
We've selected 8 toddler and kids' armchairs, that have some of the highest customer ratings on top online retail stores. The items on this list would fit any style or budget, starting from just £37.99 and up.*
Disclosure: This post features affiliate links, which means that we may get compensated for items purchased through our site, at no additional cost to the reader.
1. Children's Chair, by 17 Stories
This is one of our favourite children's armchairs, because it comes in two pretty color options and a very affordable price! It has a tub chair design with a smooth arch back, and it's upholstered in 100% cotton. It's padded in foam and has rounded arms making it a comfortable and safe seating furniture piece. This chair has very high customer rating: 4.7/5 stars from 162 customers. Many of the customers complimented that it's very sturdy, has a lovely design and their child or grandchild loves sitting on it.
Price: £37.99 – £48.99 from Wayfair (image source and retailer)
---
2. Argos Home Dragon Bean Bag Chair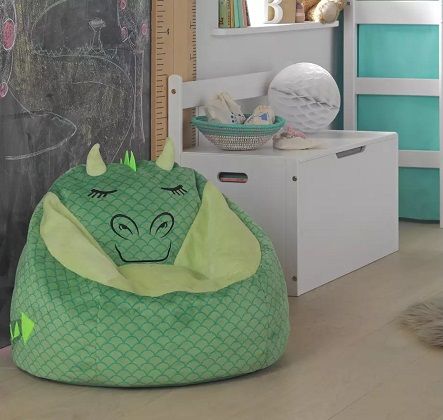 If your child loves dragons, then this will become their favourite bean bag chair they'll never want to part with. It's perfect for reading or imaginative play. It has little horns, wings and cosy soft fabric all over. It's suitable for kids 1+ years and has been tested to the latest safety regulations.
Price: £45 from Argos (image source and retailer)
---
3. Noemi Armchair, by Isabelle & Max

It has solid wood frame and polyurethane foam padding. It's upholstered in cotton and has strong double stitching, so it will withstand any kid's play. The best part is that it comes in 3 colours, perfect for a boy or girl! You can get it in blue or pink with white stars, or pink patchwork design. Many customers have complimented that it's sturdy, well made, and comfortable. It has lovely piping finish, and the fabric can be sponged down and easily cleaned.
Price: £51.99 from Wayfair (image source and retailer)
---
4. Lois Armchair, by Harriet Bee
This is another stylish and comfortable kid's armchair, that will look great in your child's bedroom or in your living room. It has a lovely patchwork pattern, with blue, red and white colours as well as stars and boat prints. Your little boy or girl will absolutely love it. It's frame is made of wood and has strong durable stitch.
Price: £59.99 from Wayfair (image source and retailer)
---
5. Zev Children's Club Chair and Ottoman, by Harriet Bee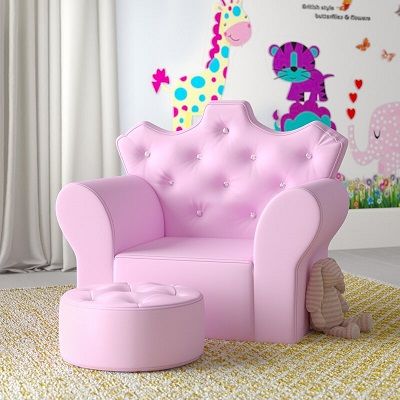 Make your little girl feel like a real Princess with this pink club chair and ottoman. It has a solid wooden frame, and is upholstered in PU leather, all environmentally-friendly materials. It's soft cushioned and has a footstool, making it ideal for reading, watching TV, drawing, or any other kids activity. This kids chair has an overwhelming 4.8 out of 5 star reviews, from 89 customers.*
Price: £64.99 from Wayfair(image source and retailer)
---
6. Liz Armchair with Stool, by Zoomie Kids
If your kid is a football fan, then this armchair will be their favourite chair for a long time. It comes with a removable stool, which your kid can use to sit on or place his/her legs to rest on top. This is a comfortable armchair with a catchy design. It has full wooden frame, PVC cover and is filled with fire retardant foam.
Price: £53.99 from Wayfair(image source and retailer)
7. Churchfield Children's Arm Chair with Removable Covers
All Churchfield kids armchairs are designed and made in the UK. They come in 15 different colour choices and designs for boys and girls, such as: sail boats, country flowers, plain pink, plain blue, pink hearts, jungle animals, and many others – so you're sure to find the perfect one for your child! The covers are removable for easy cleaning. The armchair conforms to stringent British Standard Fire Retardancy Regulations.
Price: £109.00 from Cuckooland (image source and retailer)
---
8. Helwig Children's Chair, by 17 Stories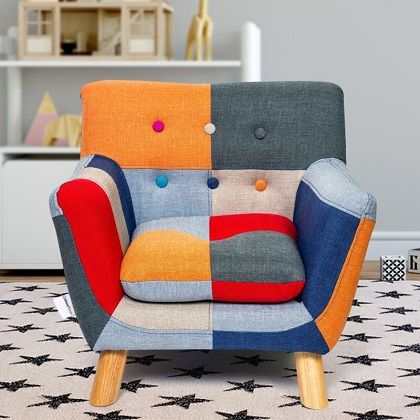 This chair has bright and cheerful colours, and a trendy design that your child will love to use as he or she grows up. The design of the chair supports body posture. It looks like a grown up chair that will look great in your kid's room or the living room!
Price: £144.99 (reg. £179.99) from Wayfair (image source and retailer)
---
*Please note: the prices and customer rating stars mentioned in this post were last updated on May 22, 2020. For up to date prices, please click on the link of each product.