5 of The Best Shorty Bunk Beds for Small Rooms
If you have very limited space at home, but still need to find a sleeping solution for two kids, then consider getting them a shorty bunk bed. They are smaller in size and will free up space in the room for other items, such as: desk, wardrobe, etc. Your kids will still have a comfortable place to sleep, which will take up less space than needed. In addition to this, you can use the underbed clearance to store some boxes and kids items, and make the room more clutter free and organised.
What is a shorty bunk bed?
Shorty bunk beds are shorter and narrower than regular size bunk beds. In some cases, they are 15cm shorter and 15cm narrower than standard bunk beds, but this will depend on the model and manufacturer.
Regular size bunk beds fit a UK single size mattress, which is 190cm long x 90cm wide (6ft3 long x 3ft wide). While the frame of the bunk bed will make it several inches or centimeters larger. For example, the size of a regular bunk bed usually measures around: 205cm long x 103cm wide. This can be a problem for many families, who don't have a lot of free space in their children's bedroom. If this is the case with your family, a shorty bunk bed is the solution.
A shorty bunk bed fits a shorty mattress, which is 175cm long and 75cm wide. They measure 2ft6 in width, and the length can vary from: 5ft3, 5ft6, 5ft9, 6ft depending on the model. Just make sure you carefully check the dimensions which are provided, so that you're sure it will come in the size you want. If you're looking for a shorty bed, that can sleep one child only, then check out our article on the best kids shorty beds.
Shorty bunk beds are hard to find, and only a few retailers actually sell them. But we did the research, and we've listed 5 beautiful beds that you should definitely consider!
1. Habitat Josie Shorty Bunk Bed Frame, by Argos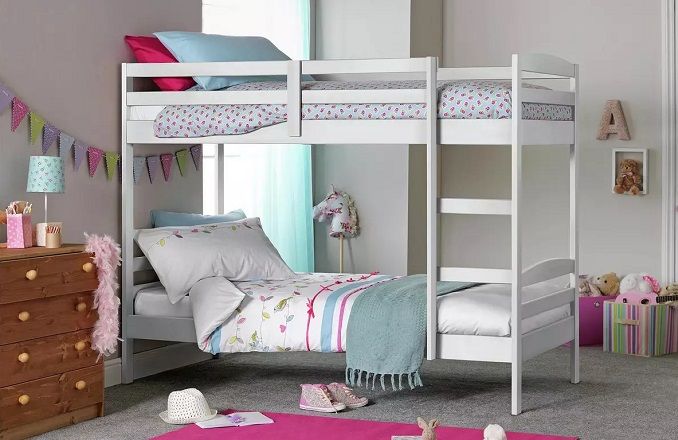 This bed has a clean and practical design, and will look great in any girls' or boys' bedroom. You can order it in 3 colours: white, grey or pine. This means that you're sure to find the best colour that will match your children's bedroom perfectly. It's made of solid wood, and has wooden slats. It's been tested for safety at 100kg. The ladder can be placed only on the right side. Many customers who bought this bed have said that it's easy to assemble, looks lovely and that it is a good value. The bed frame has a size of: 180cm long, 88cm wide, 154.6cm high.
Rating: 4.5/5 from 178 reviews
Price: £170 from Argos (image source and retailer)
---
2. Habitat Josie Shorty Bunk Bed and 2 Kids Mattresses, by Argos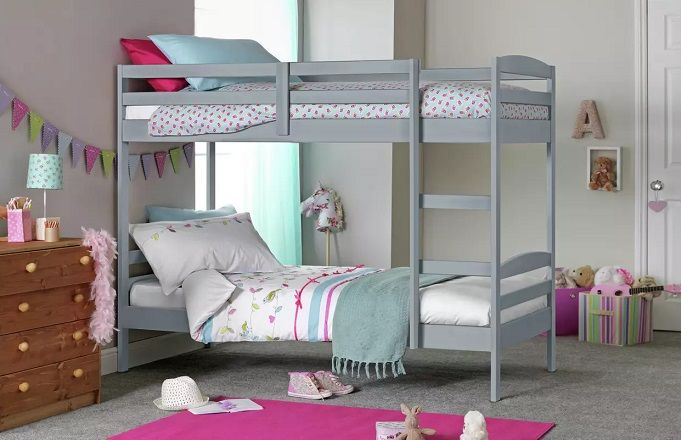 If you need to buy two mattresses with your shorty bunk bed, this is the perfect option for you. In addition to the Josie shorty bunk bed, that's made of solid wood, you also get two mattresses included. This way you don't have to worry about buying the mattresses separately, since they will arrive together with the bunk bed. Your kids will have everything set to
The mattresses are Argos Home Elliott Comfort Anti-Allergy shorty mattresses. They have an open coil spring unit (with 323 springs), overlaid with soft cushioning and an anti-allergy damask cover. The mattress is 175cm long, 75cm wide and 15cm deep and gives the needed support and comfort your kids need. A good majority of the people who bought this bed mentioned that it's sturdy and beautiful, and has very reasonable price.
Rating: 4.6/5 from 373 customers
Price: £370 from Argos (image source and retailer)
---
3. Everest Classic Bunk Bed (Short), by Strictly Beds and Bunks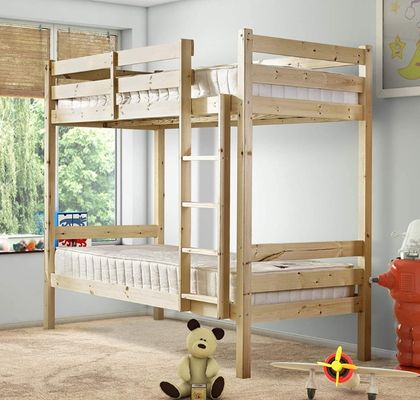 Here is another shorty bunk bed that is manufactured by Strictly Beds & Bunks in England. It's made using only the fines Scandinavian solid pine wood. This is considered a heavy duty bed, and has been tested to take a weight of 108kg or 17 stone. Here the ladder can be assembled on the right or left. The bed measures: 173cm long, 85cm wide, 185cm high. The clearance between the bunks is 108cm, which gives more head space to the child or person who is sleeping on the bottom. It comes without mattresses, but if you need to buy them, click here for the same bed with two mattresses.
Price: click on button to check price from Amazon (image source and retailer)
---
4. Durham Wooden Bunk Bed (2ft6 Small Single)
Although technically this is not a shorty bed, but a small single bed, we still think it's worth including in the list. It measures 196.5cm long, 83.5cm wide, 156cm high. The mattress size that fits this bed is a small single 2ft6 (76cm x 190cm). One of the main reasons why we like this bed is because it can be detached into two separate beds. This gives you extra flexibility to use it again in the future as you kids grow older. The Durham bunk bed has a contemporary design and has a white painted finish. It has a reliable wooden structure and comes with 5 year guarantee.
Price: £259.99 (reg. £469.99) from Happy Beds (image source and retailer)
---
5. Stockton Low Shorty Bunk Bed, by Strictly Beds and Bunks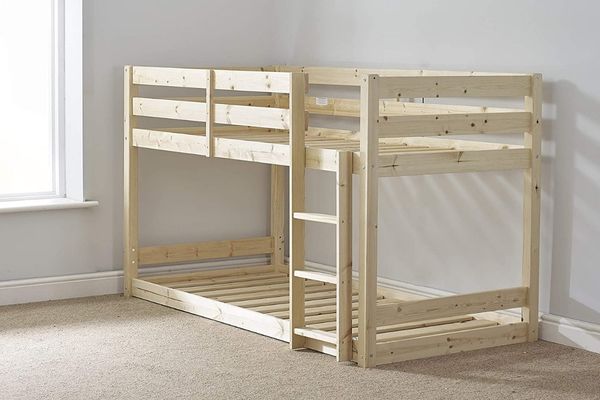 This is another sturdy and durable bunk bed by the British company Strictly Beds and Bunks. It's made using solid pine wood and can hold up to 107kg or 17 stone of weight per user. This is a low bunk bed, where the bottom bunk touches the floor. This is ideal if you have a young child or toddler, who can safely sleep on the bottom. The top should be used by a child 6 years and older. However, since it's lower to the ground it's much easier to get in and out of bed for your kids. The Stockton Low Bunk bed measures: 85cm wide x 202cm long x 123cm high. It fits two mattresses with sizes: 75cm wide by 190cm long, which you can buy together at the same time.
Price: click on button to check price from Amazon (image source and retailer)
Disclosure: This post features affiliate links, which means that we may get compensated for items purchased through our site, at no additional cost to the reader.
The prices mentioned in this post were last updated on August 13, 2022. For up to date prices, please click on the link of each product.