3 Tier Bunk Beds – Our Pick of The Best 3 Level Bunk Beds!
Do you have three kids at home, but are struggling to find space for a bed for each one of them? No worries, many parents have discovered the unique design and features of having a 3 Tier Bunk Bed.
This is a type of triple bunk bed, which has three single size beds (190cm x 90cm) stacked in 3 levels or tiers. This makes them ideal for triplets, big families or sleepover guests. Your three kids will each have their own sleeping space, while the bed will only takes up the space of one bed! This is truly a genius solution!
Best 3 Tier Bunk Beds
These types of beds can be difficult to find, and there are a few companies that sell them. When making up your choice, you should consider the sturdiness, price, warranty, and if the retailer that sells it charges a delivery fee. To help you with your choice, we found seven beautiful 3 tier bunk beds, that are sure to look great in any bedroom!
Tip: When shopping for this type of bed, make sure you measure the ceiling height of your room! So you're sure that there is enough space for the child who will sleep on the top bunk to sleep and move comfortably there. Also, check on which side the ladder is located (right, left, or on the headboard/foot board), so that your kids can easily access each bunk.
1. 3 Tier Bunk Bed, by Strictly Beds and Bunks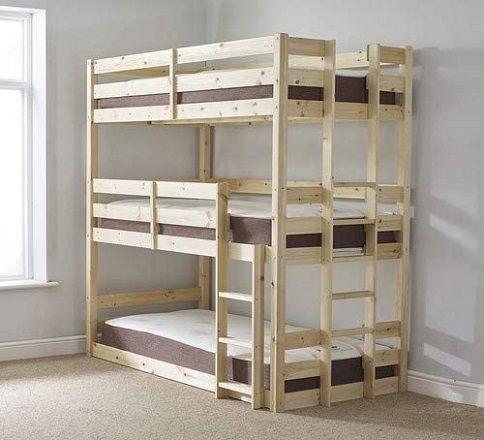 This bunk bed is made in the UK and uses solid Scandinavian pine wood to manufacture it. This is a heavy duty bunk bed, which is very strong and sturdy product. Kids as well as adults can use this product. It's handcrafted and has a natural pine finish, so it can fit into a wide range of bedroom interiors. The recommended mattress thickness should not exceed 20cm, for each bunk. The overall height from top to bottom is 197cm, it's 98cm wide and 202cm long.
Price: click on button to check price from Amazon (image source and retailer)
---
2. Trio Grey Wooden Triple Sleeper Bunk Bed Frame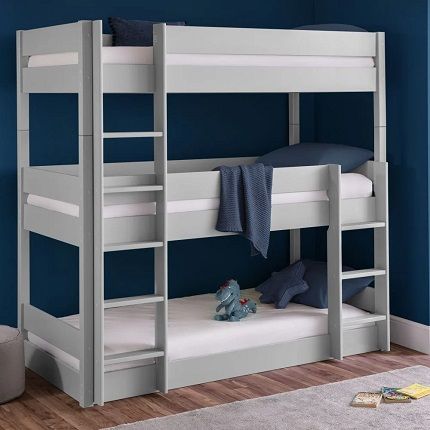 This bed is sleek and stylish, and will easily fit in with any existing bedroom décor. You can get this bed in dove grey or white colour, which is perfect for boys or girls. It's made of high quality wooden components, with two robust ladders. It comes with 5 years guarantee, and if you decide to purchase a mattress with this bed, you'll get a 10% discount. The ladders have wide steps, which makes climbing up and down easier.
Price: £349.99 (reg. £1090) from HappyBeds (image source and retailer)
---
3. Henrik 3 Tier Bed Bunk Triple Sleeper in Natural Pine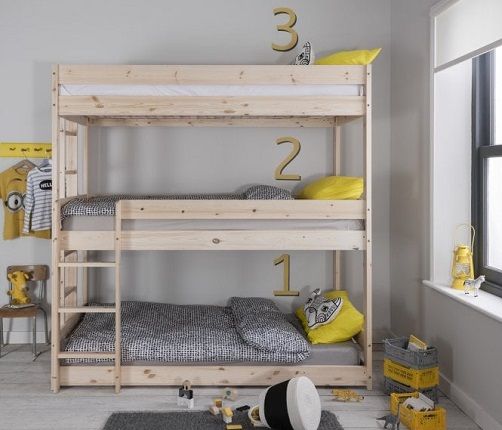 This is another wonderful solid pine wood 3 tier bunk bed, that comes at an affordable price. It has a natural pine finish, which brings warmth and style and looks great in any girls' or boys' bedroom. There are wooden slats included, so all you have to do is place the mattress on top. It fits 3 single size mattresses (3ft or 190cm x 90cm). Keep in mind that their depth must be less than 14cm. The dimensions of the bed are: 200cm (length) x 104cm (width) x 200cm (height).
Price: £386.10 (reg. £429) from Noa and Nani (image source and retailer)
---
4. Snowdon 3 Tier Bunk Bed Frame
This is a contemporary and modern space saving bed. It's crafted from durable wood and finished in a resistant white coating, which protects and prevents signs of damage and wear. It comes flat-packed and ready for easy self-assembly. It's 201.3cm high, 195cm long and 93cm wide. It fits a 3ft6 single size mattress, which if you buy from HappyDays you'll get a 10% discount. Comes with 5 year guarantee. All the customers who bought this bed, have mentioned that it's high quality and excellent value for money.
Price: £439.99 (reg. £829.99) from HappyBeds (image source and retailer)
OR
---
5. Julian Bowen Trio Triple Stacker Bunk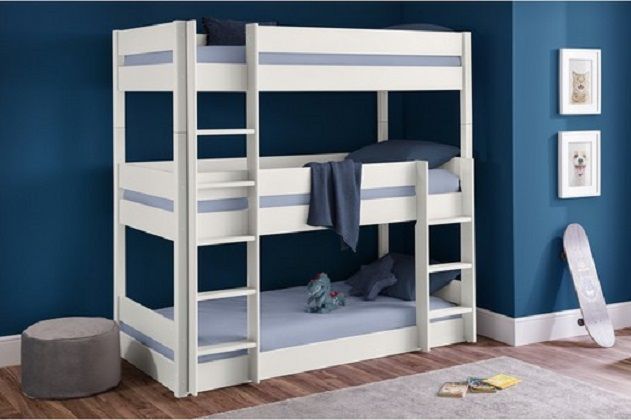 Another contemporary bed, that will look great throughout the years as your kids grow. It's available in surf white or dove grey grey. It's made of solid pine and MDF. The height of this bed is 198cm, the width is 99cm and length is 202cm. With Cuckooland you can add three comfortable mattresses at the same time you purchase the bed. Plus, you have the option to order assembly service for an additional fee, or assemble it yourself using the manual.
Price: £499 (reg. £599) from Cuckooland (image source and retailer)
---
6. Oscar Triple Bunk Bed by Flair Furnishings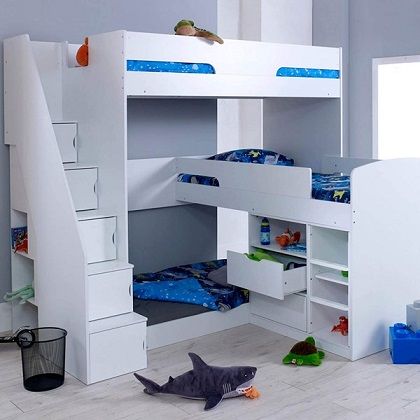 This is an interesting l-shape bunk bed on 3 Levels, which will fit perfectly into any corner of a bedroom. Although the bed takes up more space, it has lots of integrated cupboards, shelving and drawers, so your kids can store their clothes, toys and other belongings. It's manufactured from MDF and is finished in clean white. Here you'll need more space to fit the bed, plus it's 205.8cm heigh x 210cm wide x 236 long.
Price: £899.95 On Sale (was £999.95) from Cuckooland (image source and retailer)
---
7. Mathy by Bols Dominique Triple Bunk Bed
Mathy by Bols is a Belgium company known for making stylish and functional home interior furniture for over 25 years. They design and make their beds in Belgium. This 3 tier bunk bed has a contemporary design, that will look modern and trendy in any kids bedroom. It's frame is made of solid pine and is available in 27 colour options! Plus you can buy optional clip on side tables, so your kids can keep some books and other essential items close by. Overall size: 196 cm (high) x 209cm (long) x 104cm (wide).
Price: £1195 from Cuckooland (image source and retailer)
Disclosure: This post features affiliate links, which means that we may get compensated for items purchased through our site, at no additional cost to the reader.
The prices and ratings mentioned in this post were last updated on August 6, 2022. For up to date prices, please click on the link of each product.