6 of the Best Double Bunk Beds for Kids or Adults
Double Bunk Beds are a great option to consider if you're short on space, but need a bed that can accommodate two or three people comfortably.
Double Bunk Beds consist of a single bed on the top and a double (or small double) bed on the bottom, they are also called Triple Bunk Beds. In rare cases, you'll be able to find bunk bed with a double bed on top and a double bed on bottom.
Double Bunk Bed Size & Dimensions:
Fits single size mattress on top (3ft mattress 90cm width x 190cm length).
Fits small double or double size mattress on bottom (4ft mattress 120cm wide x 190cm long or 4'6ft mattress 135cm wide x 190cm long).
Make sure you check what is the maximum mattress depth that the top bunk can accommodate, usually up to 14-16cm.
Now let's look at the best double bunk beds below:
1. Kent Triple Bunk Bed (Single top / Double bottom), by Noa and Nani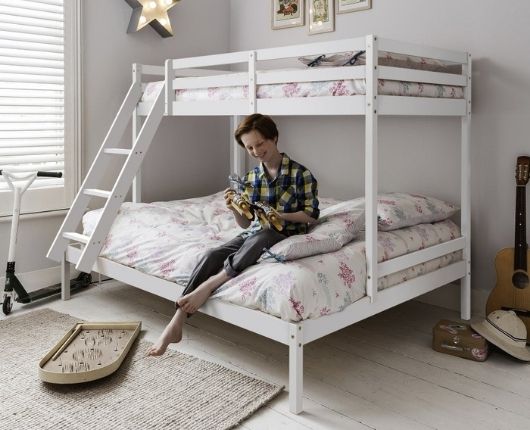 Price: £219 (from Noa and Nani, image source and retailer)
This bunk bed is designed to sleep 2 on the bottom bunk which is a double size (4ft6), and 1 person on the top bunk which is single size (3ft). It has a simple Scandinavian design, and it's made from solid pine wood.
The ladder is slanted and has flat rungs, which makes climbing up and down easy and comfortable. You can buy it in classic white colour or in natural pine finish. Overall, this is a good quality bed at a great price!
---
2. Nexus Metal Single Over Double Bunk Bed, by Happy Beds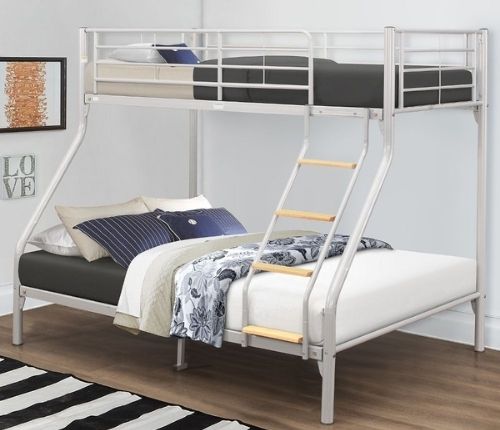 Price: £244.99 (from HappyBeds image source and retailer)
While most of the beds on this list are made of wood, here we have a great option made of metal. It has a contemporary and modern design, plus a sturdy construction. It's made of metal and has a silver finish. Plus there is a metal mesh base, instead of slats, which also provide durable and good support for the mattresses.
The ladder has beech steps which are easy to climb up and down on. Here the bed fits a single mattress on top (3ft) and a double (4ft6) on bottom. With HappyBeds you have the option to buy this bunk bed with two mattresses in case you need them (and get a 10% discount), or you can just get the bed frame. It comes with free delivery and 5 year guarantee.
---
3. Kaycie Single Over Double Bunk Bed, by Argos Home
Price: £230 to check price (from Argos image source and retailer)
Another affordable and practical bed, made of solid wood with a simple Scandinavian design. Here the ladder can be assembled on the right or left size. In addition, the sloping ladder has flat rungs which are much more comfortable to step on and climb up or down.
This bunk bed has been tested for safety to hold 100kg on each bunk. It fits a single on top of a double size bed, while the frame measures: 149cm high x 142cm wide x 196cm long.
---
4. Hanna Triple Sleeper Bunk Bed, by Noa and Nani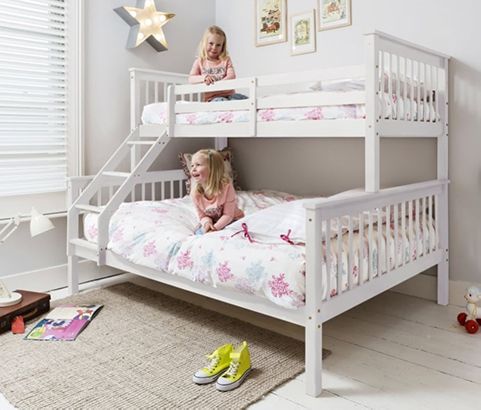 Price: £299 (from Noa and Nani, image source and retailer)
This is a beautiful double bunk bed in white colour, that will look great in any kid's bedroom. It's made of solid wood and consists of a single and double bed, that can be separated into two beds if needed. This is very useful, once your kids grow older and want to sleep on their own separate bed.
Weight capacity is 50kg for top bed and 100kg for bottom bed. One handy feature is that you have the option to buy a single and double mattress from Noa and Nani, at the same time when purchasing your bunk bed. Plus, you get free UK mainland delivery.
---
5. Everest Classic Bunk Bed (4ft 6 Double), by Strictly Beds and Bunks
Price: click on button to check price from Amazon (retailer and image source)
This bunk bed has a simplistic look, but it sure delivers on functionality and durability. It's made from solid Scandinavian pine wood, it's manufactured in England, and can be used by adults as well as kids.
The best part is that it comes in variety of sizes: you can buy a small double over small double, or a double over double. Which means that it can accommodate more than two people. The ladder can be moved to either the left or right side of the bed. The weight capacity is 108kg for top bed and 108kg for bottom bed.
---
6. Malvern Small Double Top and Small Double Bottom Bunk Bed, by Happy Beds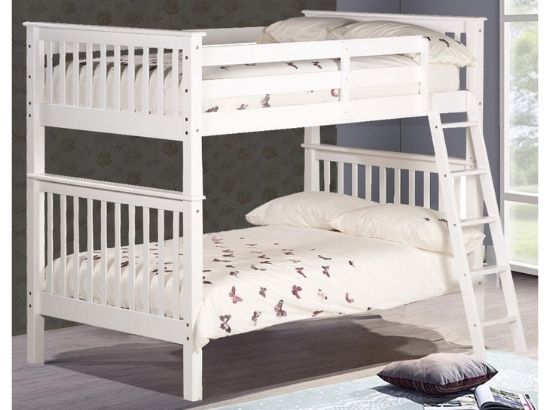 Price: £394.99 (reg. £714.99) from HappyBeds (image source and retailer)
Here you have your classic bunk bed, which fits a small double bed (4ft) on top and a small double bed (4ft) on bottom (also referred to as quadruple bunk bed). This gives you lots of room and space to host guests and sleepover friends and family. The bed is crafted from durable wooden materials and can be separated into two beds, so you can use it for years to come!
---
7. Ollie Single over Double Bunk Bed by Flair Furnishings
Price: £379.95 (was £399.95) (from Cuckooland image source and retailer)
This is one of the top choices if you need a bunk bed with storage drawers! Here there are two drawers on the bottom, which are ideal for toys, games, bedding, clothes and other items. Your kids' room will be more organised and tidy. This bed is available in grey or white, and is manufactured from pine wood and MDF. Keep in mind that the ladder is fixed and can only be assembled on the right.
Shopping from Cuckooland is easy, because you get fast delivery (with items dispatched within 24 hours when in stock), plus free Delivery (depending on postcode). You will need one single mattress on top (90x200cm) and a double mattress on bottom (135x190cm), which you can also buy from Cuckooland or use your own if you already have them.
How to Choose a Double Bunk Bed?
Before you start shopping for a Double Bunk Bed, here are a few tips you should consider first:
Due to safety reasons, the top bunk should not be used by kids who are 6 years or younger.
Make sure you check what is the weight capacity of the top and bottom bunk before you buy it. The kids or adults who will be sleeping there should not exceed the weight capacity.
Measure the free space you have in your room and the ceiling height. You need to be sure that the bed will fit nicely in the room, and there is enough space to access and sleep on the bed.
Some double bunk beds are detachable. This means that you can separate them into two separate beds: a single and a double bed. This is a very handy option, once your kids grow older and don't want to share a bedroom anymore. This way you'll have two normal beds ready for use, instead of being stuck with a bunk bed that will have outgrown its use.
---
The prices mentioned in this post were last updated on July 29, 2021. For up to date prices, please click on the link of each product.
Disclosure: This post features affiliate links, which means that we may get compensated for items purchased through our site, at no additional cost to the reader.