Bunk Beds with Trundle for Extra Sleeping & Storage Space
From sleepovers to storage space, you are going to find that bunk beds with trundle drawers are a lifesaver in your children's bedroom. With a mattress and bedding, the trundle becomes an extra bed for your children's friend. When you remove the mattress, it becomes a storage solution for pyjamas, blankets or toys.
Tips when choosing a bunk bed with trundle:
There are a few things you should keep in mind before you make your choice. First check the dimensions of the bed, so you're sure it fit in your kid's bedroom correctly. Keep in mind that children who are 6 years and over should be sleeping on the top bunk, due to safety reasons. Another factor to consider, is the materials the bed is made of. Also, check what should be dimensions of the mattresses, including how deep they should be (usually they shouldn't exceed 13-15cm).
You can find a variety of bunk beds with trundle drawers at different stores. The beds are a charming, sturdy and convenient addition to any space. If you are looking for a set of bunk beds for your children, check out the following bunk beds with trundle drawers.
Disclosure: This post features affiliate links, which means that we may get compensated for items purchased through our site, at no additional cost to the reader.
1. Argos Home Detachable Bunk Bed with Trundle in White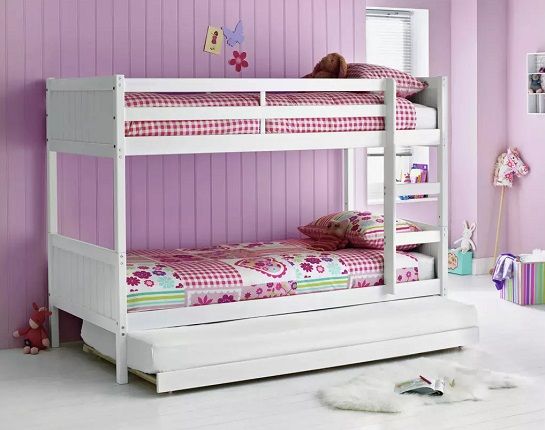 There is nothing like a set of bunk beds with trundle in white to match your child's bedroom. Of course, you can also order the bed in grey if you would prefer a different shade. The bunk beds feature reversed headboards and footboards for alternate sleeping positions, as well as a trundle that can be used as a bed or drawer. This is a detachable bunk bed, so it can be separated into two single beds. This bed is made from solid pine wood, with maximum weight limit per bunk being 120kg. This means that it's durable and is built to last for years.
Price: £250 from Argos (image source and retailer)
---
2. Anders Triple Bunk Bed with 3 Single Beds in White, by Noa and Nani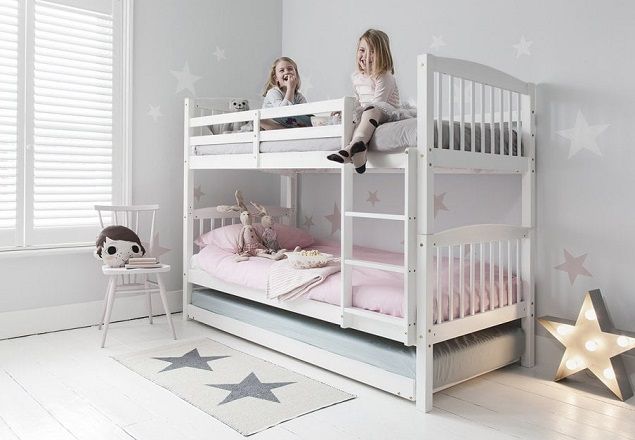 A triple bunk bed is perfect if you have children who have sleepovers often. You can separate the bunks into two singles beds, one with a pull-out trundle bed. The bunk beds are made of solid pine wood with wooden slats, and they come in the colour white to create a simple but appealing piece for their bedroom. You can also rest assured that the top bunk features side rails to keep your little one safe. When you shop from Noa and Nani you get free UK delivery as well as the option to add a comfortable mattress if needed.
Price: £259 from Noa and Nani (image source and retailer)
---
3. Modern Kids Children Wooden Solid Pine Bunk Trundle Bed, by Arthauss Furniture
This is a stylish and a great space saver bed, since it comes with two under bed drawers. This way your kids will be always ready for sleepover guests, and will have a tidy room thanks to the two drawers. The bed is made from solid pine wood and is painted with child-safe spray water based paint. The dimensions of the bed are: 198cm long x 175cm high x 98cm wide.
Price: click on button to check price from Amazon (image source and retailer)
---
4. Triple Bunk Bed with Trundle, Drawers and Mattresses, by Ye Perfect Choice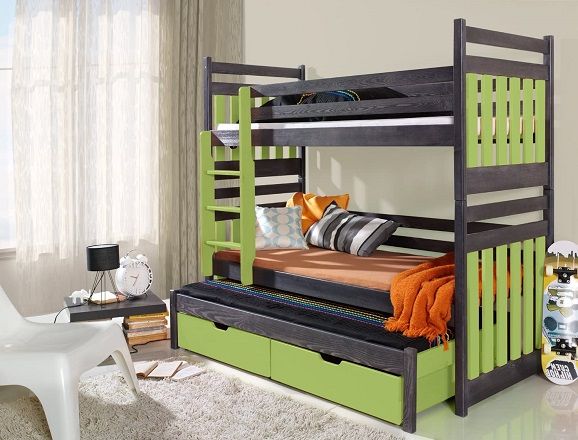 Bring some colour into your children's room, by choosing from 25 colour options: from pink, blue, green, to orange and walnut. You're sure to find the right colour combination, which your kids will love. In addition to the trundle bed, here you have two spacious drawers, which are perfect for storing away toys, clothes and other belongings. Another reason to choose this bed is that it comes with 3 foam mattresses already included in the price. You have the option to upgrade to you can upgrade them to spring, bonnell, or memory foam if you choose so.
Price: click on button to check price from Amazon (image source and retailer)
---
5. Stompa Originals Multi Bunk Bed with Trundle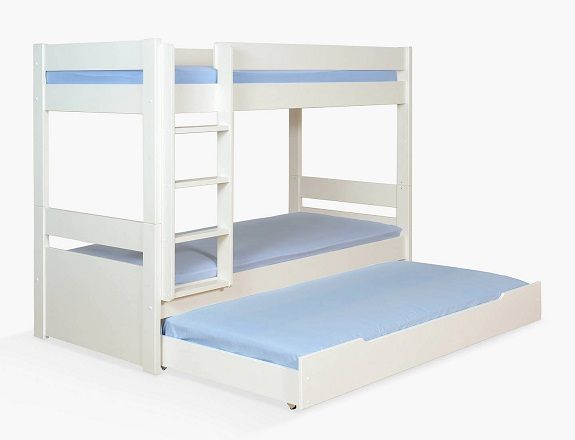 Stompa is known for making quality children's furniture, and this piece is no exception. It's made from pine and MDF, can be separated into two beds, and meets all British safety and quality standards. Plus it comes with 5 year guarantee. Here the ladder has flat steps, making it easier for your child to climb up and down. Keep in mind that the bunk bed fits extra long single mattresses (size: 200cm long x 90cm wide), while the underbed trundle fits a single mattress (size: 190cm long x 90cm wide).
Price: £579 from John Lewis (image source and retailer)
---
6. Classic Beech Bunk Bed with Trundle Drawer, by Little Folks Furniture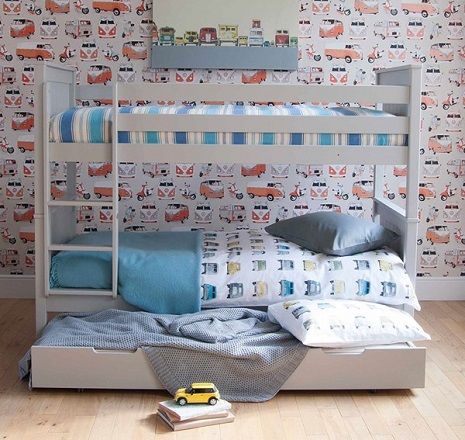 A classic but beautiful piece, you can order this set of bunk beds in white or dove grey to fit the interior of your children's bedroom. In addition, you also have the option of adding a mattress to the order. You always have the option of removing the mattress when you need the storage space, or you can skip ordering the mattress altogether if you do not need an extra bed right now. It's good to know that it can be separated into two single beds when needed. The bed frame is crafted from solid beech wood.
Price: £649 from Cuckooland (image source and retailer)
The prices mentioned in this post were last updated on August 26, 2020. For up to date prices, please click on the link of each product.