Buying a kids bed with storage drawers is a great way to keep your kid's room tidy and organised. It's very handy and practical to buy a kids bed with storage, especially with underbed drawers. This way your kid can easily tidy up his or her bedroom, by storing away toys, clothes, bedding, or any other belongings in the underbed drawers.
Several of our bed suggestions in this post, also have headboards with shelving space incorporated. Perfect for organising and displaying your kid's books.
All of the beds mentioned in this post, fit a single size mattress (90cm x 190cm), except for the "Healy Cabin Bed" which comes in 3 different sizes, including a toddler bed size 140cmx90cm.
Disclosure: This post features affiliate links, which means that we may get compensated for items purchased through our site, at no additional cost to the reader.
1. Single Cabin Bed with Drawers by Just Kids
Image source: Wayfair
This is a beautiful and sturdy bed, that has 3 under bed drawers. It's made of solid wood and has lifetime product warranty, so you know that it will last for years to come. The bed can be assembled with the drawers on either side. The 3 under bed drawers provide lots of storage space for your kid's room.
Three colour options: honey, waxed pine, and white.
It has high 4.5/5 star rating from over 591 satisfied customers.
Price: £243.99 – £264.99 from Wayfair
BUY NOW
---
2. Orlando Fresh Bed
Image source: Very.co.uk
This single storage bed, combines both fashion and functionality. It has 3 underbed drawers and lots of shelving and drawers in the headboard. This way your kid will have lots of space to store his/her books, toys, clothes and any other belongings. It comes in different fun colour combinations.
Three colour options: white/pink/lime, white/navy/red, white/black/silver
You can also add a mattress (standard or premium) and save from your purchase.
Price: £249, from Very.co. uk
BUY NOW
---
3. Healy Cabin Bed with Mattress and Drawer, by Isabelle & Max
Image source: Wayfair
This is a very practical kids bed, that comes with an underbed drawer and a mattress already included. It has detachable guardrails, perfect for younger kids too. This bed comes in 3 sizes: 90x140cm, 90x160cm, 90x180cm. The underbed drawer has a divider in the middle, and is big enough to store lots of your kid's belongings. It's made of MDF and solid wood.
Eight colour options: white, pink, blue, beech, grey, lime green, wenge, dusty pink.
It has high 4.4/5 star rating from over 178 satisfied customers.
Price: £219.20 – £276.95 from Wayfair
BUY NOW
---
5. Andres Kids European Single Bed Frame with Drawers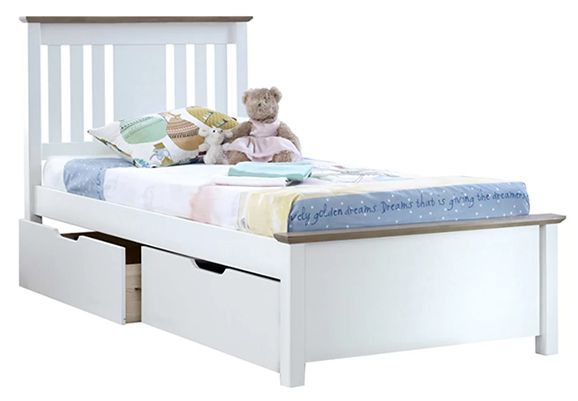 Image source: Wayfair
This is a solid pine wood bed with two storage drawers. Perfect for a girl's or boy's bedroom. The drawers are on wheels, and are not attached to the bed, so they can be easily moved and placed facing either side of the bed. The bed has a beautiful stone white finish, with pine plinths details.
Price: £279.99, from Wayfair
BUY NOW
---
5. Dennis Single Bed, by Wood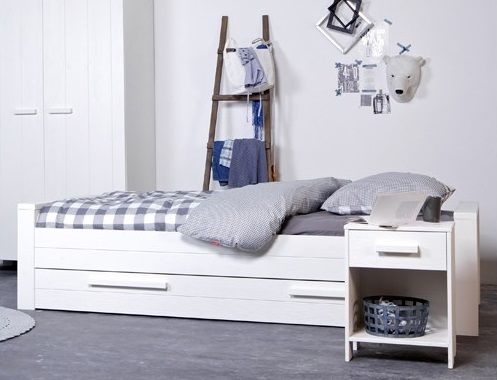 Image source: Cuckooland
This is a sturdy and contemporary wooden bed, that has one large trundle drawer that can be used for storage or if you wish you can place mattress inside and use it as an additional bed for guests. It's manufactured from responsibly sourced FSC mix wood, and is easy to assemble.
It comes in 3 colour finishes: steel grey, contrete grey and white.
Price: £298 from Cuckooland
BUY NOW
---
6. Skyline Single Bed with Storage Drawers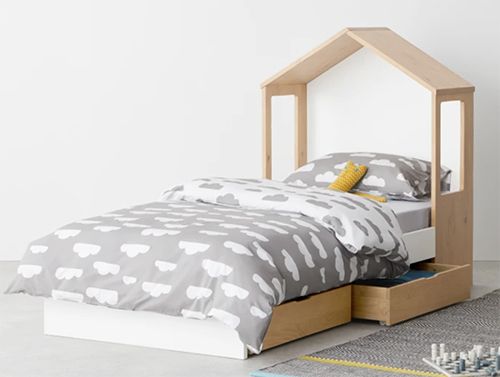 Image source: Made.com
This bed is sure to bring some fun and excitement into your kid's room. It has house headboard and cut out windows, every kid's dream bed. It's also very functional because it has 2 large drawers beneath. The drawers can be used from both sides of the bed and have caster wheels. The bed is made from solid pine and engineered wood. The house headboard is made from pine.
Price:£399, from Made. com
BUY NOW
The prices mentioned in this post were last updated on October, 2019. For up to date prices, please click on the link of each product.
Image source: Made. com | Wayfair