Did you know that by buying a toddler bed and mattress together, you can save time and money? If your toddler is ready for his or her first bed, but you would like to buy the toddler bed with a mattress already included, then you've come to the right place. Buying these two items together can save you lots of time and in some cases money!
Here are a few shopping tips when buying a toddler bed: Most toddlers are ready to transition from their baby crib into a toddler bed around 18-24 months old. Almost all toddler beds already come with guard rails on each side of the bed and are low to the grown, so there are no accidental tumbles during the night.
All of the toddler beds mentioned here fit a mattress size: 140cm x 70cm. One of our toddler bed suggestions in this article even comes with a mattress and bedding (duvet, sheets, pillow, etc.) all included as a bundle together – see number 4. If you already have a mattress at home that you can use from your baby's cot, then we recommend checking our article on best toddler beds under £100.
Disclosure: This post features affiliate links, which means that we may get compensated for items purchased through our site, at no additional cost to the reader.
1. Jaren Castle Convertible Toddler Bed with Mattress, by Zoomie Kids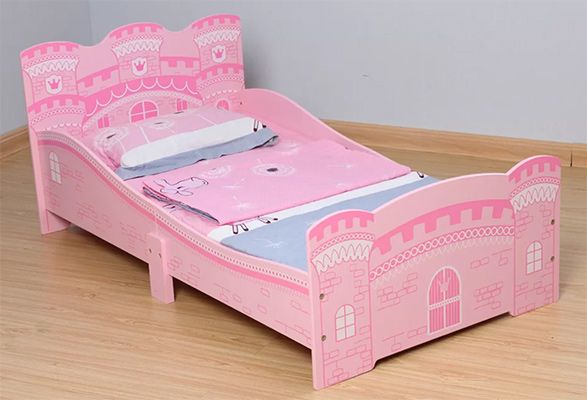 This is a wonderful pink castle bed, that will make any toddler girl feel like a princess. It's low to the ground, and is made of MDF and solid wood. It comes with a water repellent mattress. This is a great princess bed your toddler will look forward to sleeping in every night.
Price: £115.99 from Wayfair (image source and retailer)
---
2. Jaqueline Racing Toddler Car Bed with Mattress, by Zoomie Kids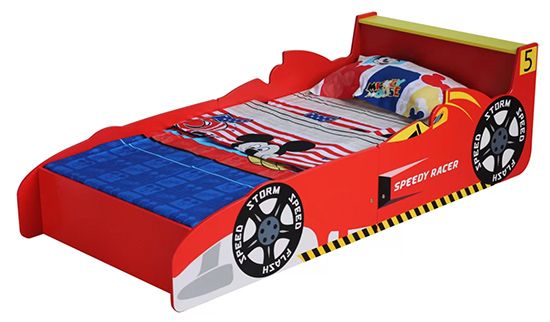 Your toddler will be racing to bed every night with this car-themed toddler bed. It will bring a splash of excitement into any kid's room. The rear spoiler can be used as a handy shelf. It's made of MDF and wood and comes with water repellent mattress.
Price: £118.99 from Wayfair (image source and retailer)
---
3. Argos Home Ellis White Toddler Bed & Kids Mattress
The first thing you'll notice about this lovely bed is that it has extra long guard rails on both sides. It's made of solid wood, making it sturdy and easy to build. It's also close to the floor, perfect for a young toddler. It comes with UK made Silentnight Healthy Growth toddler mattress. It uses eco-friendly fibers, it has foam free core, and is breathable and hygienic.
Price: £170 from Argos (image source and retailer)
---
4. Heather Toddler Bed Frame with Mattress and Bedding Set, by Harriet Bee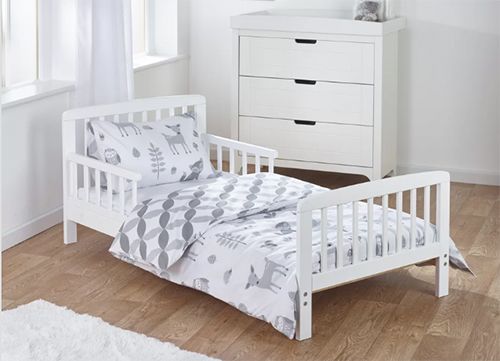 This toddler bed already comes with a mattress and beautiful Woodland Tales themed bedding. The bed is made of pine wood and has detachable guardrails. It comes with Kinder Flow mattress, fitted sheet, lightweight duvet, duvet cover, pillow and pillowcase. The mattress is hypo allergenic, and has water resistant and washable cover. Your toddler girl or boy will be all set with a gorgeous bed and bedding set.
Price: £199.99 from Wayfair (image source and retailer)
See Also: same bed with Circus themed bedding for £189.99 & same bed with Safari themed bedding for £179.99
---
5. Princess Unicorn Bed with Mattress and Drawer, by Zoomie Kids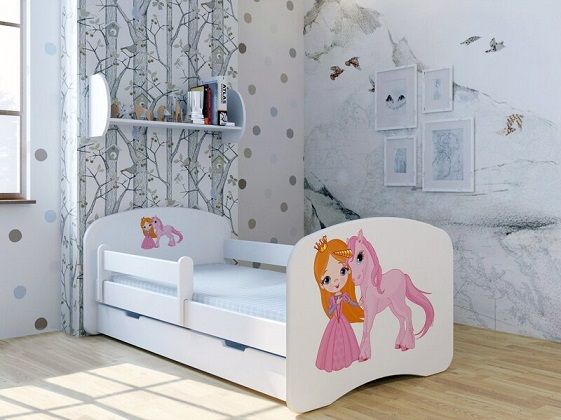 If your kid's room is short on storage space, here you have the perfect solution. This bed comes with a large underbed storage drawer. It comes with detachable guardrails, a drawer and a certified foam mattress. The lovely princess and unicorn picture will bring a smile to any girl's face. What's more it comes in two sizes: toddler (140cm x 70cm) or European toddler (160cm x 80cm) which means your child won't outgrow it too fast and can use it for longer.
Price: £225.99 from Wayfair (image source and retailer)
---
6. Fire Engine Bed with Mattress and Drawer, by Zoomie Kids
This is the same bed by Zoomie Kids as the one above it, but with a fire engine picture on the headboard and footboard. It also comes with a certified foam mattress, a storage drawer and detachable guardrails. A great bed your boy is sure to love. There is a wide range of other cute designs to choose from.
Price: £229.99 from Wayfair (image source and retailer)
---
7. East Coast Country Toddler Bed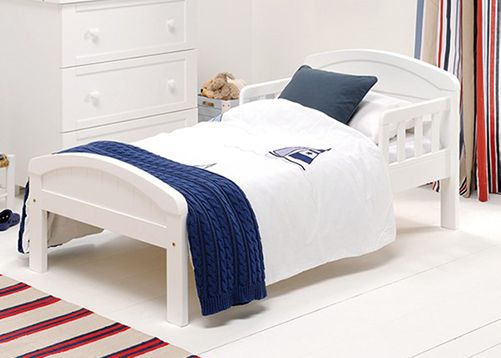 This is a classic toddler bed, with curved edges. It's strong and sturdy and comes in 2 colour options: white and country pine. The bed can be purchased separately, and you can add one these two mattress options: Natural Twist Baby Cot Bed Mattress for £179 or Baby Organic Wool Cot Bed Mattress for £219.
Price: £294 – £334 (depending on mattress) from Cuckooland (image source and retailer)
8. Hailie Toddler Tent Bed, by Harriet Bee
Image source: Wayfair
This fun teepee bed will make your toddler love bedtime. It's made of wood, and has simple and playful design. You can further decorate it, by purchasing fairy cotton ball lights, or a canopy. A mattress is already included. This is a wonderful house canopy bed frame, every child will love to sleep and play in, while they are young.
Price: £359.99 from Wayfair (image source and retailer)
The prices mentioned in this post were last updated on May 24, 2020. For up to date prices, please click on the link of each product.