Best Kids Montessori Beds That Encourage Learning
Parents use different methods of raising their children, from teaching them how to show appreciation to assigning age-appropriate chores when they are young. One method that is becoming popular among parents is using a Montessori Method in their bedroom. One of the most important furniture pieces is of course the bed, that's why many parents are looking for a suitable Montessori Bed for their child.
Creating A Montessori Bedroom
Just like a classroom that takes a Montessori approach, parents can take the Montessori approach at home by investing in furniture at their child's level. The key is to keep everything within their reach to increase their movement and independence. Of course, the Montessori Method does not mean parents cannot childproof their little one's room. They should absolutely create a safe environment for their child.
What Is A Montessori Bed?
The sleeping area in a Montessori bedroom does not include a crib, as it restricts their movement. The baby sleeps in a bassinet or Moses basket until they are about two months old, and then they transition to a Montessori bed. Also known as a floor bed or floor mattress, a Montessori bed is on the floor instead of legs, so children can easily crawl into their bed as needed. However, having your baby sleep on a floor mattress at a very young age, might not be the most safe option for some families. You can still use a baby crib and transition them onto a Montessori bed when they are about 12-18 months old, or once you think they are ready.
Montessori beds for children come in several styles to fit each child's interests and needs. Various retailers carry Montessori beds, making it easy for parents to find a floor bed for their child's bedroom. Below you can see four great options, you can consider when choosing a bed for your child.
1. Egzigu Stackable Bed with Base – Top Montessori Bed Pick!
This is our top choice for a Montessori bed because it is only 20cm high and has a clean design which allows for easy access from all sides of the bed. It's been designed so you can stack several beds on top of each other, without taking up too much space. It has a slatted bed base, so all you have to do is place a 190cm x 90cm mattress on top. It's made from MDF and has a white finish which will look great in a boy's or girl's bedroom.
Price: £135 from La Redoute (image source and retailer)
---
2. [en.casa] Children Bed Indian Tent (TeePee) Design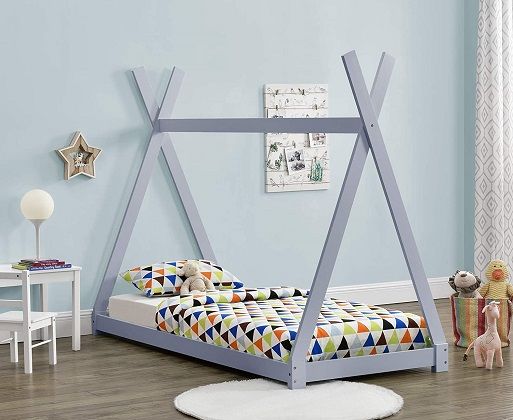 This is a trendy teepee style bed, which is designed to resemble an Indian Tent. You can further decorate it with a some lights or put a tent on top, and your child can play there during the day. It's made of pine wood, and it's available in several colour options: natural pine colour, white matte lacquered, grey, rose, or mint. Plus you can choose from 3 sizes: 70x140cm, 80x160cm, 90x200cm. The distance between the floor and the bottom of the bed is 4cm. There is only one bar on top, so your child shouldn't be bumping his or her head there.
Price: click on button to check price from Amazon (image source and retailer)
---
3. Velinda Wooden Bed – Montessori House Bed
This is another high quality bed made from pine wood. It's handmade, stable and solid. There is a beam on the top roof of the bed, which is rounded on the side, so your child won't hit his or hear head in the edge. The total height is around 135cm, so you can sit comfortably on the bed without touching the roof. You can buy it in two sizes: 200x90cm or 160x80cm.
Price: click on button to check price from Amazon (image source and retailer)
---
4. Lifetime Toddler Bed – Montessori Style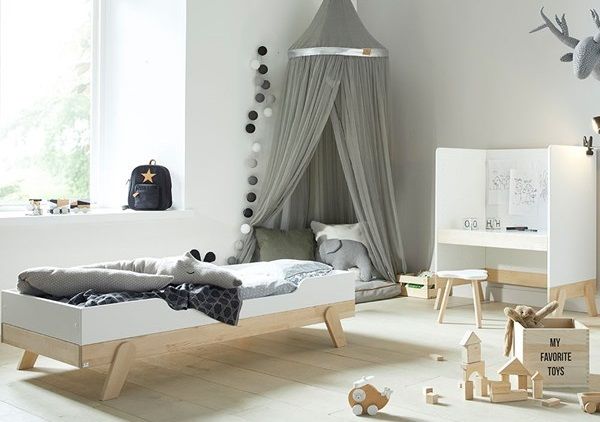 This is a Scandinavian style toddler bed which many kids and parents will love. It has four legs, but is still low to the ground measuring only 25cm high. It has a low design and raised side panels, so your child can feel safe sleeping there at night. This item is handcrafted in Denmark and is made to order by the Danish company Lifetime. It comes with 5 year manufacturer's guarantee. It fits a toddler size mattress 140x70cm. You can buy a matching wardrobe or bookcase in case you need more grown-up furniture for your kid's room.
Price: £295 from Cuckooland (image source and retailer)
---
5. Benlemi Poppi Single Bed with Guard Rail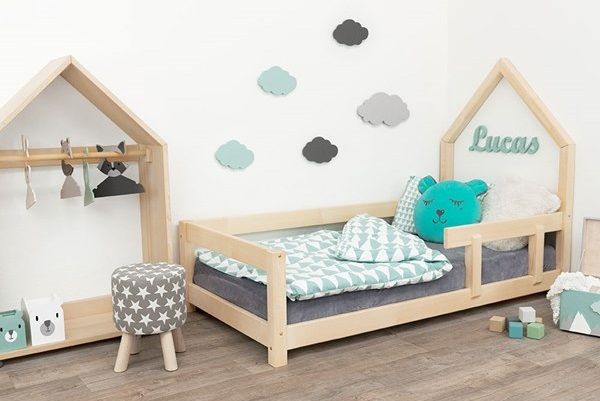 If you're looking for a bed with a guard rail included, this is a gorgeous furniture piece to consider. It has a house bed design on the headboard and a bed guard, so your child feels secure at night. It's made of solid wood and you can order it in several colour finishes: natural, white, grey, black or transparent. It's been painted with anti-allergenic, ecological and 100% safe paints. Here the bed is also low to the ground only 6cm high, and embraces the Montessori principles of child development.
Price: £345 from Cuckooland (image source and retailer)
What Is The Montessori Method?
The Montessori Method encourages independence in children, within their limits of course, by taking a child-centred approach to different scenarios. For example, teachers who use the Montessori Method in their classroom may place everything at a child's level, so they can get their own school supplies, toys and coats. The Montessori Method was developed in the early 20th century by Dr. Maria Montessori.
Parents who are looking to create a bedroom that encourages comfort and independence can look into some of the Montessori beds we featured in this article.
Disclosure: This post features affiliate links, which means that we may get compensated for items purchased through our site, at no additional cost to the reader.
The prices mentioned in this post were last updated on November 24, 2020. For up to date prices, please click on the link of each product.