Last Updated on June 27, 2021 by Sarah Wright
Every new parent is excited about their little one's arrival. In order to get ready, one of the first things on their list is to get a cot bed and mattress. These are two items your baby can't go without, and will be using from birth up until 4 years of age. That's why it's best to invest a little bit more for them, since your child will be using them for a long time. One shopping tip many parents should now, is that you can actually buy the baby cot bed and mattress together as a package. In most cases you'll be saving time and money by purchasing both together!
Tips on choosing a cot bed with mattress:
When you first begin shopping you'll need to keep in mind that a cot bed mattress has this size: 140cm x 70cm, while a cot mattress is 120cm x 60cm. There is a 20cm difference in the length, and 10cm in the wight. In addition, most cot beds can be converted into a toddler bed, by removing the two sides. This means that you won't have to worry about buying your child another bed or mattress for the next four years.
Now let's have a look at some of the best cot beds with mattresses included!
1. Annabelle Cot Bed with Mattress, by Harriet Bee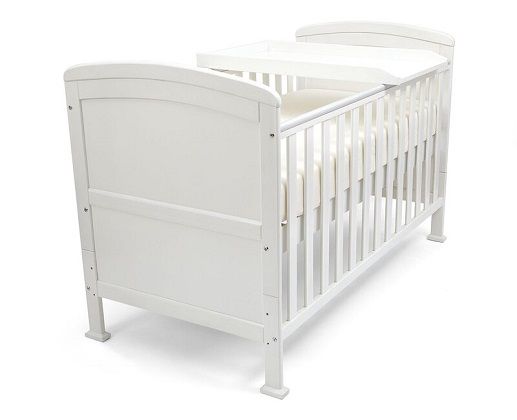 This bed has everything you need for your nursery, and comes at a very good price! The cot bed has 3 mattress height levels and can be converted into a toddler bed. You can choose between 5 different mattress types, to suit your child's needs: deluxe sprung mattress, deluxe pocket sprung mattress, Coolmax pocket sprung mattress, etc. It also comes with a handy changing board, which you can use and remove when not needed. Another advantage of this bed is that you can buy a matching underbed drawer, so you can store different baby items there.
Price: from £144.69 from Wayfair (image source and retailer)
---
2. Baby Elegance Travis Baby Cot Bed with Mattress
This product is on top of our list for many reasons! First, the cot bed has a traditional style which will look great in any nursery. It's made from solid pine wood, from FSC certified timber. It comes with a mattress already included in the price. The mattress has anti-allergy and eco-friendly fibre, it's fully breathable and has removable and washable cover. Your baby can use it from birth to 4 years and over, since it converts into a toddler bed. This Travis Cot Bed has three mattress base heights and teething rails to protect your baby's gums. It's size is 146cm long x 77cm wide x 85cm high.
Price: £149.99 from Argos (image source and retailer)
---
3. Grace Cot Bed with Mattress, by Obaby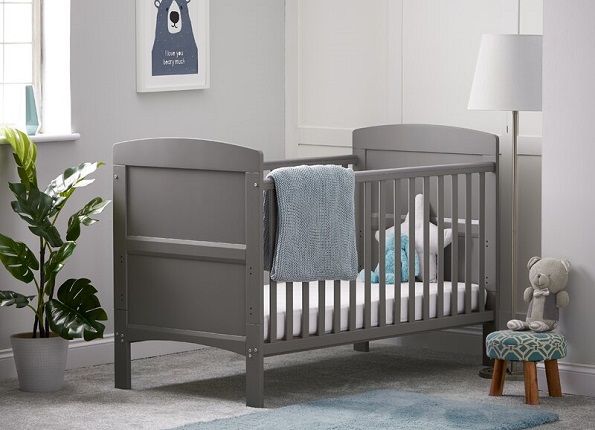 This is another stylish and practical cot bed that you can buy in grey or white colour. Two of the sides of the crib are slatted, so you can watch your little one while sleeping. The cot bed converts into a toddler bed, so your child can use it up to 4 years of age. The cot bed comes with a mattress, which is water resistant, has dent resistant vented foam, is fully breathable and has hypoallergenic properties. It has a removable covers, so you can wash it at 60ºC and can always keep your child's sleeping area fresh and clean.
Price: £159.99 (reg. £199.99) from Wayfair (image source and retailer)
---
4. East Coast Venice Cot Bed & Fibre Mattress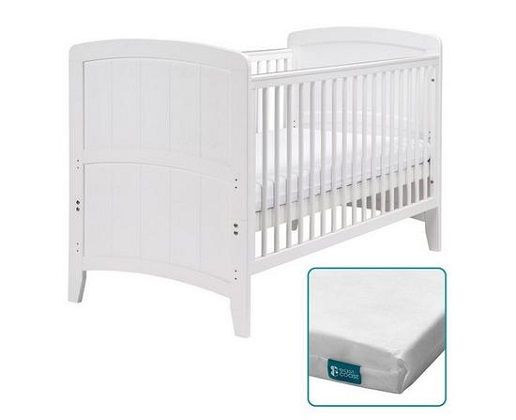 This cot bed has gentle curved shapes on the headboard and footend, while the two fixed sides have teething rails. You can choose from 3 beautiful color finishes: white, grey or antique. The cotbed converts into a toddler bed and comes with a mattress. The mattress has a hypo-allergenic cover, is breathable and water resistant. It has superior quality bonded fibre pad, which supports your baby while sleeping and regulates body temperature.
Price: £249.99 from Very (image source and retailer)
---
5. Atlas Convertible Cot & Toddler Bed 3 in 1 – Nimbus White Wood
This is a quality cot bed by Mamas and Papas, which has a minimalist look and fixed side panels, which can be removed, so the bed can be converted into a toddler bed. It comes with teething rails and 3 mattress height levels. One of the things we love about shopping at Mamas and Papas, is that they have a wide range
of quality mattresses that you can choose from. This cot bed will fit any Mamas and Paps cot bed mattress (140cm x 70cm). For example, you can buy the Premium Pocket Sprung Cotbed mattress for £149 or get a Silentnight Safenights Comfort Air Mattress for £74.50 (£149).
Price: £279 from Mamas and Papas (image source and retailer)
Disclosure: This post features affiliate links, which means that we may get compensated for items purchased through our site, at no additional cost to the reader.
The prices mentioned in this post were last updated on August 4, 2020. For up to date prices, please click on the link of each product.