Bring some excitement into your kid's bedroom, buy getting them a unique and cool bunk bed they'll absolutely love! Kids grow up fast, but they'll always remember the great memories they've had when they were young. Getting them a bus themed bunk bed is a great idea they'll cherish for a long time.
3 Best Bus Bunk Beds
Below you'll find 3 awesome ideas that are sure to bring a smile to your boys' or girls' face for a long time. It doesn't matter if you're shopping for your kids or your grand kids, they are sure to love them!
Make sure you check and measure the space you have in your kid's bedroom, so you are sure the bed will fit inside properly. Also, keep in mind on which side the ladder is positioned (left or right).
1. Julian Bowen London Bus Kids Bunk Bed
The London bus is iconic and every child knows and dreams about riding the bus. This one is made of hardwood and is finished in red lacquer. It has aluminium ladder. One very cool feature of this Julian Bowen bus bed is that you can personalise it and add a front name plate sticker up to 8 characters (this is for an extra £30 fee). This means you can add your children's names to the front. Your kids will spend hours playing there during the day by themselves or with their friends! Keep in mind the the ladder is not reversible and the bed comes as shown on the image. It fits two mattresses size 90cm x 190cm and should not exceed 19cm in depth.
Price: £360.00 (on Sale – Save £39) from Cuckooland (image source and retailer)
Shopping tip: At the time of writing this article the best price we could find on this bed was at Cuckooland.
This bed is also sold at other online retailers, click on the links to check other prices: Check Price at Argos // Check Price at Very.co.uk // Check Price at Wayfair
---
2. Julian Bowen Campervan Bunk Bed
Do you kid like watching surfing or dreams about catching the waves? This is another cool bunk bed by Julian Bowen that resembles a campervan. It's manufactured from MDF and is finished in white and teal colours. It has a movable steering wheel and a ladder-shaped like a surfboard. Your kids will totally love using their new bed, for play or sleep time! It fits a mattress size: 90cm x 190cm, and you can choose from three comfortable mattress options which you can buy together with the bed.
Price: £439.00 from Cuckooland (image source and retailer)
---
3. Route Master London Bus Bunk Bed
Another cool variation of the London Bus, this one is handmade in England by a family firm called "Fun Furniture". It has lots of intricate and accurate details, such as wheels, a ladder on the back of the bus, so your kid can climb to the top bunk. You can add a personal touch to the bed, by ordering a personalised number plate with your child's name one for the front plate and one for the rear plate. Keep in mind that this bed is larger in size and measures: 240cm (L) x 101cm (W) x 147cm (H).
Price: £3390.00 from Cuckooland (image source and retailer)
Bus Themed Kids Bedroom Accessories
Personlise your children's bedroom by adding some other bus themed accessories, such as: wall art, stickers, pillows, bedding and more!
'London Zoo Bus' by Dicky Bird Graphic Art Print Poster, by Zoomie Kids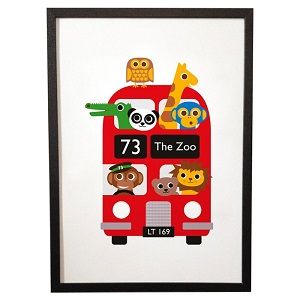 This is a cute art print poster, featuring the London Bus filled with zoo animals.
It's dimensions are 50cm H x 40cm W. This is a reproduction of an original by Dicky Bird.
Price: £34.99 from Wayfair (image source and retailer)
Gobelin London Bus Pillowcase, by Happy Larry
Get your kids a London Bus Pillowcase which they can showcase on the top and bottom bunk of their new bus bed.
This pillowcase is modern, durable and can be washed so it's easy to clean and maintain.
Price: £33.99 from Wayfair (image source and retailer)
Disclosure: This post features affiliate links, which means that we may get compensated for items purchased through our site, at no additional cost to the reader.
The prices mentioned in this post were last updated on April 12, 2020. For up to date prices, please click on the link of each product.