Having a rocking chair in your home is the perfect piece of furniture where you can sit and relax, read a book, or just sit in front of the fireplace. It's also a great gift for a family member or friend. When shopping for a rocking chair, you'll notice that there are either all wooden or are upholstered and padded, for extra comfort. Weather you're shopping for your living room, bedroom, dining room or even home office we've rounded the best rocking chairs you can find online.
Disclosure: This post features affiliate links, which means that we may get compensated for items purchased through our site, at no additional cost to the reader.
1. Leni Rocking Chair, by Norden Home
This is a Scandinavian inspired rocking chair, that's padded and upholstered in grey fabric. It has an ergonomic design, and is made to be comfortable and stylish at the same time. It will fit perfectly into any living room, bedroom or home office.
Price: £93.99 from Wayfair (image source and retailer)

---
2. Vida Living Rocking Chair, by Katell

If you want to add some bold colour into your home, then this yellow mustard rocking chair would be a great addition! It has a modern and contemporary design, with upholstered seat so you can comfortably sit and relax there.
Price: £129.97 from Furniture123 (image source and retailer)
---
3. Saum Rocking Chair, by Brayden Studio

Here is a mid-century rocking chair, that's upholstered in high quality fabric and is constructed from birch wood. It's built to last for years and years, so you can enjoy it at home for a long time. You can choose between 4 fabric colours: grey, light grey, walnut, or muted blue.
Price: £139.99 from Wayfair (image source and retailer)

---
4. Dixon Rocking Chair, by Union Rustic

This is a sturdy and comfortable rocker chair, made from solid wood. There is an engraved floral patter on the top of chair back, with lovely carving details that make it a beautiful peace. It's available in white or oak colour.
Price: £149.99 from Wayfair (image source and retailer)

---
5. Vitra Eames RAR Rocking Chair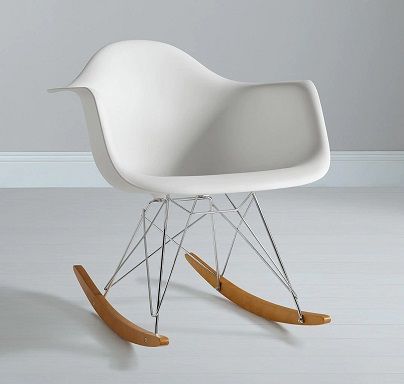 Here is a very stylish and fashionable rocking chair, from the same collection as the iconic Eames RAR armchair. It's made from recyclable polypropylene shell, that's been dyed through, so the white colour will never fade. There are two wooden rockers and four-legged braced wire base. It's designed for every body shape, and has a timeless design that will never go out of style.
Price: £515 from John Lewis (image source and retailer)

---
6. Kolton Rocking Chair, by Made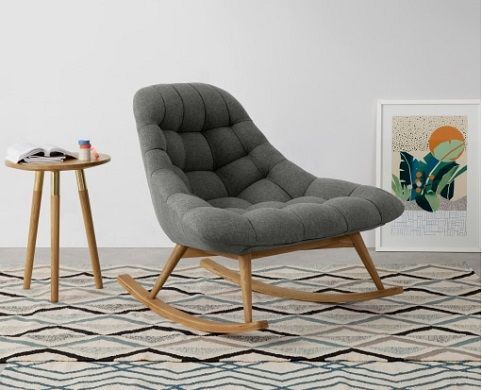 If you're looking for a grand statement chair, that's both laid-back and chic, then you'll definitely want to check out the Kolton rocking chair. It's quilted upholstery is eye catching, and very comfortable. You can choose between 3 colours: york yellow, mineral blue, or marl grey. It comes with 10 years guarantee, and no hasstle-returns.
Price: £549 from Made (image source and retailer)

---
7. Hendricks Rocking Chair, by John Lewis and Partners

If you're picky when it comes to choosing the perfect colour for your home furniture, then we have the chair for you. This is the Hendricks rocking chair, that's upholstered in wool fabric and you can choose from more than 80 colour fabrics. From lighter greys, darker greys, reds & pinks, yellows & oranges, greens, teals, blues and purples, browns and naturals. It has an oak frame and has been padded with foam for extra comfort. Comes with 15 year guarantee.
Price: £599-£799 from John Lewis (image source and retailer)

The prices mentioned in this post were last updated on December, 2019. For up to date prices, please click on the link of each product.