Bunk beds are very popular with children of different ages. However, your child may find it difficult to go up and down the ladder despite their interest in bunk beds. Luckily, you can find bunk beds with stairs to make using the top bunk a breeze. In addition to the stairs, the bunk beds include extra features such as drawers and shelves. Between the stairs and built-in storage, your children are sure to enjoy their new bunk beds.
How to choose a bunk bed with stairs or staircase?
Here are three tips that you should take into consideration, before you make up your choice:
The first thing you should check is the size of the bed, since the the stairs will take up an extra space and will make the bed longer, when compared to a bunk bed with ladder.
Also, don't forget to check what mattress size the bed fits, for example UK single (190cm x 90cm) or Euro single (200cm x 90cm). You'll also be able to find a double bunk bed, with features a single on top of small double or double mattress.
Another important point to keep in mind, is that only kids who are 6 years or older can sleep on the top bunk due to safety reasons.
Disclosure: This post features affiliate links, which means that we may get compensated for items purchased through our site, at no additional cost to the reader.
Are you looking for an easier option for your children? You may want to check out the following bunk beds with stairs.
1. Riley Bunk Bed (with wide steps), by Julian Bowen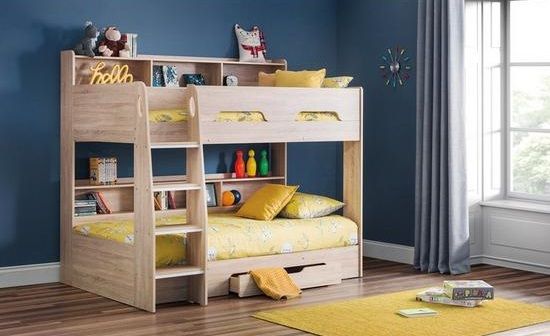 This bunk bed does feature a sturdy ladder instead of stairs, but the ladder is wide and has a cut out handles on top, and glow in the dark strips which you can place on each step, so they will glow when it's dark in the room. There are lots of storage shelves on the top and bottom bunk, plus there is a handy drawer on bottom. You can get the bed in white or oak finish effect. Fits two UK single size mattresses and has the following dimensions: 197cm long x 136cm wide, 172cm high.
Price: £449 (was £499) from Very (image source and retailer)
---
2. Erin Bunk Bed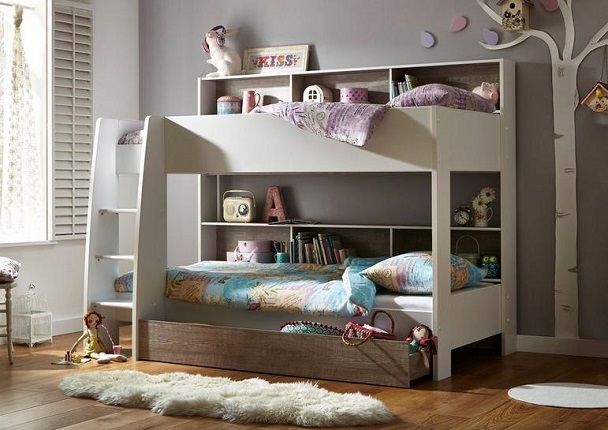 Another set of bunk beds that features a wide ladder instead of stairs, you can take comfort in knowing the top bunk is only three rungs off the floor. You can rest assured that the top bunk also includes siding to keep your child safe. The bunk bed also features double-shelf storage, with a row of shelves for each bunk so your kids can store all of their favourite toys, books, and anything they want to have close at hand. If your kid's bedroom is short on storage space, then consider getting the underbed storage drawer as an extra, which is large enough to hold lots of items inside. The bed fits two Euro 3'0 single size mattresses.
Price: £449 without drawer / £549 with drawer from Dreams (image source and retailer)
---
3. Maya Bunk Bed with Stairs in White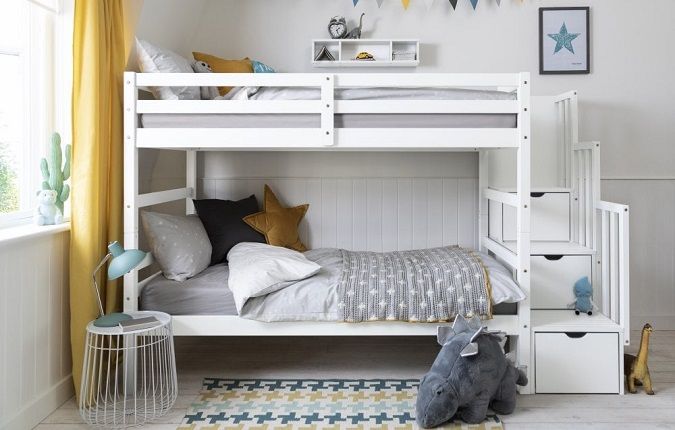 Designed with your child's safety in mind, this set of bunk beds with stairs includes a railing on the stairs and guardrails on the top bunk. For convenience, your little ones can store their toys, books or night-time essentials in the drawers which are built-in the staircase (there are three drawers in total). The bunk beds are made of solid pine wood and finished in classic white, and they come with wooden slats to support the mattresses. The overall dimensions of the bed are: 246.5cm long x 99cm wide x 152cm high.
Price: £499 from Noa and Nani (image source and retailer)
---
5. Lydia Bunk Bed Frame with Stairs
You can never go wrong with this bunk bed with stairs, as each stair features a built-in shelf for storage. The stairs are also wide enough to safely use the top bunk, which features siding for safety purposes. In addition, the bunk bed also features a built-in reversible shelving unit for your children's' toys, books and knick-knacks. You can get the bed in white or light brown color, to best match your room interior. Keep in mind that this bed fits two Euro 3'0 single size mattresses, also it's size is: 245cm long x 114cm wide x 171cm high.
Price: £699 from Dreams (image source and retailer)
Shopping tip: the Lydia Bunk Bed with stairs, looks very similar to the Ciara Bunk Bed by Harriet Bee, check it's price here.
---
6. Ciara European Single Bunk Bed with Stairs and Trundle Drawer, by Harriet Bee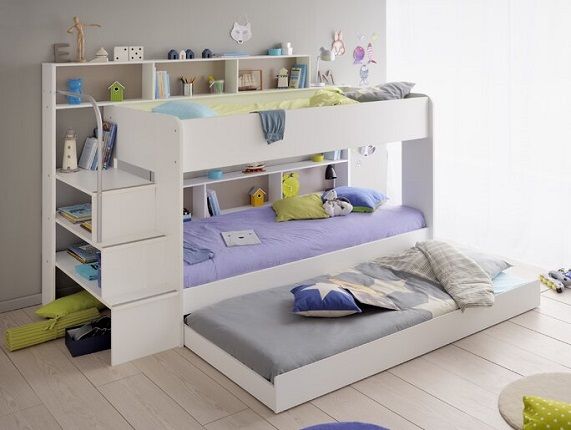 This bed is perfect if your kids host a lot of sleepovers or if you have family vising you often. It comes with a trundle bed already included, as well as staircase and safety handrail, which your child can hold to when climbing up and down. This bunk bed with stair storage has plenty of shelves, so your kids can keep all of their favourite items close at hand.
Price: £947.98 from Wayfair (image source and retailer)
---
7. Lifetime Family Bunk Bed with Staircase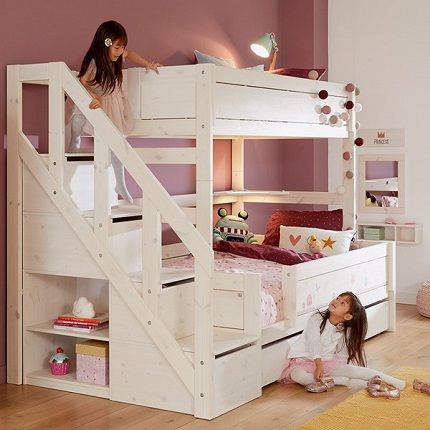 Your children are sure to enjoy using this bunk bed with stairs because of the charming design and whitewash finish. The stairs feature a safety railing and built-in storage for their convenience. There are four drawers under the staircase, which all have soft close function on lids. You have the option of customizing the bed with several features, and this includes the panel colour, personalized nameplate, trundle or drawer and additional storage options. This way, you are ordering a bed that meets your children's needs. Many parents will be glad to know that this bed is made from Scandinavian pine wood, and has been sourced from a sustainable forest. It's handcrafted in Denmark and needs about 6 weeks for delivery. It comes with 5 year manufacturer's guarantee.
The best part is that you can get the bed in 3 mattress sizes: single on top and bottom, single on top and small double on bottom, or single on top and double on bottom. This means makes it a great triple bunk bed option, in case you need a bed that sleeps 3 people.
Price: from £1750 from Cuckooland (image source and retailer)
The prices mentioned in this post were last updated on August 2, 2020. For up to date prices, please click on the link of each product.